Did you know there is a Frankenstein, Our Lady Help of Christians Church in
Frankenstein MO ?

Frankenstein, Our Lady Help of Christians
Pray For Us
Our Lady comes into contact with a few other horror icons
other then Frankenstein MO.
Read on to find out, plus some other interesting Halloween Trivia.
By the way…
Happy Halloween
In the Snow
"In the creation of comedy, it is paradoxical that tragedy stimulates the spirit of ridicule; because ridicule, I suppose is an attitude of defiance: we must laugh in the face of our helplessness against the forces of nature – or go insane"― Charlie Chaplin, My Autobiography
Says the man who actually inspired one of the creepiest episodes of the X-Files.
You can either embrace the comedic aspects of horror or you can act like this…
And the Man who played both Frankenstein and The Mummy, Boris Karloff, teamed up with the Bela Lugosi the man who played Dracula several times in monster tag-team ups usually with Lon Chaney Jr. as The Wolfman. One time they all went up against Abbott and Costello in Abbott and Costello meet Frankenstein (1948). The invisible man also makes an appearance with the voice of Vincent Price.
This little documentary highlights the boys and their interaction with the Monsters.
The comedy duo also meet the Boris when he wasn't Frankenstein and was just The Killer, Boris Karloff, (1948)
They also meet The Invisible Man (1951)
The Invisible Man was first written by H. G. Wells in 1897.
They also meet Dr. Jekyll and Mr. Hyde (1953) once again played by Boris Karloff. Dr. Jekyll and Mr. Hyde was first written by Robert Lewis Stevenson in 1886. When St. Damien was getting some flack for his work among the lepers in Hawaii, in particular by a man named Reverend Doctor Hyde, it was the creator of Treasure Island that came to his defense. In 1890 he wrote these words which I think apply to many Catholic writers writing and blogging today.
There are many (not Catholics merely) who require their heroes and saints to be infallible; to these the story will be painful; not to the true lovers, patrons, and servants of mankind.

And I take it, this is a type of our division; that you are one of those who have an eye for faults and failures; that you take a pleasure to find and publish them; and that, having found them, you make haste to forget the overvailing virtues and the real success which had alone introduced them to your knowledge. It is a dangerous frame of mind. That you may understand how dangerous, and into what a situation it has already brought you, we will (if you please) go hand- in-hand through the different phrases of your letter, and candidly examine each from the point of view of its truth, its appositeness, and its charity. Epic Pew
They even meet The Creature from the Black Lagoon (1954) on the Colgate Comedy Hour.
and they finally the Mummy (1955).
I don't want to forget that they also would Hold That Ghost (1941) and Costello would portray a ghost and hunt Abbot in The Time of Their Lives (1946)
The Wolfman's dad Lon Chaney Sr. was also a prominent movie actor who portrayed The Hunchback of Notre Dame (1923) and The Phantom of Opera(1925). Hunchback was penned by Victor Hugo in (1831) and made a Disney animated musical in (1996). Mr. Hugo also penned Les Misérables (1862) which became my favorite musical of all time. It first premiered in Paris in 1980.
Phantom was first written in 1911 and became a musical in 1986.
Lon Chaney was known as the man with a 1000 faces. His life was portrayed in the film Man of a Thousand Faces (1957) with Lon Chaney portrayed by James Cagney.
The monsters are remembered in the Abbott and Costello movies and several other films such
Mad Monster Party? (1967) made by the folks who gave us Rudolf and Santa Claus is coming to town and featuring the voice of once again Boris Karloff.
The Monster Squad (1987)
and the Hotel Transylvania series of movies.
and they are remembered in the national anthem of Halloween
The Monster Mash (1962) by Bobby "Boris" Pickett.
Boris like Bela also had a brush with the cinematic divine. Although technically speaking Bela's was on stage.
He narrated an animated Terrytoons called The Juggler of Our Lady (1958) in which a statue of the blessed virgin Mary comes to life for a monk juggling in front of her. There have been various other adaptations of the story.
In the movie The Miracle (1959) with James Bond's Roger Moore, a a postulant nun takes off from the convent to meet a man and a cherished statue of the Virgin Mary comes to life, dons the discarded habit, and secretly takes Teresa's place at the convent.
A little boy raised by monks in the Miracle of Marcelino (1955) thinks the statue of Christ on the Cross looks hungry and so he brings him food. The statue comes to life and comes down and eats with him.
Horror icon Vincent Price appeared in The Song of Bernadette (1943) about the real life visit of the Blessed Virgin Mary to St. Bernadette.
He was also in Cecil B. DeMille 's The Ten Commandments (1956)
and he played Devil in The Story of Mankind (1957)
Basil Rathbone (Robin Hood) was in Son of Frankenstein (1939) and has played Sherlock Holmes several times.
He was in a horror comedy with Boris, Vincent and Peter Lore called The Comedy of Terrors (1963) as well as comedian Joe E. Brown in his last movie.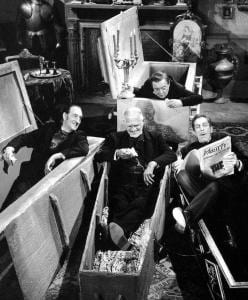 Christopher Lee (Star Wars, Lord of the Rings) also has starred as Dracula several times.
He has also been The Mummy, Sherlock Holmes and Mycroft Holmes as well.
The Master sleuth Sherlock Holmes (Basil Rathbone, Christopher Lee) went up against the Un-Dead Count Dracula (Bela Lugosi, Christopher Lee) in Sherlock Holmes vs. Dracula or The Adventures of the Sanguinary Count by Loren D. Estleman (1978)
Vincent Price reads four of Edgar Allan Poe's stories in
An Evening of Edgar Allan Poe (1970).
The stories included are: "The Tell-Tale Heart", "The Sphinx", "The Cask of Amontillado" and "The Pit and the Pendulum".
Vincent Price starred in 7 movies directed by Roger Corman and based on stories written by Edgar Allen Poe
House of Usher (1960)
Pit and the Pendulum (1961)
Tales of Terror (1962)
The Haunted Palace (1963)
The Raven (1963)
The Tomb of Ligeia (1964)
The Masque of the Red Death (1964)
And so I end this look into comedy and horror with Edgar Allen Poe
who wrote this hymn about The Blessed Mother Mary..
At morn – at noon – at twilight dim –
Maria! thou hast heard my hymn!
In joy and woe – in good and ill –
Mother of God, be with me still!
When the Hours flew brightly by,
And not a cloud obscured the sky,
My soul, lest it should truant be,
Thy grace did guide to thine and thee
Now, when storms of Fate o'ercast
Darkly my Present and my Past,
Let my future radiant shine
With sweet hopes of thee and thine.