The Carmelite writes….
This year will go down in infamy.
Elections, especially presidential seem to bring out the worst in Americans.
This year is worse then any election in my life.
Our politicians and our selves can be so divided that relationships dissolve between others happy friendships..
Folks, you have no idea what is at stake! We are facing a socialist one world order attempt to take over the US. One that is looking to do away with fossil fuel. While the US stops working fossil fuel and the last Jet Fighter lands, the last armored tank rolls to a stop and the last naval warship is tied up all due to no fuel, China and Russia will step in and invade this nation and make us all slaves getting natural gas and oil from the ground. WAKE UP!
But despite this threat and because it's election day, I thought it would be good to lighten things up with some
Humor,Inspiration, Monster Hunters, Time Travel and Presidential Fun on
ELECTION DAY 2020
Some of the Trivia is brought to you by Legends of America
GEORGE WASHINGTON
1st President of the United States: 1789-1797
The leading contender in the first presidential election race was George Washington, who waged a campaign based on heavy exposure in media such as coins, stamps, and famous oil paintings. This shrewd strategy carried him to a landslide victory in which he carried every state except Massachusetts, which voted for George McGovern.
-Dave Barry, Dave Barry Slept Here
Bill: OK, Ted. George Washington.
One. The father of our country.
Ted: Two. Born on Presidents' Day!
Bill: Three. The dollar bill guy.
Ted: You ever made a mushroom out of his head?
Bill: Ted… Alaska.
Ted: Okay… Um…. Had wooden teeth, chased Moby Dick.
Bill: That's Captain Ahab, dude!
Ted: …Oh, wait! Remember Disney World? Hall of Presidents?
Bill: Yeah, good, what did he say?
Ted: …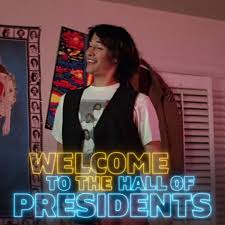 JAMES K. POLK
11th President of the United States: 1845 ‐ 1849
Often referred to as the first "dark horse," James K. Polk was the last strong President until the Civil War. James K. Polk fulfilled all his campaign promises. During his administration, Polk acquired California from Mexico, settled the Oregon dispute, lowered tariffs, established a sub-treasury, and retired from office after one term. He is immortalized in song by the great
They Might Be Giants.
Robert Todd Lincoln, son of Abraham Lincoln, was at the scene of or nearby three presidential assassinations — his father's (he was at the White House having declined an invitation to Ford's Theatre from his parents), William McKinley's, and James Garfield's. He was also once saved from possible injury or death by Edwin T. Booth, the brother of his father's assassin John Wilkes Booth. I am told that I am somehow related to him. My aunt did a family tree.
Abe Lincoln in Science Fiction
"So long as this country is cursed with slavery, so too will it be cursed with vampires."
― Seth Grahame-Smith, Abraham Lincoln: Vampire Hunter
The name teddy bear comes from former United States President Theodore Roosevelt and was coined in 1903.
So why would anyone spend so much time writing science fiction stories about Theodore Roosevelt? Well, they have a lot in common, science fiction and Roosevelt. Both of them deal with ideas. Both of them are entertaining. And most of all, both of them are bigger than Reality.
He was so fascinating, so talented in so many fields, so much bigger than Life that I decided (and I hope you agree) that he belonged in the one field that could accommodate a man with those virtues—science fiction, where he could finally find some challenges that were truly worthy of his talents, from civilizing the Congo to facing down a vampire on the streets of New York.
Mike Resnick, The Other Teddy Roosevelts (2008)
Going to meet the president is a constant attraction for time travelers.
JOHN F. KENNEDY
35th President of the United States: 1961 ‐ 1963
"Kennedy entered, waving to the standing audience, an elderly gentleman in an Alpine hat and lederhosen struck up "Hail to the Chief " on an accordion bigger than he was. The president did a double take, then lifted both hands in an amiable holy $%&# gesture. For the first time I saw him as I had come to see Oswald—as an actual man. In the double take and the gesture that followed it, I saw something even more beautiful than a sense of humor: an appreciation for life's essential absurdity."
― Stephen King, 11/22/63
In the long history of the world, only a few generations have been granted the role of defending freedom in its hour of maximum danger. I do not shrink from this responsibility–I welcome it. I do not believe that any of us would exchange places with any other people or any other generation. The energy, the faith, the devotion which we bring to this endeavor will light our country and all who serve it–and the glow from that fire can truly light the world.
And so, my fellow Americans: ask not what your country can do for you–ask what you can do for your country.
My fellow citizens of the world: ask not what America will do for you, but what together we can do for the freedom of man.
Finally, whether you are citizens of America or citizens of the world, ask of us here the same high standards of strength and sacrifice which we ask of you. With a good conscience our only sure reward, with history the final judge of our deeds, let us go forth to lead the land we love, asking His blessing and His help, but knowing that here on earth God's work must truly be our own. Inaugural Address, January 20, 1961
MYS015: Was the JFK Assassination a Conspiracy?
MYS018: JFK's Secret "Dr. Feelgood"
LYNDON B. JOHNSON
36th President of the United States: 1963 ‐ 1969
In the Odd Thomas series of novels by Dean Koontz, Johnson appears as one of the famous ghosts that haunt the titular character's home town of Pico Mundo, still wearing the hospital gown he had on when he died. When Johnson realizes Odd can see him, he responds by mooning him.
In Kevin Given's novel "Last Rites: The Return of Sebastian Vasilis" Lyndon Johnson is turned into a vampire. The novel was adapted into a series of comic books "Karl Vincent; Vampire Hunter" and "Files of Karl Vincent" Files of Karl Vincent #1 tells how Lyndon became a vampire.
RICHARD NIXON
37th
President of the United States:
1969 ‐ 1974
Richard Nixon was the first president to visit all 50 states and the first president to visit China. Richard Nixon talked to astronauts on the moon from the White House by radio-telephone on July 21, 1969. Richard Nixon is the only U.S. president to resign. Jimmy Carter was the sixth cousin of Richard Nixon.
Futurama featured a fictionalized version of Nixon as a recurring character.
Nixon, as portrayed by Stuart Milligan, appeared in the Doctor Who sixth series episodes "The Impossible Astronaut" and "Day of the Moon".
Nixon appears in the season 1 episode "The Watergate Tape" of the NBC series Timeless, where he is portrayed by Sheldon Landry. In the episode, Lucy, Wyatt, and Rufus travel to June 7, 1972, to stop Flynn from using the Nixon tape with the 18 1/2-minute gap and someone called the "Doc" to reveal Nixon's involvement with Rittenhouse.
More Nixon in Science Fiction
MYS007: Watergate
GERALD R. FORD
38th President of the United States: 1974 ‐ 1977
JIMMY CARTER
39th President of the United States: 1977 ‐ 1981
"My black playmates were the ones who joined me in the field work that was suitable for younger boys. We were the ones who "toted" fresh water to the more adult workers in the field. We mopped the cotton, turned sweet potato and watermelon vines, pruned deformed young watermelons, toted the stove wood, swept the yards, carried slop to the hogs, and gathered eggs – all thankless tasks. But we also rode mules and horses through the woods, jumped out of the barn loft into huge piles of oat straw, wrestled and fought, fished and swam.
The early years of my life on the farm were full and enjoyable, isolated but not lonely. We always had enough to eat, no economic hardship, but no money to waste. We felt close to nature, close to members of our family, and close to God." – Jimmy Carter, 1975
RONALD REAGAN
40th President of the United States: 1981 ‐ 1989
My wife thought this picture looked like a boat.
"Ronald Reagan, from his governorship to his presidency, kept a sign on his desk that read, "There is no limit to what a man can do or where he can go if he doesn't mind who gets the credit."
― Paul Kengor, A Pope and a President: John Paul II, Ronald Reagan, and the Extraordinary Untold Story of the 20th Century
Ronald Reagan was the first actor elected president. He acted in 53 films before becoming president.
GEORGE BUSH
41st President of the United States: 1989 ‐ 1993
George H.W. Bush is distantly related to Presidents Franklin Pierce, Abraham Lincoln, Theodore Roosevelt, and Gerald Ford, as well as Benedict Arnold, Marilyn Monroe, and Winston Churchill.
WILLIAM J. CLINTON
42nd President of the United States: 1993 ‐ 2001
"I'm on the side of the people who work around the clock to keep our country safe. The ones who aren't thinking about optics or which way the political winds are blowing. The ones who don't seek credit for their successes and can't defend themselves when they're criticized. That's whose side I'm on."
James Patterson, Bill Clinton, The President Is Missing (2018)
GEORGE W. BUSH
43rd President of the United States: 2001 ‐ 2009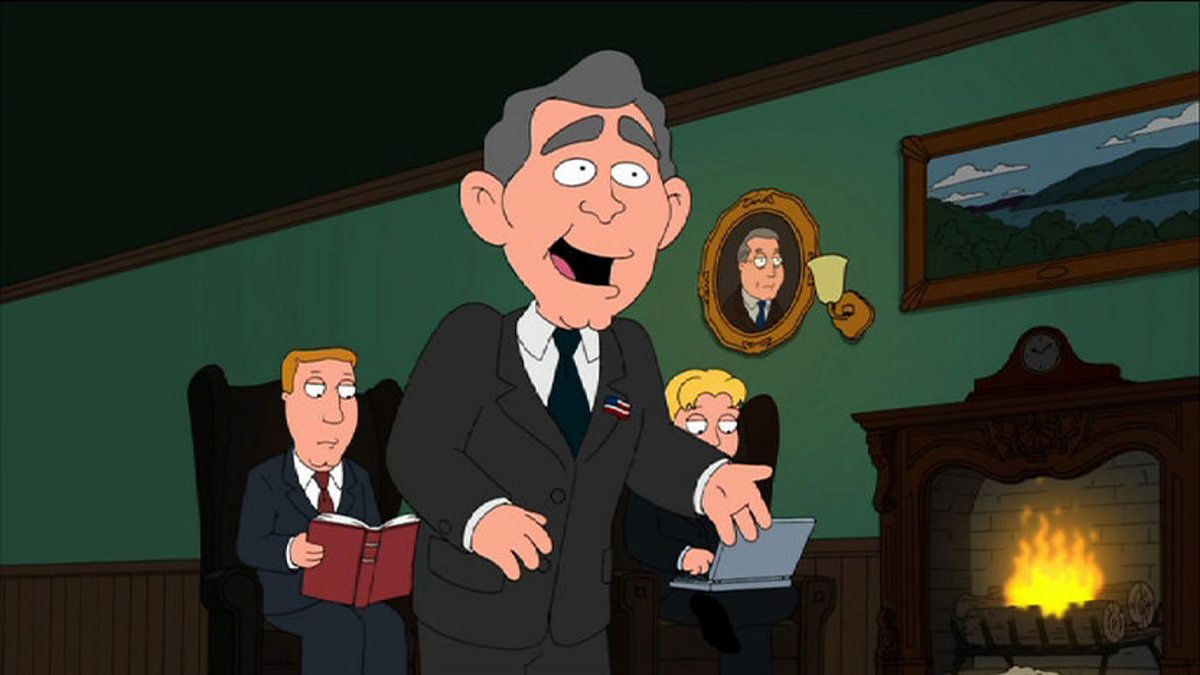 John Paul, himself, has often said, "In the designs of Providence, there are no mere coincidences." And maybe the reason this man became Pope is that he bears the message our world needs to hear. To the poor, sick and dying he carries a message of dignity and solidarity with their suffering. Even when they are forgotten by men, he reminds them they are never forgotten by God.
Dedication of the Pope John Paul II Cultural Center
Catholic University, Washington D.C. MARCH 22, 2001
BARACK OBAMA
44th President of the United States: 2009 ‐ 2017
What's remarkable is the way "nerd" is such a badge of honor now. Growing up, I'm sure I wasn't the only kid who read Spider-Man comics and learned how to do the Vulcan salute, but it wasn't like it is today. I get the sense that today's young people are proud to be smart and curious, to design new things, and tackle big problems in unexpected ways. I think America's a nerdier country than it was when I was a kid—and that's a good thing! —President Barack Obama
DONALD J. TRUMP
45th President of the United States: 2017 ‐ 2021
The Battle of the Billionaires takes place at WrestleMania 23
Space travel is not a feat of engineering alone. It's also a moral endeavor — a measure of a nation's vision, its willpower, its place in the world. Exploration is a test of our values and of our faith. America is a nation defined by its commitment to discovery — to solve mysteries, to chart the unknown, to press the limits, to achieve the fullest expression of life's potential, and to ensure that America is the nation that always leads the way, and especially in space.
So today, as our brave American astronauts shake the Earth and blaze a trail of fire and steel into the heavens, we proclaim for all to hear that we have not yet tested the full strength of the American character, and the world has not yet seen the full glory of the American spirit. For our country, for our children, and for humanity's march into the stars, the best is yet to come.
Speech: Donald Trump Delivers Address at the Kennedy Space Center After SpaceX Launch – May 30, 2020
SOME GREAT PRESIDENTIAL MOVIES
Air Force One (1997)
Basically Die Hard on a Plane Air Force One with Indiana Jones at the President.
But mostly the movie is stapled together out of ingredients from many, many other films about presidents, terrorists, hijackings, hostages, airplanes, politics and cat-and-mouse chases. It is inevitable, for example, that the terrorists will separate and go poking around on their own, so that they can be picked off one at a time. It is inevitable that there will be Washington press conferences, so that bones of information can be thrown to the seething press. It is inevitable that there will be personality flare-ups among the lesser politicians, and dire comments by their advisers ("The element of surprise is a formidable weapon").
–Roger Ebert