Well yesterday we celebrated the feast of All Saints, the saints that have been investigated by the church and given a Capital S by the miracles that have been attributed to their being with the Lord. But also, those with a small s, those that are unknown, perhaps those that in our own family who are with the Lord. That is our goal in life to be a saint. Whoever is in heaven is considered a saint.
Today we commemorate the feast of all souls. This is for all those of the faithful departed, and we include those who have carried the encumbrance of sin, that they have not been yet purified to reach the heavenly kingdom, that they are awaiting. It's assured of them that they will be in heaven but now they're in purgatory. Perhaps they didn't love enough while they were on earth and this is part of their process. And so, we pray for them as an expression of our love for them. And somehow in the great mystery of it all we believe that our beloved deceased receive the prayers that are offered on their behalf and the love that prompts those prayers.
We gather this morning with the greatest prayer of the church, the holy sacrifice of the mass. On this day we pray for our beloved deceased. So as we reflect on this day, it is a reminder of the grieving process of those who have gone before us in love. Again, we walk by faith. In the Gospel it says 'Have Faith in Me'. We walk by faith. That first reading form Wisdom. "The souls of the Just are in the hand of God no torment shall touch them. They seemed to be in the view of the foolish to be dead." That sense of the fool is the one who thinks that all there is to existence is what is in front of their eyes and on this earth.
For those who are faithful we know better that there is a life with God, so that is what we affirm as we gather today to pray for our beloved deceased. Our faith gives us consolation and gives us the hope that we will see our loved ones once again in the eternal life of heaven. Without faith we would truly be inconsolable. And so, faith empowers us to get through it. We never get over it, life is never the same. The common expression the New Normal so to speak, but we never get over it, but we get through it with our faith and the support of those who love and care for us. –Fr. John Rowen– St. George's Church (November 2, 2020)
"They think I'm a saint… When I'm dead, they'll come and touch holy pictures and rosaries to me, and all the while I'll be getting broiled on a grill in purgatory. At least promise me you'll pray a lot for the repose of my soul."
–Bernadette Soubirous
"I believe no happiness can be found worthy to be compared with that of a soul in Purgatory except that of the saints in Paradise; and day by day this happiness grows as God flows into these souls, more and more as the hindrance to His entrance is consumed. Sin's rust is the hindrance, and the fire burns the rust away so that more and more the soul opens itself up to the divine inflowing." –St. Catherine of Genoa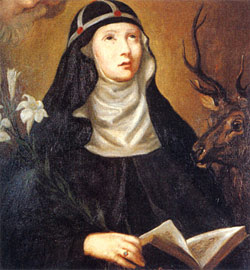 I pray a Rosary every Sunday for people in Purgatory. It takes quite a while, since I name every single person I know who has died, and I mean died, ever. I include great-great-grandparents I never met and friends of friends.
It's the least I can do for them. I only hope that when I die, someone will take the time to pray for me.
There are many theories about Purgatory, all of them far more authoritative than mine. But my belief is that in Purgatory we face what we have done from the viewpoint of those we did it to. If, say, you hit someone, in Purgatory you would experience the blow you gave in this life. If you gossiped about someone, in Purgatory you will feel the humiliation and hurt your words inflicted.
It would be terrible enough to experience this in this life. But in Purgatory, I think our souls will be so tender and so pure that the pain will be even more exquisite.
The souls in Purgatory are not being tortured. They are being educated about their real selves. They are seeing themselves as they are, and this insight hurts. It is the deepest grief imaginable to confront the full reality of your own sins. But from this grief comes conversion of a thorough and unalterable kind.
Rebecca Hamilton Divine Mercy Novena, Praying for Those in Purgatory, Where We are Made Fit for a King (April 10, 2015) Public Catholic
Prayer for the Faithful Departed
Eternal rest grant unto them, O Lord, and let perpetual light shine upon them. May their souls and the souls of all the faithful departed, through the mercy of God, rest in peace. Amen. O Lord, your sorrowing Mother stood by your cross; help us in our sorrows to share your sufferings.