Here is a look back at the last 12 Inauguration speeches of the Presidents of the United States.
The president's are pictured with the Pope in the chair of Peter at the time.
The leader of our country.
The leader of our Church.
St John XXIII 1958 –1963
St Paul VI 1963 – 1978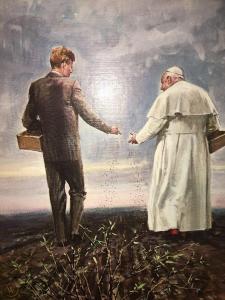 JFK and St. Pope John 23rd
JOHN F. KENNEDY (1st Catholic President) Democratic
35th President of the United States: 1961 ‐ 1963
The President's Inaugural Address Friday, January 20, 1961
In the long history of the world, only a few generations have been granted the role of defending freedom in its hour of maximum danger. I do not shrink from this responsibility—I welcome it. I do not believe that any of us would exchange places with any other people or any other generation. The energy, the faith, the devotion which we bring to this endeavor will light our country and all who serve it—and the glow from that fire can truly light the world.
And so, my fellow Americans: ask not what your country can do for you—ask what you can do for your country.
My fellow citizens of the world: ask not what America will do for you, but what together we can do for the freedom of man.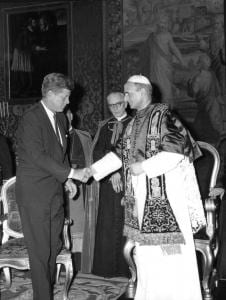 JFK & St. Pope Paul VI
LYNDON B. JOHNSON Democratic
36th President of the United States: 1963 ‐ 1969
The President's Inaugural Address January 20, 1965
Think of our world as it looks from that rocket that is heading toward Mars. It is like a child's globe, hanging in space, the continent stuck to its side like colored maps. We are all fellow passengers on a dot of earth. And each of us, in the span of time, has really only a moment among our companions.
How incredible it is that in this fragile existence we should hate and destroy one another. There are possibilities enough for all who will abandon mastery over others to pursue mastery over nature. There is world enough for all to seek their happiness in their own way.
Our Nation's course is abundantly clear. We aspire to nothing that belongs to others. We seek no dominion over our fellow man, but man's dominion over tyranny and misery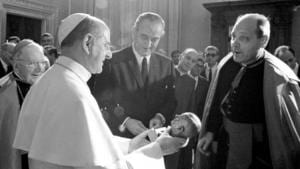 President Johnson gives St. Pope Paul VI a bust of himself.
RICHARD NIXON Republican
37th President of the United States: 1969 ‐ 1974
The President's Inaugural Address January 20, 1969
Only a few short weeks ago we shared the glory of man's first sight of the world as God sees it, as a single sphere reflecting light in the darkness.
As the Apollo astronauts flew over the moon's gray surface on Christmas Eve, they spoke to us of the beauty of earth-and in that voice so clear across the lunar distance, we heard them invoke God's blessing on its goodness.
In that moment, their view from the moon moved poet Archibald MacLeish to write: "To see the earth as it truly is, small and blue and beautiful in that eternal silence where it floats, is to see ourselves as riders on the earth together, brothers on that bright loveliness in the eternal cold–brothers who know now they are truly brothers."
In that moment of surpassing technological triumph, men turned their thoughts toward home and humanity-seeing in that far perspective that man's destiny on earth is not divisible; telling us that however far we reach into the cosmos, our destiny lies not in the stars but on earth itself, in our own hands, in our own hearts.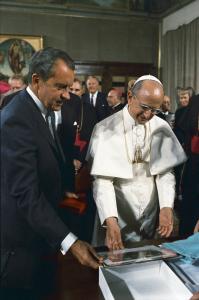 President Nixon gives St. Pope Paul VI a picture of himself.
GERALD R. FORD Republican
38th President of the United States: 1974 ‐ 1977
Remarks on Taking the Oath of Office August 09, 1974
The oath that I have taken is the same oath that was taken by George Washington and by every President under the Constitution. But I assume the Presidency under extraordinary circumstances never before experienced by Americans. This is an hour of history that troubles our minds and hurts our hearts.
Therefore, I feel it is my first duty to make an unprecedented compact with my countrymen. Not an inaugural address, not a fireside chat, not a campaign speech–just a little straight talk among friends. And I intend it to be the first of many.
I am acutely aware that you have not elected me as your President by your ballots, and so I ask you to confirm me as your President with your prayers. And I hope that such prayers will also be the first of many.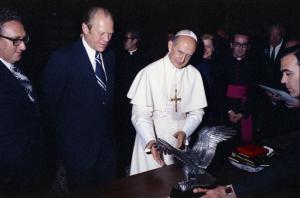 President Ford and St. Pope Pius XI
Ven. John Paul I 26 August 26, 1978 – September 28, 1978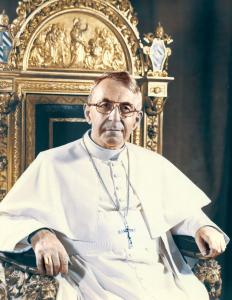 Wasn't Pope long enough to have picture taken with Jimmy Carter
JIMMY CARTER Democrat
39th President of the United States: 1977 ‐ 1981
The President's Inaugural Address January 20, 1977
Here before me is the Bible used in the inauguration of our first President, in 1789, and I have just taken the oath of office on the Bible my mother gave me just a few years ago, opened to a timeless admonition from the ancient prophet Micah:
"He hath showed thee, O man, what is good; and what doth the Lord require of thee, but to do justly, and to love mercy, and to walk humbly with thy God."
This inauguration ceremony marks a new beginning, a new dedication within our Government, and a new spirit among us all. A President may sense and proclaim that new spirit, but only a people can provide it.
Two centuries ago, our Nation's birth was a milestone in the long quest for freedom. But the bold and brilliant dream which excited the founders of this Nation still awaits its consummation. I have no new dream to set forth today, but rather urge a fresh faith in the old dream.
St John Paul II 1978 -2005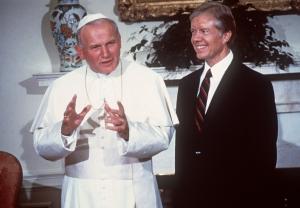 President Carter and St. PJP2
RONALD REAGAN Republican
40th President of the United States: 1981 ‐ 1989
The President's Inaugural Address January 20, 1981
In this present crisis, government is not the solution to our problem; government is the problem. From time to time we've been tempted to believe that society has become too complex to be managed by self-rule, that government by an elite group is superior to government for, by, and of the people. Well, if no one among us is capable of governing himself, then who among us has the capacity to govern someone else? All of us together, in and out of government, must bear the burden. The solutions we seek must be equitable, with no one group singled out to pay a higher price.
We hear much of special interest groups. Well, our concern must be for a special interest group that has been too long neglected. It knows no sectional boundaries or ethnic and racial divisions, and it crosses political party lines. It is made up of men and women who raise our food, patrol our streets, man our mines and factories, teach our children, keep our homes, and heal us when we're sick—professionals, industrialists, shopkeepers, clerks, cabbies, and truck drivers. They are, in short, "We the people," this breed called Americans.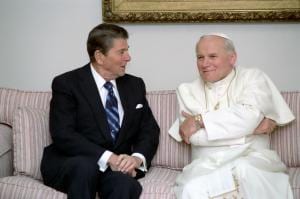 GEORGE BUSH Republican
41st President of the United States: 1989 ‐ 1993
The President's Inaugural Address January 20, 1989
I've just repeated word for word the oath taken by George Washington 200 years ago, and the Bible on which I placed my hand is the Bible on which he placed his. It is right that the memory of Washington be with us today not only because this is our bicentennial inauguration but because Washington remains the Father of our Country. And he would, I think, be gladdened by this day; for today is the concrete expression of a stunning fact: our continuity, these 200 years, since our government began.
We meet on democracy's front porch. A good place to talk as neighbors and as friends. For this is a day when our nation is made whole, when our differences, for a moment, are suspended. And my first act as President is a prayer. I ask you to bow your heads.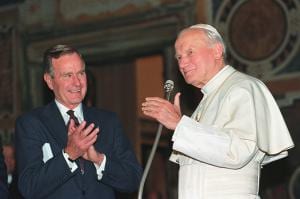 President George H.W. Bush and St. Pope John Paul II
WILLIAM J. CLINTON Democrat
42nd President of the United States: 1993 ‐ 2001
The President's Inaugural Address January 20, 1993
When George Washington first took the oath I have just sworn to uphold, news traveled slowly across the land by horseback and across the ocean by boat. Now, the sights and sounds of this ceremony are broadcast instantaneously to billions around the world. Communications and commerce are global. Investment is mobile. Technology is almost magical. And ambition for a better life is now universal.
We earn our livelihood in America today in peaceful competition with people all across the Earth. Profound and powerful forces are shaking and remaking our world. And the urgent question of our time is whether we can make change our friend and not our enemy. This new world has already enriched the lives of millions of Americans who are able to compete and win in it. But when most people are working harder for less; when others cannot work at all; when the cost of health care devastates families and threatens to bankrupt our enterprises, great and small; when the fear of crime robs law-abiding citizens of their freedom; and when millions of poor children cannot even imagine the lives we are calling them to lead, we have not made change our friend.
President Clinton and St. Pope John Paul 2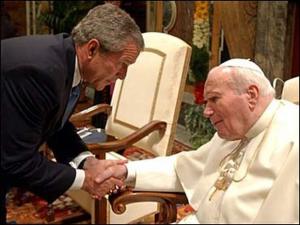 Present George W. Bush and St. Pope John Paul 2
GEORGE W. BUSH Republican
43rd President of the United States: 2001 ‐ 2009
The President's Inaugural Address January 20, 2001
After the Declaration of Independence was signed, Virginia statesman John Page wrote to Thomas Jefferson,
"We know the race is not to the swift, nor the battle to the strong. Do you not think an angel rides in the whirlwind and directs this storm?"
Much time has passed since Jefferson arrived for his inauguration. The years and changes accumulate, but the themes of this day, he would know: our Nation's grand story of courage and its simple dream of dignity.
We are not this story's author, who fills time and eternity with his purpose. Yet, his purpose is achieved in our duty. And our duty is fulfilled in service to one another. Never tiring, never yielding, never finishing, we renew that purpose today, to make our country more just and generous, to affirm the dignity of our lives and every life. This work continues, the story goes on, and an angel still rides in the whirlwind and directs this storm.
Pope Benedict XVI 2005 -2013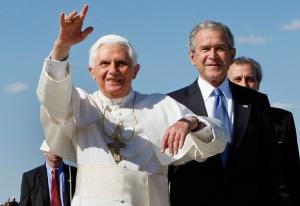 President Bush and Pope Benedict XVI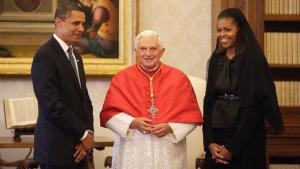 President Obama and 1st Lady Michelle Obama and Pope Benedict XVI
BARACK OBAMA Democrat
44th President of the United States: 2009 ‐ 2017
The President's Inaugural Address January 20, 2009
Forty-four Americans have now taken the Presidential oath. The words have been spoken during rising tides of prosperity and the still waters of peace. Yet every so often, the oath is taken amidst gathering clouds and raging storms. At these moments, America has carried on not simply because of the skill or vision of those in high office, but because we the people have remained faithful to the ideals of our forebears and true to our founding documents.
So it has been; so it must be with this generation of Americans.
We remain a young nation, but in the words of Scripture, the time has come to set aside childish things. The time has come to reaffirm our enduring spirit, to choose our better history, to carry forward that precious gift, that noble idea passed on from generation to generation: the God-given promise that all are equal, all are free, and all deserve a chance to pursue their full measure of happiness.
Pope Francis 2013 -Present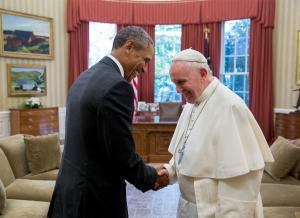 DONALD J. TRUMP Republican
45th President of the United States: 2017 ‐ 2021
The President's Inaugural Address January 20, 2017
Every 4 years, we gather on these steps to carry out the orderly and peaceful transfer of power, and we are grateful to President Obama and First Lady Michelle Obama for their gracious aid throughout this transition. They have been magnificent. Thank you.
Today's ceremony, however, has very special meaning. Because today we are not merely transferring power from one administration to another or from one party to another, but we are transferring power from Washington, DC, and giving it back to you, the people.
It's time to remember that old wisdom our soldiers will never forget: that whether we are Black or Brown or White, we all bleed the same red blood of patriots, we all enjoy the same glorious freedoms, and we all salute the same great American flag.
And whether a child is born in the urban sprawl of Detroit or the windswept plains of Nebraska, they look up at the same night sky, they fill their heart with the same dreams, and they are infused with the breath of life by the same almighty Creator.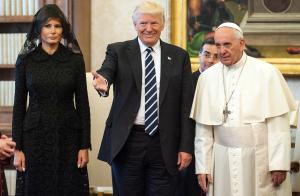 President Trump and first lady Melania Trump and Pope Francis
Joseph Biden (1st Catholic President) Democratic
46th President of the United States: 2021-Present
The President's Inaugural Address January 20, 2021
On Wednesday, Biden, the boy who grew up talking with a stutter, will deliver an inaugural address that carries more weight than any of the speeches he has obsessed over in the past.
"He is well aware this is the most important inaugural speech since Lincoln," said Sen. Chris Coons, a Delaware Democrat who is a close Biden ally.
Biden's address, which is supposed to run between 20 and 30 minutes, is expected to reprise themes he's hit on since he entered the presidential race in April 2019, including bringing back the "soul of the nation," and a pledge to be president for all Americans, even those who didn't vote for him.
Natasha Korecki, Writing a speech for Biden can be hell. And that was before the inaugural (January 19, 2019) politico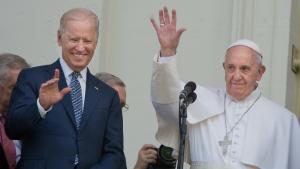 President Biden and Pope Francis