Composing this reflection on the last week is an act of real focused writing determination that will strain my brain with no real permanent pain but will hopefully give me a writing gain. I have edited this week's edition together more so then actually writing it, but weaving things together into a comprehensive whole is still work. Also making it short enough is tough as this week so much was said and so much has happened.
So for more or less good or bad in this still developing work that may or may not continue,
I present to you the Catholic Bard's look back on the week of
January 11 – 17
Lizzie Borden's Bed & Breakfast Murder Spot for Sale
Monday January 11, 2021
A lot of went across my newsfeed this last week that was commentary about the previous week.
Monday being Monday was a particularly busy day.
So, I start off the week with this observation about the capital takeover.
First from the humble leader of Patheos Catholic.
Just a reminder that many, many of the rioters who stormed the capitol openly flaunted racist, white supremacist, and anti-semitic logos and symbols. Including t-shirts with "Auschwitz" on the front and "staff" on the back.

If you defend them, sympathize with them, downplay their actions, or say we need to "try to understand" them, you should know that your Jewish or non white acquaintances will regard you as someone they can not trust.

This is a crucible moment. – Rebecca Bratten Weiss
And now a thought from OnePeterFive
As far as I can see, one impact of this potent admixture of religious zeal and party loyalty has only been to galvanize and to radicalize the progressive left, convincing them of the fundamental misguidedness of religious conservatism, and imparting to them a sense of occupying the higher moral ground and of moral urgency.

For years, conservatives have accused the left of being Communists who have nothing but contempt for the rule of law and the fundamental principles of American democracy. Now, however, we are witnessing the astonishing spectacle of Gen. Michael Flynn, newly pardoned by Trump, publicly calling for the president to declare martial law, and for the military to administer another election. Others are going even further, calling for the arrest and even murder of Trump's opponents.

"Burn it all down, so long as our guy gets in at the end." That's the very attitude we claimed was endemic in the progressive Communist left. And yet, here we are.

My fear from the get-go has been that Trump, whatever good things he did, would in the long run make things worse for social and religious conservativism. A few temporary (albeit alluring) victories…and then the long defeat.
Trumpianity is a Weird Religion – OnePeterFive
There was a giant demonstration in where only one person showed up to the pro-Trump protest outside Twitter's San Francisco HQ.
Outside of the political landscape…
The COVID-19 pandemic is still marching across the world with the number of confirmed cases of COVID-19 passing 90 million worldwide.
In the Catholic sphere,
Pope Francis changes Catholic Church law in which women are explicitly allowed as lectors, altar servers.
In in my home area of Massachusetts
Fall River's Lizzie Borden Bed & Breakfast is going on the Market.
Taking a Whack at the Truth A lot of erroneous history is passed down in books, plays, movies, and poems—usually these were intended to be entertainment, not historical truths. But some of these false facts are so ingrained in our consciousness that there's little chance of the truth becoming as popular as the fiction.

Here's an example: What do you think of when you hear the name Lizzie Borden? Everyone chant with me:

"Lizzie Borden took an ax

And gave her mother forty whacks,

When she saw what she had done

She gave her father forty-one,"

Since she was first suspected of hacking her parents to death in 1892, Lizzie Borden has stood out as one of the few female homicidal maniacs in history—and if it wasn't for this little refrain, her name would have been forgotten years ago.

What is forgotten is that a jury acquitted Lizzie Borden after only sixty-six minutes of deliberation and all charges were dropped. I hope the truth about Lizzie's innocence becomes as popular as the song—and then we can all just bury the hatchet.
-Leland Gregory, Stupid History: Tales of Stupidity, Strangeness, and Mythconceptions Through the Ages
And now Pro-life issues dominate…
Tuesday January 12, 2021
Amid scheduled executions, bills introduced to end federal use of death penalty
As three federal executions were scheduled for this week, multiple bills have been introduced in Congress to end use of the federal death penalty.

Sen. Dick Durbin (D-Ill.) and Rep. Ayanna Pressley (D-Mass.) introduced Jan. 11 the Federal Death Penalty Prohibition Act of 2021, which would end federal use of the death penalty, bar the imposition of the death penalty for violation of federal law, and mandate that federal inmates on death row be re-sentenced.
Bioethicists alarmed by ruling to withdraw food and water from Catholic patient.
In a statement Jan. 12, the Anscombe Bioethics Centre in Oxford, England, stated its "grave concern" at the court's judgment, given the "well-attested views" of the patient, "that 'every life is precious and that you must hold onto life, and also that if anything happened to him, he would want all steps to be taken to save him but that if he was beyond saving, he did not want to be kept alive.'"

In an accompanying briefing paper, also issued Jan. 12, David Albert Jones, the center's director, said the court case "sets a very worrying precedent."

"The grave danger of this judgement is that committed Catholics and those who hold a similar view about the human significance of food and drink may be starved and dehydrated to death against their will," he stated.
Nigerian archbishop denounces 'nefarious' kidnappings
In Nigeria and other parts of the world, the body of Christ continues to take a beating. Christians think they have it bad here, but…

The kidnappings of Catholic priests and others in Nigeria must end, Archbishop Ignatius Kaigama of Abuja said this week.

"Boko Haram violence, kidnappings and banditry represent gross violations of human rights. It is important to pay attention to all the stages, processes and trends of the occurrences because they are interrelated. Structural injustices meted out to youths and minority groups are appalling, and if unchecked may lead us to a point of no return," he said.

The country's Catholic bishops as a whole have repeatedly called on the government to impose strict measures to protect her citizens, saying the lack of safety undermined the celebration of the country's 60th anniversary of independence.

"It is just unimaginable and inconceivable to celebrate Nigeria at 60 when our roads are not safe; our people are kidnapped, and they sell their properties to pay ransom to criminals," members of the Catholic Bishops' Conference of Nigeria said in an Oct. 1 statement.
And for a story that is Way Out There…
The CIA releases UFO 'Black Vault' documents early and how to see them online.
By way of the Freedom of Information Act, thousands of the CIA documents on unidentified flying objects — or unidentified aerial phenomena, as the government calls them — are now accessible via download at the Black Vault, a website operated by author and podcaster John Greenwald Jr.

The CIA claims they have now provided all the information on UAP they have, though there is no way to know that's true.
And we arrive at glorious
Wednesday January 13, 2021
Feast of Saint Hilary, Bishop and Doctor of the Church
As a bill was introduced yesterday to end the federal death penalty…
The U.S. Executes Lisa Montgomery for 2004 Murder
The Trump administration early Wednesday morning executed Lisa M. Montgomery, the only woman on federal death row, whose death marked the first federal execution of a woman in nearly 70 years.

Ms. Montgomery, 52, was sentenced to death for murdering a pregnant woman in 2004 and abducting the unborn child, whom she claimed as her own. In pleas to spare her life, Ms. Montgomery's supporters argued that a history of trauma and sexual abuse that marred her life contributed to the circumstances that led to the crime. Her case, unusual in part because so few women are sentenced to death, ignited debate over the role of offenders' past trauma in criminal sentencing.
While Supreme Court Catholic Justices ignore one pro-life issue, another one is taken up as
South Dakota governor calls for Down syndrome abortion ban.
The governor of South Dakota asked state lawmakers on Tuesday to introduce a bill banning abortions based on a prenatal diagnosis of Down syndrome.

"The Declaration of Independence summarizes what we all know in our hearts to be true—that God created each of us and endowed all of us with the right to life. This is true for everyone, including those with an extra chromosome," Gov. Kristi Noem (R) of South Dakota said at her 2021 State of the State address in Pierre.

She invited the family of former Wisconsin congressman Sean Duffy, a Catholic, to be present at her address; the youngest child of the Duffy family, Valentina, has Down syndrome.

"Valentina has given me as much joy and pride as any of my other little babies, and she's an American, and she has a right to live just like everybody else," Rachel Duffy said on Fox News on Tuesday, appearing alongside Sean and Valentina Duffy, and Noem.
And the HUGE news of the week is that …
The House Votes to Impeach President Trump Following Capitol Riots.
The U.S. House of Representatives voted 232-197 Wednesday to impeach President Donald Trump for the second time.

And unlike the first time in late 2019, there was a bipartisan element this time, with 10 Republican representatives voting in favor of impeachment.

The article of impeachment stated that Trump willfully incited "violence against the Government of the United States" for his Jan. 6 speech, which contained "statements that encouraged — and foreseeably resulted in — imminent lawless action at the Capitol."
The Governator has thoughts about the Capital Seige…
And So, does Canada…
And in other lighter news and commentary…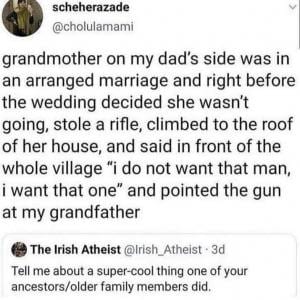 My great great grandmother poured boiling water out of her window, onto passing "slave catchers."
May her spirit be with us all.-Rebecca Bratten Weiss
My aunt did a family tree and I'm related somehow to John Wilkes Booth.- Mark Wilson
I went to college with a descendent of the doctor who treated his broken leg.- Jen
I MISS MY OLD ENEMIES. I DON'T MUCH LIKE THE NEW ONES.
I had a private exchange with a Catholic journalist. I said to him:

"Years ago, my enemies seemed mainly to be bitter Fundamentalists. I don't run into many such any longer. Today my enemies seem mainly to be bitter rightwing Catholics.

"It's weird to be treated less rudely by people who condemn Papistry than by those who claim to endorse it."

Where does this Catholic bitterness come from? Mostly from the subordination of religion to politics by people who think they are being all the more religious by being all the more political. – Karl Keating
And now that we made it through the highlight of week…
Thursday January 14, 2021
We come to this particular reactionary reaction to Trump's impeachment.
Rep. Marjorie Taylor Greene vows to file articles of impeachment against Biden.
Rep. Marjorie Taylor Greene, the newly elected Republican from Georgia, took to Twitter Wednesday to announce that she will be filing articles of impeachment against President-elect Joe Biden a day after the inauguration
You impeached my president, now I'll impeach yours. How do you like that? And just like that, the US government turned into a kindergarten classroom.
it is also telling she wants to impeach him — before he has been in office and done anything to be impeached.
COME ON (WO)MAN!!!
In Covid News
Pope Francis and Benedict XVI receive first dose of COVID-19 vaccine.
And the question is asked and the observation made that the COVID Lockdowns May Have No Clear Benefit vs Other Voluntary Measures, International Study Shows.
In Entertainment News…
Locked Down premieres on HBO Max
A movie for today about Linda (Anne Hathaway) and Paxton (Chiwetel Ejiofor) in lock down during Covid in London. It is filled with witty dialogue and zoom meetings as they try to figure out their broken relationship in a broken world. As the film continues along, it ends up being a heist film towards the end of the movie as the two ex-loves plan on stealing a valuable diamond. How this comes about is interesting and works in the natural flow of the script. A fairly entertaining movie that tackles moral questions and the meaning of life and illiteracy among modern people in a very hilarious way. Despite being an pleasant enough film, I'll probably forget about as it doesn't stand out with anything spectacular. But is overall worth watching.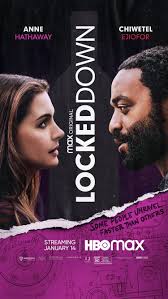 Notable Deaths
Joanne Rogers, (1928–2021 widow of Mister Rogers, dies at age 92 (nbcnews.com)
Peter Mark Richman, April 16, 1927 – January 14, 2021) Star Trek: The Next Generation and Friday the 13th Actor, Dies at 93
We've made it to
Friday January 15, 2021
Breaking: March for Life 2021 goes virtual.
The 2021 March for Life will take place virtually, organizers announced Friday.

The March for Life Education and Defense Fund, the organization behind the annual March for Life in Washington, D.C., said the decision was made due to the ongoing COVID-19 pandemic and the risk of unrest in the nation's capital. This year's march, now virtual, will take place Jan. 29.
What Happens to the pro-life movement in a post-Trump era?
Both the violent scenes from the riot and the second impeachment vote—which followed unproven claims from Trump that the election was stolen from him—are likely to loom large in Trump's legacy.

And the pro-life movement that largely embraced Trump will have to grapple with this legacy, even as it braces for an incoming presidential administration that ran on a heavily pro-abortion platform.

Trump's legacy, Herndon-De La Rosa said, would still have been difficult to come to terms with prior to the riot, pointing to remarks Trump made about women revealed during his presidential campaign.

"We spent decades trying to show people how we are pro-woman," she said. "The second we aligned ourselves with a man who made such degrading comments about women, we lost credibility. This was always a dangerous alliance, and now we're seeing that it was more of a suicide pact."

As for Trump's association with the pro-life movement, Herndon-De La Rosa argued, "I don't know that there's recovering from it."
In the past week Nine Catholic bishops have died worldwide after testing positive for COVID-19.
Between Jan. 8 and Jan. 15, bishops across three continents died as a result of the coronavirus. The deceased bishops ranged in age from 53 years old to 91. Five of the bishops died in Europe, where a new strain of COVID-19 has led many countries to implement further restrictions.
Catholics remember Shahbaz Bhatti 10 years after his assassination in Pakistan.
The diocese of Rome hosted a memorial Mass for Servant of God Shahbaz Bhatti, a Catholic politician in Pakistan assassinated by an Islamic terrorist group 10 years ago.

Bhatti served as Pakistan's Federal Minister of Minorities Affairs from 2008 to 2011. He advocated for four member seats for religious minority candidates in Pakistan's senate and spoke out against religious persecution, especially the misuse of Pakistan's blasphemy laws.

At the time of his death, he was the only Christian in Pakistan's federal cabinet. He was gunned down by members of Tehrik-i-Taliban Pakistan while driving in Islamabad on March 2, 2011, after receiving death threats for more than a year.

Following his death, Catholic bishops in Pakistan called for the pope to recognize him as a "martyr and patron of religious freedom."
There are a lot of National Guard in DC, but…
20,000 Troops In D.C. For Inauguration Said To Not Be Enough To Stop Trump's Battlemech
Trump has been secretly developing his 60-foot-tall mechanized walking tank, codenamed "MAGAtron," for years — a gross misappropriation of funds that could've been an impeachable offense if Democrats hadn't already used up all their impeachments.

There are also ominous indications he plans to use it against Biden, as Trump said on Parler, "I'm going to step on Biden — step on him with giant metal feet!" just before Parler was shut down. Trump has gone dark since then — mainly since he's been kicked off of every internet service — though people who have gone near the White House have reportedly heard him shouting, "I'm going to ruin the inauguration! Ruin it with my mech!"
Big Companies silencing what they considered hate speech is nothing new. There is that time…
That time private US media companies stepped in to silence the falsehoods and incitements of a major public figure … in 1938
In speeches filled with hatred and falsehoods, a public figure attacks his enemies and calls for marches on Washington. Then, after one particularly virulent address, private media companies close down his channels of communication, prompting consternation from his supporters and calls for a code of conduct to filter out violent rhetoric.

Sound familiar? Well, this was 1938, and the individual in question was Father Charles E. Coughlin, a Nazi-sympathizing Catholic priest with unfettered access to America's vast radio audiences. The firms silencing him were the broadcasters of the day.

As a media historian, I find more than a little similarity between the stand those stations took back then and the way Twitter, YouTube and Facebook have silenced false claims of election fraud and incitements to violence in the aftermath of the siege on the U.S. Capitol – noticeably by silencing the claims of Donald Trump and his supporters.
Latest Movies
The Marksman with Liam Nissen
Don't Tell A Soul with The Office's Rainn Wilson
Outside the Wire on Netflix
WandaVision on Disney Plus
We've almost made it to the end of the week.
Saturday January 16, 2021
Deacon Steven D. Greydanus gives us a Universal Prayer update: 2nd Sunday of Ordinary Time
He says on his FB page…
Exactly four years ago, I wrote pre-inaugural and post-inaugural intercessions for Trump and Pence. This Sunday and next Sunday I am using exactly the same petitions for Biden and Harris.
* * *
For the Church, that Christ will build up his family on earth through the holy lives of all her members and call many to serve as priests, deacons and consecrated religious, let us pray.
That God's people will be fearless and resolute in condemning the great evil of abortion and promoting recognition of the dignity of life in the womb, let us pray.
For all public leaders, especially President-elect Joseph Biden and Vice President-elect Kamala Harris as they are inaugurated into office this week, that God who works for good in all things will work in this administration for the common good of all Americans and the world, let us pray.
For peace in our day, that every impetus to violence, hostility, oppression, and prejudice will be overcome by solidarity, empathy, cooperation, and brotherly love, let us pray.
For all affected by any kind of mental disorder, and their families, that by appropriate treatment and the workings of grace the Lord will lighten their burdens and give them peace, let us pray.
For the grace to hear the Lord's call in our lives, however it may come to each of us, and the will to do it, that we may help to build up his kingdom on earth, let us pray.
#universalprayer #generalintercessions #prayersofthefaithful #prayerofthefaithful
Sunday January 17, 2021
Bishop Barron's Homily for the SECOND SUNDAY IN ORDINARY TIME
Pope Francis: The greatest joy for every believer is to respond to God's call.
"There are different ways of carrying out the plan that God has for each of us, which is always a plan of love. … And the greatest joy for every believer is to respond to this call, to offer all of himself at the service of God and his brothers and sisters. God calls to life, He calls to faith, and He calls to a particular state in life.

God's first call is to life, through which He makes us persons; it is an individual call because God does not make things in sets. Then God calls us to faith and to become part of His family as children of God. Lastly, God calls us to a particular state in life: to give of ourselves on the path of marriage, or that of the priesthood or the consecrated life."
Catholic theater company launches radio plays, with theme of quarantine.
For decades, radio was Americans' primary source of news and entertainment, before being largely superseded by television, and eventually the internet.

Now, in the midst of the coronavirus pandemic, radio theater has returned— with the goal of conveying Catholic themes in highly-produced, entertaining, 10-minute packages.

The Merry Beggars is a Catholic theater company based in Manhattan. Peter Atkinson, a stage actor and CEO of the Merry Beggars, banded together with several fellow actors to help found the nonprofit in 2019.

"To me, the way that you heal the culture is you tell the truth about the human person. And the truth about the human person is that we're made for God," Atkinson said.

"I think these stories do a really tender and beautiful job of touching upon our need for God and how, in quarantine, that quiet desire for God can surface in a really beautiful, tender and fragile way."
The inauguration is coming up this week.
Will Trump try to do something to disrupt the process?
Will the rioters return like they promised. Will find out this week.
Here is one last thought for the week.