This week we saw the end of the Trump administration and the beginning of the Biden one.
We saw the continuing persecution of the church taking place in the world.
The fight for the unborn continued in the laws and decrees being composed and passed.
And the most unlikely thing seems to have brought the country together.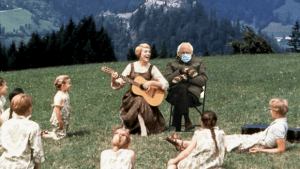 Pres Biden calls for unity. Nation unites under Bernie memes.- Jeff Miller
Bernie's Mittens Meme Unites
This is the Catholic Bard's week in review for
January 18 – January 24 2021
We started off the week honoring a man who had a dream…
Monday January 18, 2021
Martin Luther King Jr. Day
"In today's world, which increasingly faces the challenges of social injustice, division and conflict that hinder the realization of the common good, Dr. King's dream of harmony and equality for all people, attained through nonviolent and peaceful means, remains ever timely in the truth of our shared dignity as children of Almighty God. Only by striving daily to put this vision into practice can we work together to create a community built upon justice and fraternal love."- Pope Francis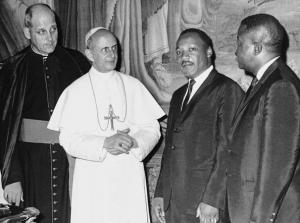 MLK and St. Pope Paul VI
On this day of remembrance for Dr. King the Virginia General Assembly this week discussed a resolution that would declare institutional racism to be a public health crisis in the state.
On this day when we remember the man who fought non-violently for peace,
The body of Fr. John Gbakaan was discovered in Nigeria on Saturday, a day after he was kidnapped by armed men.
And over in Poland…
Catholics and Jews in Poland observed the annual Day of Judaism with psalms, music, and silent prayer on Sunday.
The main commemorative event took place on Jan. 17 at the Bródno Jewish Cemetery in Warsaw, one of the largest Jewish cemeteries in the world, where around 320,000 people are buried.
Polish Catholics have observed the Day of Judaism since 1998. This year, the day was marked with a common Liturgy of the Word followed by remarks from Catholic and Jewish leaders.
On the Pro-life front..
Missouri becomes first state in US to no longer perform abortions.
Tuesday January 19, 2021
Right before the inauguration President-elect Joe Biden invited both Democratic and Republican congressional leaders to attend a church service with him on Wednesday morning ahead of his inauguration, Punchbowl News reported on Tuesday.
The service took place at the Catholic Cathedral of St. Matthew the Apostle in downtown Washington. House Speaker Nancy Pelosi (D-Calif.), House Minority Leader Kevin McCarthy (R-Calif.), Senate Majority Leader Mitch McConnell (R-Ky.) and Senate Minority Leader Chuck Schumer (D-N.Y.) were invited.
Biden will be just the second baptized Catholic to serve as president of the United States, preceded only by John F. Kennedy. Pelosi herself is also a baptized Catholic.
On Trump's last day in office.
He announced in an executive order that a garden will be built to "reflect the awesome splendor of our country's timeless exceptionalism," and to serve as a response to the spate of vandalism on statues during the summer of 2020. The National Garden of American Heroes will include statues of many notable Catholic figures, including five saints and numerous people who are on the path to sainthood.
March for Life founder Nellie Gray,
Also the Trump admin proposed a last-ditch effort to offer religious groups SBA loans.
This would make religious businesses eligible to receive loans from the Small Business Administration, removing previous restrictions.
The United States has declared that the Chinese government's actions against the Uyghur population amount to genocide and crimes against humanity.
Secretary of State Mike Pompeo made a statement regarding human rights violations by China…
"I have determined that the People's Republic of China is committing genocide and crimes against humanity in Xinjiang, China, targeting Uyghur Muslims and members of other ethnic and religious minority groups. These acts are an affront to the Chinese people and to civilized nations everywhere," said Pompeo, on his last full day as secretary of state. "The People's Republic of China and the CCP must be held to account."
In Covid news..
Over in South America as the second wave of coronavirus has severely impacted people in the Amazon, Brazilian bishops have asked for donations of oxygen supplies to help patients in crowded hospitals.
"We, bishops of Amazonas and Roraima, make an appeal: For the love of God, send us oxygen," said Archbishop Leonardo Steiner of Manaus according to a recent video, Independent Catholic News reported.
Wednesday January 20, 2021
Saint Fabian, Pope and Martyr; Saint Sebastian, Martyr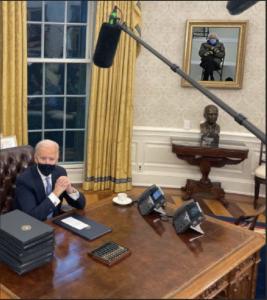 Joe Biden is inaugurated as the 46th President of the United States. Kamala Harris becomes the first female Vice President of the United States. T
"At a time when the grave crises facing our human family call for farsighted and united responses, I pray that your decisions will be guided by a concern for building a society marked by authentic justice and freedom, together with unfailing respect for the rights and dignity of every person, especially the poor, the vulnerable and those who have no voice." –Pope Francis
We are a people of many races, creeds and colors, national backgrounds, cultures and styles – now far more numerous and on land much vaster than when Archbishop John Carol wrote his prayer for the inauguration of George Washington 232 years ago. Archbishop Carol prayed that you, O creator of all, would "assist with your Holy Spirit of counsel and fortitude the President of these United States, that his administration may be conducted in righteousness, and be eminently useful to your people." Leo J. O'Donovan, Jesuit, invocation prayer
Many centuries ago, St. Augustine, a saint in my church, wrote that a people was a multitude defined by the common objects of their love, defined by the common objects of their love. What are the common objects we as Americans love that define us as Americans? I think we know. Opportunity, security, liberty, dignity, respect, honor, and yes, the truth.
Recent weeks and months have taught us a painful lesson. There is truth and there are lies, lies told for power and for profit, and each of us has a duty and a responsibility — as citizens, as Americans and especially as leaders, leaders who have pledged to honor our Constitution and protect our nation — to defend the truth and defeat the lies.- President Joe Biden Inauguration Speech
With the arrival of Joe Biden as the commander in chief the USCCB, made a declaration regarding some troubling aspects of Biden's positions that conflict with Catholic teaching.
As pastors, the nation's bishops are given the duty of proclaiming the Gospel in all its truth and power, in season and out of season, even when that teaching is inconvenient or when the Gospel's truths run contrary to the directions of the wider society and culture. So, I must point out that our new President has pledged to pursue certain policies that would advance moral evils and threaten human life and dignity, most seriously in the areas of abortion, contraception, marriage, and gender. Of deep concern is the liberty of the Church and the freedom of believers to live according to their consciences.

Our commitments on issues of human sexuality and the family, as with our commitments in every other area — such as abolishing the death penalty or seeking a health care system and economy that truly serves the human person — are guided by Christ's great commandment to love and to stand in solidarity with our brothers and sisters, especially the most vulnerable. For the nation's bishops, the continued injustice of abortion remains the "preeminent priority." Preeminent does not mean "only." We have deep concerns about many threats to human life and dignity in our society. But as Pope Francis teaches, we cannot stay silent when nearly a million unborn lives are being cast aside in our country year after year through abortion.
Most Reverend José H. Gomez
Archbishop of Los Angeles, President, United States Conference of Catholic Bishops
As Bishop Gomez expresses concern over one of the church's most prominent issues of our day, a fellow bishop took issue with his fellow bishop taking issue over Biden's position concerning the issue of abortion.
The U.S. Conference of Catholic Bishops issued an ill-considered statement on the day of President Biden's inauguration. Aside from the fact that there is seemingly no precedent for doing so, the statement, critical of President Biden, came as a surprise to many bishops, who received it just hours before it was released.

The statement was crafted without the involvement of the Administrative Committee, a collegial consultation that is a normal course for statements that represent and enjoy the considered endorsement of the American bishops.

The internal institutional failures involved must be addressed, and I look forward to contributing to all efforts to that end, so that, inspired by the Gospel, we can build up the unity of the Church, and together take up the work of healing our nation in this moment of crisis.
Cardinal Blase Cupich, archbishop of Chicago
And the most memorable thing to come out of this day…
While events were happening in Washington D.C.
At least three dead as explosion devastates Catholic parish building in Madrid.
At least 750 people are reported dead after an attack on an Oriental Orthodox church in Ethiopia's Tigray region on January 9, 2021.
Thursday January 21, 2021
Memorial Saint Agnes, Virgin and Martyr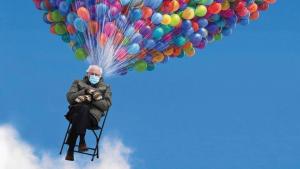 The Abortion war continues on when…
"I think that Donald Trump is president because of the issue of a woman's right to choose," Pelosi said on the Jan. 18 episode of "You and Me Both with Hillary Clinton," blaming pro-life voters for boosting Trump into office.

"When you take the greed of those who want their tax cuts, that's probably a small number [of voters], but nonetheless a number," said Pelosi. Conversely, "then you take the abortion issue–and many of these people are very good people; that's just their point of view. But they were willing to sell the whole democracy down the river for that one issue."
She was quickly rebuked by a bishop.
'No Catholic in good conscience can favor abortion' said Archbishop Salvatore Cordileone of San Francisco, Pelosi's home diocese, in a statement issued on Thursday. "Our land is soaked with the blood of the innocent, and it must stop."
Pelosi is not the only Catholic in Washington who goes against the church's teaching on this most important issue.
Biden's Catholic cabinet nominees mirror him on abortion

While President Joe Biden has nominated a number of Catholics to serve in his cabinet, some of them have publicly contradicted Church teaching on abortion.
This is going to be reflective in some of President Biden's upcoming policies.
Dr. Fauci promises repeal of Mexico City Policy
The Biden administration will repeal the Mexico City Policy in the "coming days," White House advisor Dr. Anthony Fauci told board members of the World Health Organization (WHO) on Thursday, January 21.

"It will be our policy to support women's and girls' sexual and reproductive health and reproductive rights in the United States, as well as globally," Fauci told an executive board meeting of the World Health Organization on Thursday.

"To that end, President Biden will be revoking the Mexico City Policy in the coming days, as part of his broader commitment to protect women's health and advance gender equality at home and around the world," Fauci said.
Abortion is not the only policy the new president is undertaking that is troubling to Catholic thought.
In far-reaching executive order, Biden redefines 'sex'

In one of his first acts in office, President Joe Biden has signed an executive order to interpret sex discrimination in federal law to include sexual orientation and gender identity. The move could impact high school sports, the privacy of single-sex bathrooms, faith-based organizations that are government grantees or contractors, and whether employees may face retaliation for voicing "discriminatory" religious beliefs.
But not everything Biden is doing is going against Catholic teaching. The U.S. bishops praise Biden's repeal of travel ban. And the U.S. bishops applaud Biden's actions on immigration.
Biden also signs executive orders on Covid vaccinations, pandemic response. The new President has set an ambitious goal of giving 100 million shots in 100 days — ramping up the pace from the 17 million shots the Trump administration oversaw.
As with every president, he does some good things and not so good things.
In some other not so happy news.
A Missing priest in Burkina Faso is found dead. And
A recently ordained Catholic priest died in hospital early Thursday morning after an explosion destroyed a parish building in the Spanish capital, Madrid.
Fr. Rubén Pérez Ayala was ordained to the priesthood last June. His first assignment was at the Virgen de la Paloma parish near the Puerta de Toledo in the center of Madrid, where he was serving when an explosion destroyed much of the parish rectory and office at 3 p.m. on Jan. 20.
The young priest was taken to hospital and underwent an operation for his injuries. His brother, Pablo, also a diocesan priest, administered the anointing of the sick.
Also Pope Francis sends condolences after 32 killed in suicide bombings in Iraq.
On a happier note…
Pope Francis recognizes heroic virtues of pioneering French geneticist Jerome Lejeune.
And
Two 20th century Italians advance on the path to sainthood.
Friday January 22, 2021
USA: Day of Prayer for the Legal Protection of Unborn Children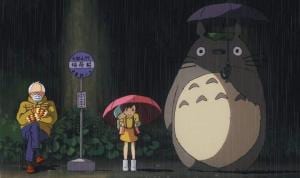 Biden, Harris state their support for abortion on Roe anniversary
"The Biden-Harris Administration is committed to codifying Roe v. Wade and appointing judges that respect foundational precedents like Roe. In the past four years, reproductive health, including the right to choose, has been under relentless and extreme attack."
The US bishops urge Biden to reject abortion rights after 'deeply disturbing' statement.
"We strongly urge the president to reject abortion and promote life-affirming aid to women and communities in need.It is deeply disturbing and tragic that any president would praise and commit to codifying a Supreme Court ruling that denies unborn children their most basic human and civil right, the right to life under the euphemistic disguise of a health service. –Archbishop Joseph Naumann of Kansas City in Kansas
Getting back to Cardinal Cupich's remark of the other day, George Weigel says his criticisms of Archbishop Gomez are baseless.
By any reasonable standard, Archbishop Gomez's statement was balanced and measured; absent the controversy that erupted before and after its release, some would likely have argued that it was too balanced and too measured. The controversy, however, underscored the statement's firm, clear, and unambiguous stance on the "preeminent priority" of the life issues—and thus heightened the impact of those parts of the statement that the dissident cardinals may have found so objectionable that they tried to quash the entire document.
Our Sunday Visitor also voiced their support in their Editorial: Why we stand with Archbishop Gomez.
In the manner of a true pastor, though, Archbishop Gomez was compelled to address areas of divergence as well as convergence.

Some have said that Inauguration Day was not the moment for a statement heavy on issues. But as of Jan. 20, our nation has a practicing Catholic as president. President Biden attended Mass and presumably received the Eucharist before his swearing in. During his inaugural address, he quoted St. Augustine. A photo of Biden greeting Pope Francis now has a prominent place behind the Resolute Desk — the same desk at which he is expected to expand access and funding to abortion in coming days.

It is precisely because of President Biden's Catholicism that Archbishop Gomez was obligated to preach the Gospel — the truth of Jesus Christ that President Biden professes to hold dear — even when it was complicated, no matter the cost. The future of the Church in America, especially during the next four years, depends on him doing just that. Our Sunday Visitor Editorial Board January 22, 2021
In Other Pro-life News…
Pro-abortion protestors disrupt pro-life Mass at Ohio cathedral.
Pro-life group says campaign finance bill could unfairly limit their speech.
Virginia bishops oppose abortion bill passed by state senate.
As assisted suicide continues to rise in Ontario, pro-lifers call for government action
In Other Related News
Experts: 15 more days to reach trapped China mine workers.
Pope Francis decries men who sustain 'reprehensible' trade in preface to trafficking victim's biography
Catholic bishops of Hiroshima and Nagasaki hail nuclear weapons ban treaty
Portugal's Catholic bishops suspend public Masses amid rising COVID-19 cases
Amid the pandemic, sainthood cause of nun who served poor hit by epidemics advances
Elizabeth Prout (1820-1864) known as the "Mother Teresa of Manchester,"
"It seems appropriate this announcement came during the pandemic when we can look to Elizabeth's example and ask the help of her prayers as a woman who helped many during the epidemics which swept the industrial communities of Victorian England." Bishop Mark Davies of Shrewsbury
No Man's Land premiers on VOD.
On Jimmy Akin's Mysterious World Podcast…
Saturday January 23, 2021
USA: Saint Vincent, Deacon and Martyr, Saint Marianne Cope, Virgin;
And while there is a Virtual Walk for Life, the 2021 Walk for Life West Coast goes forward despite other walk cancellations.
In Pope Francis News…
Pope Francis is forced to miss more events due to recurrent nerve pain.
He also said recently in hs World Communications Day message.
"We have known for some time that news and even images can be easily manipulated, for any number of reasons, at times simply for sheer narcissism. Being critical in this regard is not about demonizing the internet, but is rather an incentive to greater discernment and responsibility for contents both sent and received. All of us are responsible for the communications we make, for the information we share, for the control that we can exert over fake news by exposing it. All of us are to be witnesses of the truth: to go, to see and to share."

Earlier this month a false report that Italian police had arrested the pope amid a Vatican "blackout" was widely shared on the internet. The report was posted on a Canadian website which had also previously posted a fictitious claim that former U.S. President Barack Obama had been arrested on espionage charges.
In Other papal related news, the Vatican is gradually to defund some mission territories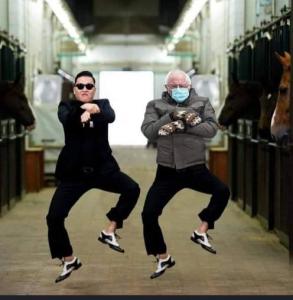 January 24, 2021
SUN THIRD SUNDAY IN ORDINARY TIME
To Close off the week…
Biden to reinstate Covid travel restrictions Trump rescinded, impose new ban on South Africa.
Vatican archbishop: Turn off your phone and open the Gospel
"Let us set the Gospel in a place where we can remember to open it daily, perhaps at the beginning and at the end of the day, so that amid all those words that ring in our ears, there may also be a few verses of the word of God that can touch our hearts. To be able to do this, let us ask the Lord for the strength to turn off the television and open the Bible, to turn off our cell phone and open the Gospel."
Movie Trailer Premiere
Minnesota's 'mitten lady' weighs in on those sweater mittens worn by Sen. Bernie Sanders to the inauguration
"Wool is an amazing fiber," Steller says of her company's signature mittens. "It deserves to be repurposed."

The Minneapolis shop's standard mittens are fashioned out of vintage, 100-percent wool sweaters, lined with polar fleece, finished with leather palms and embellished with vintage buttons. At $78 a pair, it would be painful to have one of these mittens stray, as mittens often do, but Steller says the cost is due to the quality of materials — and because she pays her experienced seamstresses a living wage ("The tags say, 'Handcrafted by Real Minnesotans,' " Steller says).

Plus, they're wearable works of art.

"Our motto is 'Useful and Beautiful,' " Steller says. "We have to cover our hands in Minnesota in the winter, but bringing beauty into everyday life is so important for all of us."
Deaths of the Week
Pro-Life Activist. Joseph M. Scheidler (September 7, 1927 – January 18, 2021) Founder of the The Pro-Life Action League
Hank Aaron, Catholic American baseball player (February 5, 1934 – January 22, 2021),
American talk show host Larry King, November 19, 1933 – January 23, 2021)
Quotes and Photos of the Week
What do I have in common with President Biden?
1. My father was born in Scranton, PA and well as President Biden. Many Great grandfathers also lived in Scranton area. I have visited that city many times.
2. We are both Catholics (I am not going to judge his personal convictions, I am not in management)
3. The Office is one of my favorite shows, based in Scranton. Parks and Rec (another favorite show) character Leslie, loved Biden and he was in the show once.
I did not vote for him, but I will pray for him to serve the common good.- Marshall Myers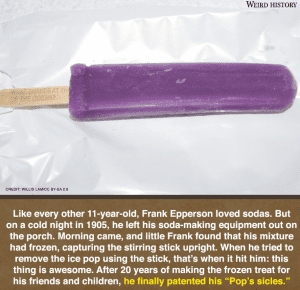 So my biggest personal problem at the moment is that I don't know how to stop knitting.
Literally. I don't know how to cast off. I'm stuck in an infinite knitting loop forever. The Art Gremlin @madelynnotmadi