January 6, is the feast of the Epiphany.
I almost had an epiphany, but it was transferred to the closest Sunday. –Jeff Miller
Last night I had a revelation in terms of my health.
As I was at work expecting to put trays and covers into the dish machine and pondering my next blog post,
I got the unfortunate notice that with my last COVID test, which I get every Thursday, turned out
POSITIVE.
YIKES!
PANIC.
My wife has pre-existing conditions and my concern is for her. I'm selfish and don't want to be a widower.
OK.
STOP.
Breathe.
calm.
Fortunately, I'm asymptomatic, so I feel fine. Kristin also feels fine. But she got tested as a matter of precaution. Were now social distancing by staying in separate rooms. I did have to drive her to Convenient MD with the windows open, with her in the back seat. I also grumpily moved my broken computer into my room and put the exterior monitor on my broken table. I think I was somewhat upset that I might have to be stuck in my room without access to the outside world, entertainment and my apparatus for writing.
But it worked out. We sometimes get bad attitudes in challenging situations. Kristin is gracious enough to forgive me. She lovingly prepares me food and leaves it outside my door. What a great wife. I recommend someone like her for all men looking for a wife. Someone who loves God above all else, loves the less fortunate and can laugh at random things that are hilarious and stupid. And when I say laugh, I mean sometimes for several minutes straight and a very hard laugh where she turns red and will fall over if she is walking.
I get to go back to work next Monday. So I have a forced mini-retreat in my room where I can think, rest, reflect, write, watch movies, read books and dance.
This week we celebrate in the Catholic world the feast days of
The first canonized American Saint, Elizabeth Ann Seton on January 4.
The first canonized American Bishop and only American male Saint, John Neumann on January 5.
The first Canadian living after the Confederation to be canonized, André Bessette on January 6.
And Saint Raymond of Penyafort on my sister's birthday January 7.
We celebrate these great saints of North America and more as America undergoes a brutal and unprecedented day in its history.
I have all this time to compose great blog posts as I'm stuck sitting in my room. But today I have been constantly checking my FB feed for updates on the ongoing situation in Washington D.C. as I'm in quarantine. As I write these words I am listing to a song by an alternate rock band called AJR titled BANG!
And that is exactly what is happening in D.C. There is a big BANG going on in our country as supporters of our president are clashing with police rushing the capital.
A friend of mine commented…
I am watching the party of "law and order" storm into the capitol building to disrupt a public assembly. Elected members of Congress from both parties are sheltered in place hiding under their desks with furniture blocking the doors. If you ever wondered why some Dems could use the term "Deplorable" to describe some Trump supporters, now you know….I am hopeful that the grownups will show up soon and declare that recess time is over. –John J Burke.
Another FB friend pointed out his interesting historical fact.
Per a DC historian: This is the first time that the Capital has been breached since the British did so in 1814 during the War of 1812.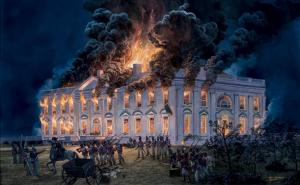 Author Peter Snow makes this observation…
The British invasion of Washington is not an episode in their history that Americans recall with much relish – any more than the French do the Battle of Waterloo. In Britain, very few people know it happened or even that there was a so-called War of 1812. It was actually one of the defining moments in the history of both countries. For America it was the only other time – before the terrorist attack of 11 September 2001 – that outsiders succeeded in striking at the core of American state power.
When Britain Burned the White House (2014) St. Martin's Publishing Group
The next song in the play list following BANG! is Dynamite by BTS.
As I take shelter in my house keeping the world safe from me, I'm safe from incidents like these happening in D.C.
While these incidents live in the imaginations of our best entertaining films, this particular incident was real.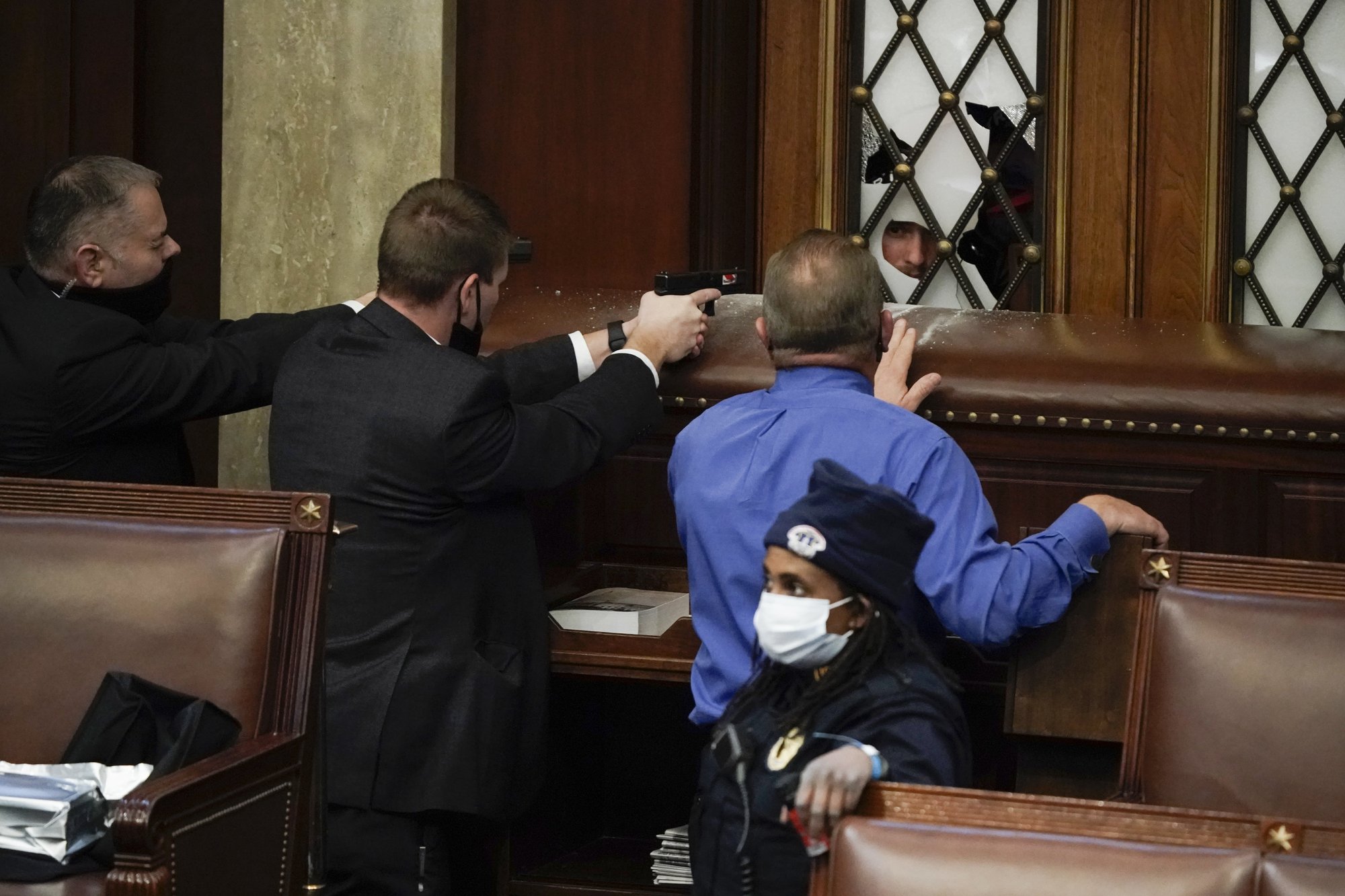 Terrorists around the globe are thinking…"Yeah, if they can do it, think what we could do. The possibilities."
Not everyone feels safe being near such chaos and confession.
Dawn Eden Goldstein @DawnofMercy had this to say about the situation over on Twitter.
I worked at the World Trade Center until two weeks before 9/11. When the towers were attacked, I saw them burn from across the Hudson River in Hoboken and saw the parking lot of the rail station as it was transformed into a triage center awaiting survivors arriving from NYC. …

After 9/11 I volunteered for the Red Cross for two weeks. I helped on a Jersey City supply line loading boats headed to Ground Zero. I signed up volunteers outside the Red Cross HQ in NYC. And I fed recovery workers (those searching for remains) on a boat docked at Ground Zero…

Today I live six blocks from the US Capitol. In the distance in this pic taken on my roof, you can see the top of the Capitol Dome at sunset. Normally Capitol Hill is a peaceful place. Parents & kids walk through the beautiful public spaces outside Congress & the Supreme Court…

…But not today. Today I am holed up in my apartment as sirens screech and helicopters buzz.A

I never wanted to suffer another 9/11. I never wanted to witness another attack on America in my own back yard. But that's what this is.

I feel traumatized–re-traumatized. And I pray.
A woman has been shot and had died because of the protests. 3 others have also died. May they rest in peace.
Even if you despise Biden and support Trump, there is no denying that these protests and violence are a direct result of its leader and his followers not willing to accept defeat in an election and that the conspiracy theories about widespread election fraud has been shown time and time again to have no solid ground to stand upon. It is fueling the commotion in D.C. and it may have cost Republicans the Senate.
The state of Georgia's Senate delegation has flipped to blue overnight, and Republicans have lost control of the US Senate. These things happen when a losing Republican president spends two months promoting crackpot conspiracy theories about how his election was stolen, and urging, and allowing his minions to urge, Georgia Republican voters to stay home to teach state GOP officials a lesson about how they ought to have served Trump's interests rather than the law.
–Rod Dreher, Trump Costs GOP The Senate (January 6, 2021) The American Conservative
As I sit in my room keeping my Covid infected body safe from others, I look and sigh and pray to God that he will quarantine the insanity and hate from affecting the lives of our nation. May our lame duck president have the grace to accept defeat and do the right thing. If he doesn't decide to do that because power is more important to him, may his followers do the right thing. And may the rest of us also have the grace to do the right thing.
This trouble has only just begun and will probably continue long after Biden gets sworn in as President on January 20. Time will tell what this incident will produce in the future so let us not entrust our future to Trump or to Biden but to God, who I pray will help and guide us all. Amen.
"To attack the U.S. Capitol to express your fear that democracy has been denied is wrong, and also counterproductive. Doubts about free and fair elections cannot be redressed by violence against democratic institutions.

"To the deaths from a pandemic, and destruction wreaked on people's livelihoods, we do not need to add an attempted civil war. I called for an end to violence in the streets when it happened this summer. I call on every American of good will to denounce this violence against our nation's Capitol now.

"May the Prince of Peace put an end to this strife, and bring healing and constructive criticism in the place of mob rule. And may God bless America."
Archbishop Salvatore J. Cordileone (San Francisco):
Now, with all this time on my hands, what am I going to watch or write next?
wat