And now as the world turns,
The holy season of Lent takes over most of the
CB WIRE February 15 – 21, 2021
Monday February 15, 2021
Presidents Day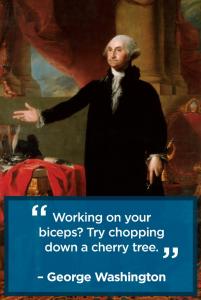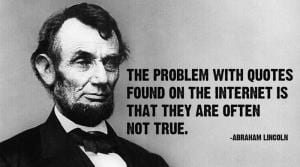 We start out the week remembering the martyrs who gave their life for Christ , suffering and dying under the evil actions of ISIS. They thought they were pleasing their version of God and were willing to kill others for it. These 21 brave men were willing to die for their version of God, just like their master and explemafier, Jesus Christ. May they pray for us.
"I hold in my heart that baptism of blood, those twenty-one men baptized as Christians with water and the Spirit. I thank God our Father because he gave us these courageous brothers. I thank the Holy Spirit because he gave them the strength and consistency to confess Jesus Christ to the point of shedding blood. I thank the bishops, the priests of the Coptic sister Church which raised them and taught them to grow in the faith. And I thank the mothers of these people, of these 21 men, who 'nursed' them in the faith.- Pope Francis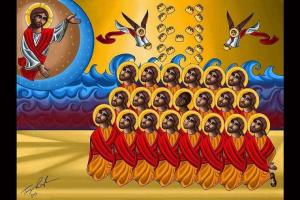 Two weeks ago we reported that this girl danced while the military took over the government.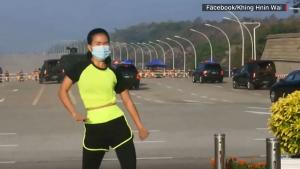 This week these incredible brave Catholic nuns joined protests against Burma's military coup.
Catholic nuns in Burma have joined widespread protests against the recent military coup, Asian Catholic websites have reported.

According to UCA News, Catholic nuns from a variety of communities in Burma have marched the streets, praying for the protestors and offering them food. Amid protests in the city of Myitkyina, the capital of the state of Kachin, nuns hung signs saying "No to dictatorship" and "Listen to the voices of people" outside of their convent.

Burma, also known as Myanmar, is a country in Southeast Asia with a population of 54 million people. Both the democratically-elected leader Aung San Suu Kyi and president Win Myint were detained by members of the military in the early hours of Feb. 1, after the military disputed the results of the 2020 election. The army general Min Aung Hlaing now leads the country.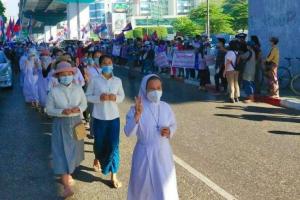 The rioters who stormed the capital tried to do that here and failed. But unlike military presence in Burma, they only detainted the current leadership. Our people wanted to kill our elected officials and set up a gallows to do so.
Last week a 8 year old kid revealed to us all that their were a lack of dinosaur stories covered by NPR. This week a theory claims to finally reveal how the dinosaurs were killed
"Basically, Jupiter acts as a kind of pinball machine. Jupiter kicks these incoming long-period comets into orbits that bring them very close to the sun. When you have these sun grazers, it's not so much the melting that goes on, which is a pretty small fraction relative to the total mass, but the comet is so close to the sun that the part that's closer to the sun feels a stronger gravitational pull than the part that is farther from the sun, causing a tidal force.. You get what's called a tidal disruption event and so these large comets that come really close to the sun break up into smaller comets. And basically, on their way out, there's a statistical chance that these smaller comets hit the Earth.-Siraj, the Undergraduate Student.
I think this author is going to have to go with Gary Larson's theory of how they became extinct.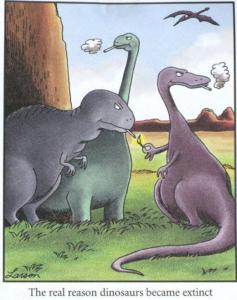 In case you were worried that you would run out of good things to watch Catholic Actor Kevin James New Comedy Series premiered on Netflix
Tuesday February 16, 2021
Mardi Gras (Fat Tuesday, Shrove Tuesday, Pancake Eating Day)
Celebrate Mardi Gras and enjoy it! Wear some beads, eat some treats, enjoy some of the things you're going to part with during Lent; but don't treat it like a goodbye to whatever worldly sacrifice you're going to make. Treat it like a goodbye to attachments to anything other than Jesus, and a hello to a life caught up in the love of Christ. It's ok to enjoy worldly things (as they ought to be enjoyed) this Fat Tuesday, but we don't mourn their loss when we enter into Lent — we see parting with them as an opportunity to grow closer to the only thing that will ever truly satisfy us: the love of Jesus.
Leah Murphy,How to Fat Tuesday Like a Pro (LifeTeen)

To honor my wife I took her out to IHOP so she could have pancakes on Strove Tuesday (Pancake Eating Day).
I had a steak burger and some Mozzarella Sticks for an appetiser. All of the cheap menu.
The Fight for the unborn goes on as a 'Pain-capable' 20-week abortion ban is introduced in the House.
Nearly one-third of U.S. House members are supporting a new bill to ban most abortions after 20 weeks.

On Monday, Rep. Chris Smith (R-N.J.) introduced the Pain-Capable Unborn Child Protection Act in the House; the act would ban most abortions after 20 weeks gestation—the age when, according to some medical experts, unborn babies can begin feeling pain.

"Pain, we all dread it. We avoid it. We even fear it. And we all go to extraordinary lengths to mitigate its severity and its duration for ourselves," Smith stated on Monday. "Yet every day, a whole segment of human beings is being subjected to painful—and deadly—procedures."

Sen. Lindsey Graham (R-S.C.) has also introduced a 20-week abortion ban in the Senate. Both Graham and Smith have introduced similar legislation in previous congresses.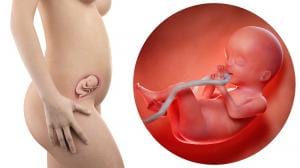 The Fight against ISIS is being lead by the 'Daughters Of Kobani'
When we spoke, they made clear that their ambition went well beyond this sliver of Syria: they wanted to serve as a model for the region's future, with women's liberation a crucial element of their quest for a locally led, communal, and democratic society where people from different backgrounds lived together. This story was not only a military campaign, I realized, but also a political one: without the military victories, the political experiment could not take hold. For the young women fighting, what mattered most was long-term political and social change. That was why they'd signed up for this war and why they were willing to die for it. They believed beating ISIS counted as simply the first step toward defeating a mentality that said women existed only as property and as objects with which men could do whatever they wanted. Raqqa was not their destination, but only one stop in their campaign to change women's lives and society along with it.
Gayle Tzemach Lemmon, The Daughters of Kobani (2021). Penguin Publishing Group
The fight against freedom is on display as Two Christians are accused of breaking Pakistan's blasphemy law.
Two Christian evangelists could face the death penalty after being charged with violating Pakistan's blasphemy law after an encounter in a park in Lahore prompted a complaint that they made derogatory comments about Islam.The complaint alleged that the Christian men said Muhammad had strayed on the path of religion. They allegedly said Muhammad had married to extend his lineage, while Christ had never married and continued his preaching. The complainant alleged that the two Christian men had said the Bible is a true book, while the Quran is not. He claimed that one of the men repeated this statement, hurting the Muslims' religious feelings.
The fact you might have gotten banned from facebook or twitter because you were being obnoxious to other people about your faith is not a sign of persecution. This is what real persecution looks like. May God spare these men from death and bring them to the safe shores of heaven.
Wednesday February 17, 2021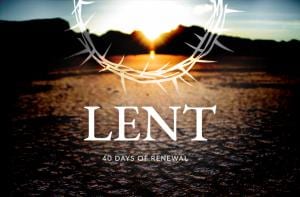 Want to knowHow to have a holy Lent? Click Here
This special day begins our Lenten journey. It is the start of 40 days of prayer, penance and almsgiving as we prepare ourselves to celebrate the resurrection of our Lord Jesus Christ on Easter Sunday. But why does Lent begin on a Wednesday, and what is the significance of ashes?
Ash Wednesday was added to the liturgical calendar well after the 40-day penitential season of Lent became the norm throughout the Latin Church. Lent, in turn, was universally established only after the early Church sorted out the date of Easter. The issue was clarified at the famous Council of Nicaea in 325 where "all the Churches agreed that Easter, the Christian Passover, should be celebrated on the Sunday following the first full moon (14 Nisan) after the vernal equinox" (Catechism of the Catholic Church, No. 1170). The vernal (spring) equinox generally falls on March 21, thus the date of Easter in the Western Church can occur anytime between March 22 and April 25.-D.D. Emmons, Ash Wednesday's Significance, Simply Catholic
As a New Englander bad winter weather is a given. But in parts of the country where their not used to it, it can be deadly. The big Winter Storm of 2021 has hit Texas hard causing power outages and death. And this is true for other parts of the country as well.
At least two dozen people have died this week, including from fire or carbon monoxide poisoning while struggling to find warmth inside their homes. In Oklahoma City, an Arctic blast plunged temperatures in the state capital as low as 14 degrees below 0 (-25 Celsius).

"This is a different kind of storm,″ said Kendra Clements, one of several businesspeople in Oklahoma City who opened their buildings to shelter homeless people, some with frostbite, hypothermia and icicles in their hair. It was also a harbinger of what social service providers and governments say will be a surge of increased needs for society's most vulnerable as climate and natural disasters worsen.

Other Americans are at risk as well. Power supplies of all sorts failed in the extreme cold, including natural gas-fired power plants that were knocked offline amid icy conditions and, to a smaller extent, wind turbines that froze and stopped working. More than 100 million people live in areas under winter weather warnings, watches or advisories, and blackouts are expected to continue in some parts of the country for days.-More deadly storms coming so prepare better, experts say (apnews.com)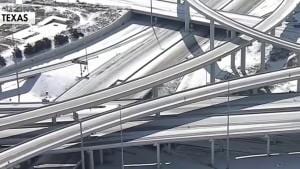 Children should never have to face life or death situations but a Tennessee boy, 10, dies after trying to save sister from frozen pond, reports say.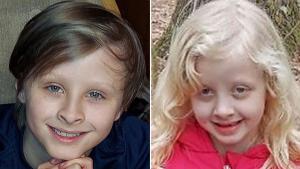 While another young lad was almost thrown in the garbage truck as he hid in a trash can but was spotted in time by a worker on the truck. The boy explained..
'I Was Gonna Be A Mashed Potato': Florida Boy Recounts Garbage Truck Horror | HuffPost
And those Catholic patients at Oasis Pavilion Nursing and Rehabilitation Center in Casa Grande, Arizona who are Facing Isolation Due to COVID-19, Find Solace in Rosary Group. Kristin and I used to lead a rosary group with the elderly residents at her nursing home. It's a communal prayer that brings people together.

Popular evangelical Christian leader Ravi Zacharias recently died and also it was recently revealed he had been sexualy abusing women. I used to listen to him on the radio, saw him speak live, and meet him person. This is a sad but sober warning that anyone can let lust and power overtake them. In this article Christian leaders react to Ravi Zacharias sexual abuse report – from The Christian Post.
"This report pictures not a mere 'moral failure,' but a pattern of predation that can only be described as criminal, sociopathic, and indeed, satanic," Southern Baptist leader Russell Moore wrote in a scathing op-ed.
To close out Ash Wednesday on a positive note, here are some words from our Catholic leader.
The journey of Lent is an exodus, an exodus from slavery to freedom. These forty days correspond to the forty years that God's people trekked through the desert to return to their homeland. How difficult it was to leave Egypt! It was more difficult for God's people to leave the Egypt of the heart, that Egypt they carried within them, than to leave the land of Egypt. It is hard to leave Egypt behind. During their journey, there was an ever-present temptation to yearn for leeks, to turn back, to cling to memories of the past or to this or that idol. So it is with us: our journey back to God is blocked by our unhealthy attachments, held back by the seductive snares of our sins, by the false security of money and appearances, by the paralysis of our discontents. To embark on this journey, we have to unmask these illusions.
Pope Francis' Ash Wednesday Homily | ROME REPORTS
Thursday February 18, 2021
Thursday after Ash Wednesday
Recently I just read or was supposed to read Mars by recently late SF author Ben Bova for our Science Fiction Reading Group. And now…
'Touchdown confirmed!' Perseverance landing marks new dawn for Mars science | Science | AAAS (sciencemag.org)
NASA's Mars 2020 mission (containing the Perseverance rover and Ingenuity helicopter drone) lands on Mars at Jezero Crater, after seven months of travel. I just hope that we don't disturb whatever Martians are living there.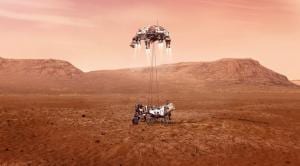 We've made it to Mars and now Scientists have cloned the first U.S. endangered species, a black-footed ferret duplicated from the genes of an animal that died over 30 years ago.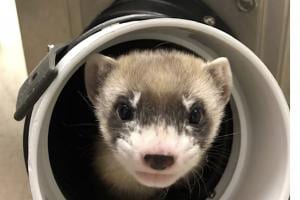 And Bishops call for renewed emphasis on faith as Australia marks 200 years of Catholic education.
Two hundred years ago the first official Catholic school opened in Australia. Since then Catholic education has grown to the point that it now educates around 770,000 primary and secondary school students,in more than 1,750 schools, with nearly 100,000 staff. These are sponsored by dioceses and parishes, religious institutes and public juridic persons, and groups of parents. Six thousand Catholic catechists participate in the religious education of 200,000 children in government schools and parishes. Over the last few years, hundreds of Church sponsored early learning centres have been established, educating many thousands of preschoolers. Around 50,000 tertiary students are now enrolled in our two Catholic universities with their several campuses. It is an extraordinary achievement! –Australian Bishops Pastoral letter 200 Years Young,
The Fight for the unborn continues in South Carolina where
South Carolina Gov. Henry McMaster signed The South Carolina Fetal Heartbeat and Protection from Abortion Act Thursday, banning abortions in the state when a fetal heartbeat is detected. The law took effect immediately following the signing. Pro-abortion groups have announced they will file a lawsuit to try and block the law.
Friday February 19, 2021
Friday after Ash Wednesday
Yesterday SC passed a heartbeat bill. Today a
federal judge has temporarily blocked South Carolina's heartbeat-based abortion ban just days after its passage, in response to court filings from Planned Parenthood. However, the South Carolina Attorney General's Office has argued that Planned Parenthood can't be sure the U.S. Supreme Court will reject the law.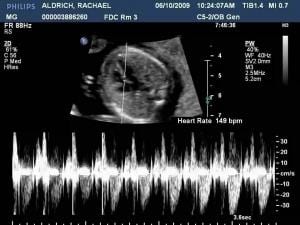 As the crisis in Texas dies down some households now face electricity bills as high as $10,000.
Texas laws protect consumers from companies exploiting natural disasters for profit, but it is unclear if those laws can be extended to protect electric customers slapped with large bills, said Keegan Warren-Clem, a managing attorney at the nonprofit Texas Legal Services Center.
Here's hoping that an ounce of humanity, compassion and a healthy fear of God will enter into the individuals who can wave this outrageous fee that could hurt families struggling to survive the uncontrollable situation that has been thrust upon them during the mad raging of this winter storm upon them.
This Week on Jimmy Akin's Mysterious World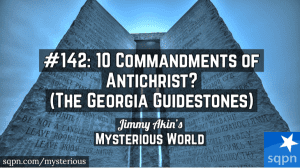 MYS142: For 40 years, people have wondered who was the mysterious Robert Christian who commissioned the Georgia Guidestones and the meaning of the 10 principles inscribed on it. Jimmy Akin and Dom Bettinelli identify who Christian really was and examine what the 10 guidelines really mean.
Saturday February 20, 2021
Saturday after Ash Wednesday
Cardinal Robert Sarah a beloved Catholic Bishop has turned 75 and has submitted his resignation to Pope Francis as prefect of the Congregation for Divine Worship and the Discipline of the Sacraments. And the pope has accepted it.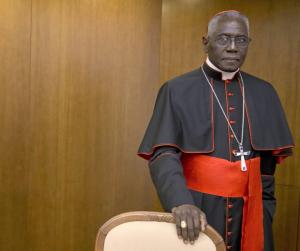 In COVID- News.
The number of vaccinations administered worldwide exceeds 200 million.
Sunday February 21, 2021

You can always count on Pope Francis to begin and end the week with profound statements and encouragement of faith.
Pope Francis honored the sacrifice of medical workers who died in coronavirus pandemic.
"The example of so many of our brothers and sisters, who have risked their lives to the point of losing them, inspires deep gratitude in all of us, and is a cause for reflection. In the presence of such self-giving, the whole of society is challenged to bear ever greater witness to love of neighbor and care for others, especially the weakest."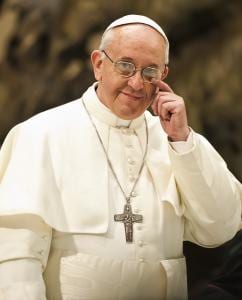 "The desert is the place where God speaks to the heart of the human person, and where the answer to prayer flows,.
That is, the desert of solitude, the heart detached from other things and alone, in that solitude, opens itself to the Word of God."
New Movies of the Week
The Mauritanian
Nomadland on Hulu
I Care A Lot Netflix Originals
Flora and Ulysses Disney+
Deaths of the Week
Carmelo Domenic Licciardello (January 19, 1956 – February 16, 2021), known by his stage name Carman, was an American contemporary Christian music singer whose concerts I went to. I used to lip sync his story songs about Jesus beating up the devil in my CCD classes.
Rush Limbaugh January 12, 1951 – February 17, 2021 was the pioneer and king of conservative talk radio
and host of the famous or infamous The Rush Limbaugh Show, which was nationally syndicated on AM and FM radio stations.
I used to listen to him back in the day.
Mark Anthony Morales (February 19, 1968 – February 18, 2021), better known by the stage name Prince Markie Dee, was an American rapper,[1] songwriter, producer, and radio personality. Morales was a member of the Fat Boys, a pioneering rap group that gained fame during the 1980s. Morales was the vice-president of Uncle Louie Music Group.
Arne M. Sorenson (1959 – 2021) was an American hotel executive. He was the President and Chief Executive Officer of Marriott International.
Quotes and Fun Posts of the Week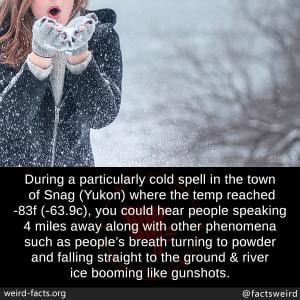 Becoming Catholic: An Interview with Catholic Apologist Jimmy Akin – Randal Rauser
In this conversation, we hear the story of how Jimmy Akin, Senior Apologist at Catholic Answers, converted to the Roman Catholic Church.
We close off with a fascinating discussion about his eclectic podcast Jimmy Akin's Mysterious World.