We continue to travel with our brothers and sisters who have been baptized in the Christian faith during this holy season of Lent.
This week let us learn about the commandment of Jesus which tells us to Love One Another.
We will no doubt be in purgatory until we learn to love all the people we will spend eternity with.
Till we love all our…
Companions on the Journey
Lent Week 4
Monday March 8, 2021
How would I talk to the young mother with swastikas tattooed on her arms when I ran into her pushing her baby in a stroller down the street? What if her boyfriend bragged about going to D.C. and invading the Capitol? What if he was wearing a "Camp Auschwitz" T-shirt? And came over to borrow the lawnmower?
What do you do? Love them as you can, obviously. But does that include bringing them pies, playing with them on the beach, giving them lifts? The saints would tell us to befriend them, remind us that no one is beyond the reach of God's grace, that we could have been or may be in a different way such as them, that the only thing that will break their hard hearts will be love, that such depraved humanity can only be healed by their meeting the True Man in his people. Love may well include correction, but it begins with kindness.
David Mills Be friends with the radicals: Dorothy Day and what it means to love our neighbors (January 11, 2021) Our Sunday Visitor (osvnews.com)
Tuesday March 9, 2021
Everyone wants to imitate Jesus in the one time He showed some temper with the whip in the temple. Dude, you are not Jesus. It's a much safer bet to imitate Him in the other 99% of the Gospels, like when He preached the good news, when He fed His sheep, when he gave over His body, and when He fixed His eyes firmly on the Father and then told us to do the same.
Simcha Fisher, The only thing I will write about the Amazon Synod (October 21, 2019)
Wednesday March 10, 2021
Matthew 23 deals with Jesus being nasty to the leaders of the pharisees. If Jesus can do it, I can do it as well, right? This is one chapter. We have to take it into account but it's one chapter. The four gospels contain a total of 89 chapters and in one of them, Jesus is exceptionally harsh. In the other ones, He is mild, calm, articulate, firm, and even mildly angry. Still, 1 out of 89 is 1.1% of the time. Taking the words of 1.1% percent of the gospels and applying them to 80% of your behavior is not following Christ, it's an excuse to act how you want, when you want.
The same case could be made with St. Paul. He has one chapter that's extremely harsh and in the other chapters, there is a range of ways that he articulates his message.
Here are a number of saints who are known for their harshness and even nastiness. We must remember that saints, being holy men and women are still flawed. No saint is perfect.
St. Thomas More argued against Luther, Tyndale, and other Protestants quite viciously. It's almost painful to read at times. St. Francis de Sales was the exact opposite. He was gentle, mild mannered, but firm and spoke the truth when he needed it.
-Allan Ruhl Nasty Internet Stuff (October 9, 2019)www.allanruhl.com
Thursday March 11, 2021
THINK before you type
Is it True, is it Helpful, is it Inspiring, is it Necessary, is it Kind? Or as Thumper told us, "if you don't have anything nice to say, don't say nothin' at all." Maybe you learned the acronym in elementary school, but it seems like most of us have forgotten it. Charity doesn't get to be thrown out the window just because we are typing. We still have to treat each other with decency as human beings.
No one was ever convinced by cruelty or a really good burn (aka ad hominem attack). There was a discussion about communion in the hand going on Facebook, and one woman was making the absurd claim that "God doesn't really care if He gets stepped on. He is merciful and He understands." I was totally on her opponent's side, until her opponent declared, "This person doesn't even belong on a Catholic page! Get out of here you filthy tranny freak!" I just about jumped on the side of the woman (who wasn't a transsexual, by the way, she just had short hair).
If you're attacking the other person, you're doing more harm to your argument than theirs. And you're hurting the reputation of everyone on your own side as well. For all intents and purposes, the personal characteristics of your online opponent are totally irrelevant. Don't assume, and don't attack.
Hilary Thompson, Meditations on Keyboard Warfare (October 1, 2018) Messy Buns & Latin Chant
Friday March 12, 2021

Is any of this the filial correction we are called to address, out of love for the Church and Christ's mystical body on earth? No, it isn't. Its "I'm right and your wrong. I'm pious and smart and you're borderline heathen."

#CatholicTwitter has devolved into Mean Girls on a loop.

It's one thing to address heresy – and I mean real heresy – that contradicts the teachings of the Church, especially when there are so many Catholics on Twitter and a great many people new to the Faith who may or may not know what is and isn't true doctrine. Bringing attention to these things is good and no one should stop. Heresy – on any platform, in anyway, deserves to have the loudest trumpet blasted towards it.

It's another to completely disregard and berate someone else's opinion because it differs from yours. The opinion may be wrong. Okay, address it in a way that shows you haven't covered your lamp with a basket.

Ultimately, everyone within #CatholicTwitter seems to love the Church. They love Jesus and Our Lady. We can engage in debates without the vitriol. Discourse is great! Demolition of the opponent simply for the sake of superiority isn't.
-Annie Blackburn We need to talk about #CatholicTwitter – (February 10, 2020)Radical Mothering Collective
Saturday March 13, 2021
"It is a serious thing to live in a society of possible gods and goddesses, to remember that the dullest most uninteresting person you can talk to may one day be a creature which, if you saw it now, you would be strongly tempted to worship, or else a horror and a corruption such as you now meet, if at all, only in a nightmare. All day long we are, in some degree helping each other to one or the other of these destinations. It is in the light of these overwhelming possibilities, it is with the awe and the circumspection proper to them, that we should conduct all of our dealings with one another, all friendships, all loves, all play, all politics. There are no ordinary people. You have never talked to a mere mortal. Nations, cultures, arts, civilizations – these are mortal, and their life is to ours as the life of a gnat. But it is immortals whom we joke with, work with, marry, snub, and exploit – immortal horrors or everlasting splendors."― C.S. Lewis, The Weight of Glory (1942)
Sunday March 14, 2021


Fourth Sunday of Lent



Jesus said to Nicodemus:
"Just as Moses lifted up the serpent in the desert,
so must the Son of Man be lifted up,
so that everyone who believes in him may have eternal life."
For God so loved the world that he gave his only Son,
so that everyone who believes in him might not perish
but might have eternal life.
For God did not send his Son into the world to condemn the world,
but that the world might be saved through him.
Whoever believes in him will not be condemned,
but whoever does not believe has already been condemned,
because he has not believed in the name of the only Son of God.
And this is the verdict,
that the light came into the world,
but people preferred darkness to light,
because their works were evil.
For everyone who does wicked things hates the light
and does not come toward the light,
so that his works might not be exposed.
But whoever lives the truth comes to the light,
so that his works may be clearly seen as done in God.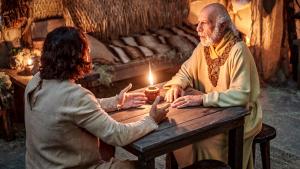 Check Out previous Weeks
Companions on the Journey: Lenten Meditations Week 1
Companions on the Journey: Lenten Meditations Week 2