Sometimes He feels so close
You feel like you can feel Him
Hear Him and talk to Him who so loves you
And you so love
It feels quiet and you are calm; your faith has never been so real
You think of Him day and night and all the moments in between
Maybe something happens, or maybe seemingly nothing
He is invisible, just gone and your faith is confused
And yet you thirst for Him
He left you, alone in the dark, in the desert.
Was He real to begin with? Why did He leave you?
Maybe you call out to Him, maybe you even shed tears
The Love of your life may have been all your imagination
You are lonely, humbled and scared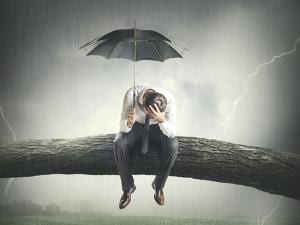 You so want Him to be real again. You search, you pray.
You wonder if those prayers fall on ears that do not exist.
You still go to Mass, but distraction haunts you even there.
Then as unexpectedly as you landed in the dark you come out.
More faithful, more holy and more deeply in Love than before.
He was with you all along but
He hid to you so you could grow.
He is Love, He died for you, and He wants you to follow Him.
Regardless of your state in life He is your Eternal Lover.
—————–
Saint John of the Cross (June 24, 1542- December 14, 1591) knew what this Dark Night was like.
As did Saint Theresa of Avila (March 28, 1515- Oct 4,1582)
and even a more recently Saint Mother Theresa of Calcutta (August 26, 1910 -September 5, 1997).
In the darkness . . . Lord, my God, who am I that you should forsake me? The child of your love — and now become as the most hated one. The one — you have thrown away as unwanted — unloved. I call, I cling, I want, and there is no one to answer . . . Where I try to raise my thoughts to heaven, there is such convicting emptiness that those very thoughts return like sharp knives and hurt my very soul. Love — the word — it brings nothing. I am told God lives in me — and yet the reality of darkness and coldness and emptiness is so great that nothing touches my soul.-Mother Teresa as quoted in chapter 17 from The Love That Made Mother Teresa by David Scott
Such feelings can happen to "regular" faithful uncanonized believers as well.
So, if you are having a Dark Night experience do not despair.
God is with you, loving you.
He is working in you, be it for a short while or many years.
He loves all of us, always.
Your darkness, your suffering, anything really, can be offered up for those in most need.
It is important to pray for those in this world who are suffering and to help them.
It is also important to offer up our sufferings for those who have lost their faith.
For those who are at risk of dying unrepentant and thus in danger of the torments of Hell.
May they at least make it to Purgatory.
I can only hope to make it there myself and to be purged of my sinful imperfections
and then be ushered into the Beatific Vision of Heaven
where I can spend all eternity gazing on the beauty of the Triune God.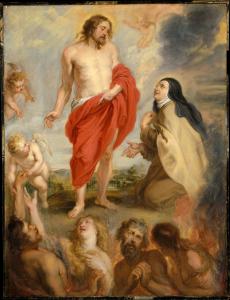 We have to remember that Jesus knows we are imperfect and is a loving and forgiving God who died for us.
We should not fear him.
We should love him above anyone or anything especially during the darkest of nights.
When we pray the Chaplet of Divine Mercy, we tell Jesus that we trust in Him.
We also ask him to have mercy on us and on the whole word.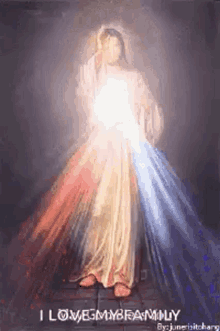 During the Fatima Prayer we say:
"Oh, my Jesus forgive us our sins.
Save us from the fires of Hell
and lead all souls to Heaven especially those in most need of Your mercy"
So even in the driest moments
where we are thirsting for a God who seems to have gone from us in the dark dessert,
we can be assured of His love for us and even those of the most hardened sinners.