I am borrowing this from Mark Shea.
Hey all you readers and pray-ers and givers and commenters and thinkers and friends and strangers and acquaintances and weisenheimers and brothers and sisters:
I like the goodness of you and appreciate your being in my life. I reckon you all gifts from God.
I just thought I should say it so you know.
Welcome to the
Last Week In Life: April 19, 2021 – April 25, 2021
FEAST DAYS ,HOLIDAYS AND LAST WEEK IN HISTORY
Mon April 19, 2021
Patriot's Day/Boston Marathon
Wow! Quite a lot happen on this day, most of it of a very terrible violent nature.
Tuesday April 20, 2021
Weed Day
Wednesday April 21, 2021
Saint Anselm of Canterbury, bishop and doctor of the Church – Optional Memorial
Thursday April 22, 2021
Earth Day
Friday April 23, 2021
Saint George, martyr; or Saint Adalbert, bishop and martyr – Optional Memorial
Saturday April 24 2021
Saint Fidelis of Sigmaringen, priest and martyr – Optional Memorial
Conversion of Saint Augustine of Hippo
Sunday April 25, 2021
Saint Mark the Evangelist– Feast
Bishop Barron's Weekly Homily
Last Week's SPECTACULAR STORY OF WEEK
We all have Coronamüde but Wear Your Alltagsmaske
"Things that do not have a name can cause people to feel fear and insecurity. However, if we can talk about things and name them, then we can communicate with each other. Especially in times of crisis, this is important." -Christine Möhrs,
We all have Coronamüde (COVID-19 exhaustion).
It has caused us to don a Coronafrisur (corona hairstyle), drink Abstandsbier (distance beer) while Glühweinstandhopping (hopping between mulled-wine stands), listen to Balkonsängers (balcony singers) and have us fear a Todesküsschen (friendly smooch on the cheek viewed as a kiss of death). We may have even bought a Spuckschutzschirm (mask: spit protection umbrella) or have done some Hamsterkauf (panic buying and stockpiling food like a hamster).
We all have Coronamüde
But if everyone wears a Alltagsmaske (everyday mask) with a Schnutenpulli (mask: snout sweater) and joins the Anderthalbmetergesellschaft (one-and-a-half-meter society) keeping the Mindestabstandsregelung (minimum-distance regulation)we don't have to fear a Coronadiktatur (COVID-19 dictatorship) who makes a Ausgangssperre (going-out curfew) or a Ausgangsbeschränkung (going-out restriction). If we wear our Alltagsmaske, social distance and wash our hands we may even get some Kuschelkontakt (cuddle contact) with a loved one. So don't be a Maskentrottel (mask idiot who wears a face covering leaving the nose exposed) or you might get a Quarentänebruch (quarantine violation).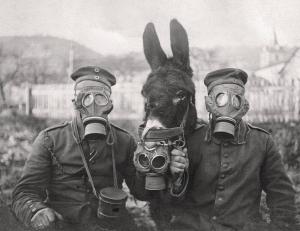 We all have Coronamüde.
Don't be a Trottel (Jerk), but lovingly and willingly get a vaccination so you don't spread your covid germs to less vulnerable people then yourself and have them possibly impose a Impfzwang (forced vaccination) on society. If you, do it without grumbling it may cause some Impfneid (vaccination envy) for those who haven't yet got it.
We all have Coronamüde.
And the Germans have come up with 1200 new words to amuse and help us describe the current times in which we live.
Ah, those delightful Germans! Always with the single word that describes a very specific thing that any normal language would never have a single word to describe! Over the past year, German has coined some 1,000-plus new terms endemic to the Now Times—ironic capitalization, by the way, being an annoying method that English speakers use to create new language.

Speaking of which: Unlike English, whose own recent neologisms often read as nonwords that are only cute the first time you encounter them—coronasomnia, situationship, pandammock (all right, that last one was something I made up just to describe the hammock I got in quarantine)—German's COVID lexicon just looks … German. And that's thanks to the language's rules of compound noun formation, which dictate that you can make a new, longer legitimate word out of almost any existing ones. (For a country that makes you choose your children's names off a preapproved government list, this has never ceased to amaze me.) – Rebecca Schuman, Hamsterkauf! Coronazeit! There's a German Word for Your Pandemic Experience. (February 24, 2021)
Last Week's News of the World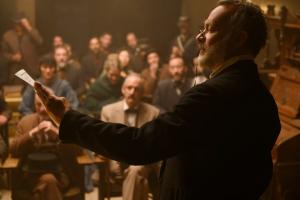 India has been overwhelmed by hundreds of thousands of new coronavirus cases daily, bringing pain, fear and agony to many lives as lockdowns have been placed in Delhi and other cities.

India's Health Ministry reported 295,041 new cases on Wednesday with 2,023 deaths, taking total fatalities to 182,553. India has since the start of the pandemic recorded 15.6 million cases, the second highest behind the United States.

Newly reported cases have exceeded 200,000 each day for a week — with people being infected faster than they can be tested.

"This time, infection is spreading so fast that people are not getting time to get medicines. Many people are dying before we can get a test report," said Dr. S K Pandey of Ram Manohar Lohia Institute of Medical Sciences in Lucknow, capital of the northern state of Uttar Pradesh.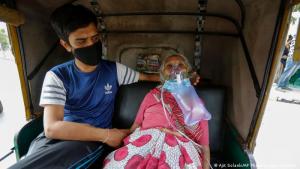 George Floyd's Killer Found Guilty
Our Leader's Reactions
APRIL 20, 2021
Today, a jury in Minnesota found former Minneapolis Police Officer Derek Chauvin guilty on all counts in the murder of George Floyd last May.
It was a murder in the full light of day, and it ripped the blinders off for the whole world to see the systemic racism the Vice President just referred to — the systemic racism that is a stain our nation's soul; the knee on the neck of justice for Black Americans; the profound fear and trauma, the pain, the exhaustion that Black and brown Americans experience every single day.
The murder of George Floyd launched a summer of protest we hadn't seen since the Civil Rights era in the '60s — protests that unified people of every race and generation in peace and with purpose to say, "Enough. Enough. Enough of the senseless killings."
Let's also be clear that such a verdict is also much too rare. For so many people, it seems like it took a unique and extraordinary convergence of factors: a brave young woman with a smartphone camera; a crowd that was traumatized — traumatized witnesses; a murder that lasts almost 10 minutes in broad daylight for, ultimately, the whole world to see; officers standing up and testifying against a fellow officer instead of just closing ranks, which should be commended; a jury who heard the evidence, carried out their civic duty in the midst of an extraordinary moment, under extraordinary pressure.- President Joe Biden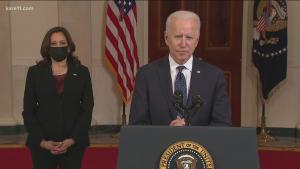 In the 2018 pastoral letter of the US bishops against racism, "Open Wide Our Hearts," we stated that for people of color, "interactions with police are often fraught with fear and even danger." How sadly prophetic that statement was in the case of George Floyd, killed by police last summer.
The Church affirms the dignity of all human life as given to us by God from conception until natural death. As two of my brother bishops stated yesterday, "[the] death of George Floyd highlighted and amplified the deep need to see the sacredness in all people, but especially those who have been historically oppressed. Whatever the stage of human life, it not only matters, it is sacred." George Floyd's life mattered.
While the dismantling of systemic racism is a long road, it begins with a conversion of heart that acknowledges the humanity of all persons, particularly those who are different from us. The US bishops note importantly that "[prayer] and working toward conversion must be our first response in the face of evil actions."
The Pontifical Commission on Justice and Peace states, "To overcome discrimination, a community must interiorize the values that inspire just laws and live out, in day-to-day life, the conviction of the equal dignity of all." We are called to interiorize not only justice, but love for all as our brothers and sisters.
Let us pray for the eternal repose of Mr. Floyd and for comfort for his family and loved ones. Let us pray for all who experience their human dignity violated by others. Let us pray, as well, for law enforcement officials that they will always carry out their duties with integrity, honor, and respect for human life. Let us pray that each of us may experience a conversion of heart leading to deeper love of all persons while working peacefully for justice. – Most Reverend Oscar Cantú, Bishop of San José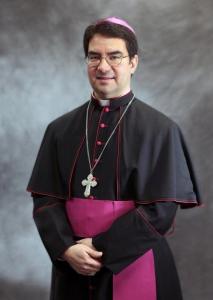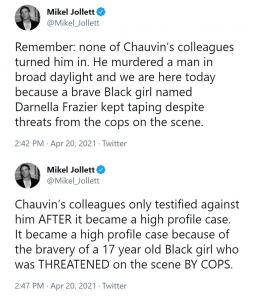 Another Police Shooting
An Ohio police officer shot and killed a teenage girl named Ma'Khia Bryant Tuesday as she attacked two other people with what appeared to be a knife in east Columbus, body camera footage released just hours after the fatal shooting shows.
Police were called to the scene around 4:30 p.m. on a report of someone attempting to stab others at a home.
As soon as police pulled up, a young female can be seen tackling another female to the ground with what appeared to be a knife in her hand. The girl can then be seen charging at another nearby female while raising the apparent knife in the air, at which point the officer fired multiple shots, fatally wounding the attacker.- From a report about Ma'Khia Bryant's death:
One Reaction:
"Teenagers have been having fights including fights involving knives for eons. We do not need police to address these situations by showing up to the scene & using a weapon against one of the teenagers," she tweeted. "Y'all need help. I mean that sincerely."- Bree Newsome on Twitter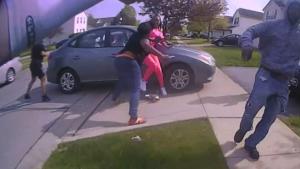 Another Reaction:
An Ohio criminal-justice professor who studies the fatal use of force by law-enforcement officers didn't hesitate to render an opinion after watching body-camera video of a Columbus police officer fatally shooting a 16-year-old girl Tuesday afternoon on the city's Southeast Side.

"My first impression is that the officer was legally justified in using deadly force," said Philip Stinson, a Bowling Green State University professor who has compiled nationwide statistics on fatal shootings that have led to criminal charges against officers.

"It's a terribly tragic situation, and my heart goes out to the girl and her family and friends," he said. "But from looking at the video, it appears to me that a reasonable police officer would have had a reasonable apprehension of an imminent threat of serious bodily injury or death being imposed against an officer or someone else. That's the legal standard."- The Columbus Dispatch

REMEMBER
The Sandy Hook Elementary School shooting occurred on December 14, 2012,
The Kids Would be Teenagers if they had lived.
Officials: Biden preparing to recognize Armenian genocide.
An open letter to @POTUS:

This week, the world will mark the 106th anniversary of the Armenian Genocide.

This is the first April 24 of your presidency, your first chance to keep your promise to hundreds of thousands of Armenian Americans:

Recognize the Armenian Genocide. pic.twitter.com/5FOl8z2rwl

— Adam Schiff (@RepAdamSchiff) April 20, 2021
Today, as we mourn what was lost, let us also turn our eyes to the future—toward the world that we wish to build for our children. A world unstained by the daily evils of bigotry and intolerance, where human rights are respected, and where all people are able to pursue their lives in dignity and security. Let us renew our shared resolve to prevent future atrocities from occurring anywhere in the world. And let us pursue healing and reconciliation for all the people of the world. –President Joe Biden

Nabil Habashy Salama, a 62 year old man, was kidnapped by ISIS 3 months ago. Today, they released a video of his execution in Sinai. He built the only church in Bir Al Abd, a city in North Sinai. Please say a prayer for him and his family. May his memory be eternal and his example of steadfast Christian faith be an example to us all! Truth Lives in Light! OthodoxPac.org#OPAC

"Over the last two years, jihadist groups have consolidated their presence in Sub-Saharan Africa and the region has become a haven for over two dozen actively operating — and increasingly cooperating — groups in 14 countries, including affiliates of the Islamic State and al-Qaeda."- Marcela Szymanski Aid to the Church in Need

"Today discrimination and persecution on the grounds of religious belief is a growing global phenomenon. Behind the violent conflicts, whether in Syria, Yemen, Nigeria, the Central African Republic or Mozambique — to mention only a few countries — are those in the shadows who, manipulating the deepest convictions of humanity, have instrumentalized religion in the search for power."
–Thomas Heine-Geldern, president of ACN International
Washington D.C. 51st State?
The Administration strongly supports H.R. 51, the Washington, D.C. Admission Act. For far too long, the more than 700,000 people of Washington, D.C. have been deprived of full representation in the U.S. Congress. This taxation without representation and denial of self-governance is an affront to the democratic values on which our Nation was founded. H.R. 51 rights this wrong by making Washington, D.C. a state and providing its residents with long overdue full representation in Congress, while maintaining a Federal District that will continue to serve as our Nation's seat of government.
Establishing the State of Washington, Douglass Commonwealth as the 51st state will make our Union stronger and more just. Washington, D.C. has a robust economy, a rich culture, and a diverse population of Americans from all walks of life who are entitled to full and equal participation in our democracy. The Administration looks forward to working with the Congress as H.R. 51 proceeds through the legislative process to ensure that it comports with Congress' constitutional responsibilities and its constitutional authority to admit new states to the Union by legislation. The Administration calls for the Congress to provide for a swift and orderly transition to statehood for the people of Washington, D.C.-H.R. 51 – Washington, D.C. Admission Act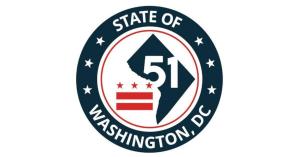 In the Church
Vatican dedicates May to global rosary 'marathon' for end of COVID-19 .
For the deep desire of the Holy Father, the month of May will be dedicated to a prayer marathon with the theme 'Prayer to God went up incessantly from the whole Church.'"
-The Pontifical Council for the Promotion of the New Evangelization
Allentown bishop proclaims Year of the Real Presence
Divine Mercy Sunday, April 11, to the Solemnity of Corpus Christi, June 19, 2022."Because this Mystery of Faith was mandated by Christ to be carried out by the Apostles and their successors until He returns, the Holy Sacrifice of the Mass is the unbloody sacrifice of the Cross perpetuated down throughout the ages.When a Priest, acting in the person of Christ, the Head, offers this Sacred Oblation, all of the faithful are invited to proceed to the Sacred Banquet, in which Christ is truly received. Having been illuminated by Sacred Scripture, the Churches led to the Altar of Sacrifice, where the Bread of Angels, the Bread of Heaven, the Most Precious Blood, and the Medicine of Immortality is adored and received, as our minds are filled with grace, and we are given a pledge of future glory." Bishop Alfred Schlert of Allentown
Blessed Margaret of Castello T.O.S.D. was canonized by Pope Francis through equipollent canonization on April 24, 2021.

Spaced Out
NASA Ingenuity helicopter takes off on first historic flight over Mars – CNET

Ingenuity, a NASA mini helicopter no heavier than a 2-liter bottle of soda, has pulled off the first powered, controlled flight on another planet. The feat took place at 12:31 a.m. PT on Monday morning, but it wasn't until over three hours later that NASA engineers at the Jet Propulsion Laboratory received the first data from Mars.

The first flight is an impressive milestone in space exploration, paving the way for future missions on the red planet to utilize the skies, scouting new regions of the surface and surveying Mars' dusty, dead plains.

Learning to fly on Earth was difficult enough, but flying on Mars was a grand engineering challenge. The Martian atmosphere is only 1% as thick as the Earth's, so a standard flier wouldn't cut it. NASA has now shown it was up to the task.

"We've been talking for so long about our Wright brothers moment on Mars, and here it is," said Ingenuity Mars helicopter project manager MiMi Aung, after ripping up her contingency speech. "We can now say that humans have flown a rotorcraft on another planet."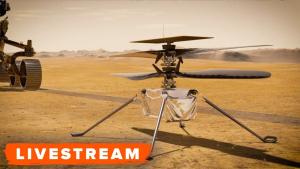 NASA's Perseverance rover makes OXYGEN on Mars for the first time

MOXIE, or the Mars Oxygen In-situ Resource Utilization Experiment, produced 5.4 grams of oxygen in an hour by pulling in CO2 and converting it to the life giving chemical during its first test on the Red Planet.

This version is capable of producing up to 12g of oxygen per hour, or about 288g per day. Astronauts on the ISS consume an average of 840g of O2 every day.

'This is a critical first step at converting carbon dioxide to oxygen on Mars,' said NASA's Jim Reuter, adding it will make future human missions more viable.
News of the World Briefs
Wedding crashers! Brazen Florida couple try to tie the knot at $5.7million mansion believing it was vacant and even tell guests it's THEIRS – before being busted by IHOP heir owner and the cops on their big day.
Watch: Man bowls a perfect game with ball containing his father's ashes.
39 year old John Hinkle, who has bowled several 300 games during his time in the sport, said the game was especially significant since his father had never quite managed to shoot a perfect game.

"It's special. Dad shot 298, 299, never had a 300. I had goosebumps, chills," Hinkle said. "He was there."
POPE FRANCIS'S FAMOUS LAST WEEK'S WORDS
Pope Francis meets with Water Polo Team
"Your sport, water polo, is not easy, but it is interesting. It takes discipline to move forward
When I speak with athletes, I say the same thing. I say two things. Teamwork is the first thing. In sport, the biggest defeat for an athlete is to work, to play alone."- Pope Francis
It was the second papal audience in the team's history. Pope Pius XII also met with the Pro Recco team in 1957. Maurizio was in that audience 64 years ago as well.
"It was a historic day that we will cherish forever. We thank the Holy Father for the profound words and affection with which he received us. In such a difficult period, his figure is a beacon that illuminates our path, which is made up of joy, passion, but also of sacrifice. His testimony will strengthen even more the social values that accompany our commitments, both as athletes and as people, in everyday life."
–Maurizio Felugo, Team president of the water polo team from Liguria, northern Italy.
BLOG/ARTICLES POSTS OF THE WEEK

Creating a "new" superhero is rather difficult when Marvel and DC Comics boast thousands of superheroes. This doesn't even get into the numerous independent publishers that have added their creativity to the mix in recent years.

For this reason, I was reluctant to break into the superhero scene. I simply didn't think it was possible to create an interesting superhero that wouldn't simply be a copy-cat.

Then one day I had a revelation. Philip Kosloski, G.K. Chesterton, a Jedi and the Phantom Phoenix – Voyage Comics & Publishing
The Western canon is an extended dialogue among the crème de la crème of our civilization about the most fundamental questions. It is about asking "What kind of creatures are we?" no matter what context we find ourselves in. It is about living more intensely, more critically, more compassionately. It is about learning to attend to the things that matter and turning our attention away from what is superficial.

The removal of the classics is a sign that we, as a culture, have embraced from the youngest age utilitarian schooling at the expense of soul-forming education. To end this spiritual catastrophe, we must restore true education, mobilizing all of the intellectual and moral resources we can to create human beings of courage, vision and civic virtue.

Students must be challenged: Can they face texts from the greatest thinkers that force them to radically call into question their presuppositions? Can they come to terms with the antecedent conditions and circumstances they live in but didn't create? Can they confront the fact that human existence is not easily divided into good and evil, but filled with complexity, nuance and ambiguity? Cornel West and Jeremy Tate Opinion | Howard University's removal of classics is a spiritual catastrophe – (April 19, 2021) The Washington Post

Pondering Podcasts OF THE WEEK

The Secret Mission To Unearth Part Of A 142-Year-Old Experiment on NPR's All Things Considered

The researchers had gathered together to dig up part of an experiment: an unusual long-term experiment that started in 1879 on the campus of what is now Michigan State University.

A botanist named William Beal wondered how long seeds could remain viable underground. So he designed an audacious study to find out, knowing full well that the answer might not come in his lifetime.

"Almost like more pressure or something than normal. Because I'm part of this bigger process, it's bigger than me, and I really want to make sure that it's done right and carried forward properly — both for the generations of plant biologists in the past who have been involved, but also for those generations that are still to come who will be involved in the future."-Lars Brudvig

Book Em, Dano on your reading list

Blood and Treasure: Daniel Boone and the Fight for America's First Frontier (2021) by Bob Drury (Author), Tom Clavin (Author)

By the Daughter of acclaimed Catholic film critic Deacon Steven D. Greydanus

On a remote mountain, a young girl discovers a hidden world where legends live on. Befriended by a Snow Elf, she becomes part of the mountain's unique life—but her adventures bring her face to face with long-hidden fears and an important decision about her future.

Why Be Catholic by Ken Geraci
New
Tune

s

In
The Jukebox Baby
Two People bringing the Phantom of the Opera to life on Youtube Acapella Style
Led Zeppelin as they would have been sung in the 1940's
The Original Beach Boys are sort of back with their children.
This Week on

MYS151: In 1962, the Joint Chiefs of Staff sent Operation Northwoods to JFK as a daring, covert plan to stop a potential Soviet invasion. Jimmy Akin and Dom Bettinelli discuss this now declassified plan, the shocking series of secret actions it proposed, and Kennedy's response.

WATCH IT!

Tuesday, Apr. 20

Sasquatch: Season 1 (2021) Hulu

Thursday, Apr. 22

– – Life in Color with David Attenborough: Miniseries (2021) Netflix

– – Stowaway (2021) Netflix [movie]

Secrets of the Whales, Disney+

Friday, Apr. 23

– – Shadow and Bone: Season 1 (2019) Netflix

– – Mortal Kombat (2021) HBO Max [movie]

Sunday, Apr. 25
93rd Academy Awards, 8 p.m., ABC

Best Picture: Nomadland
Best Achievement in Visual Effects: Tenet
Best Animated Film: Soul
Best Original Song: Judas and the Black Messiah Fight for You, by H.E.R., D'Mile, Tiara Thomas

The Trial of the Chicago 7: 6 Nominations. Only best picture nom to win none of the awards it was nominated for.
Did win best-ensemble cast at the Screen Actors Guild Awards.

Movie News

Seth Rogen Action Film 'Escape' Inspired by Buster Keaton, Jackie Chan

In a new profile published by The New York Times, Seth Rogen reveals the existence of a passion project he's been working on for at least the last five years titled "Escape." Rogen has been writing the movie with longtime collaborator Evan Goldberg and said he hopes to film it next year. "Escape" is being touted as "a big action movie" that is "heavily inspired by Buster Keaton and Jackie Chan." Rogen is eyeing a starring role, but he's not giving up any plot details other than saying the project was originally conceived without any dialogue.

LeVar Burton star of "Reading Rainbow" and "Star Trek: The Next Generation," will guest-host "Jeopardy!,

Literally Their Last Week in Life
Walter Mondale, 42nd Vice President of the United States (b. 1928)

Jim Steinman, (November 1, 1947 – April 19, 2021) American rock lyricist and composer

His work included albums such as Meat Loaf's Bat Out of Hell (which is one of the best selling albums of all time)[2] and Bat Out of Hell II: Back into Hell, and producing albums for Bonnie Tyler. His most successful chart singles include Tyler's "Total Eclipse of the Heart", Air Supply's "Making Love Out of Nothing at All", Meat Loaf's "I'd Do Anything for Love (But I Won't Do That)", the Sisters of Mercy's "This Corrosion" and "More", Barry Manilow's "Read 'Em and Weep", Celine Dion's cover of "It's All Coming Back to Me Now" (originally released by Steinman's project Pandora's Box) and Boyzone's "No Matter What" (the group's first and only single to be popular and chart in the US, and for which Steinman only wrote the lyrics). Steinman's only solo album Bad for Good was released in 1981.

Jim Steinman's work also extended to musical theater, where he began his career. Steinman was credited with the book, music, and lyrics for Bat Out of Hell: The Musical, as well as lyrics for Whistle Down the Wind, and music for Tanz der Vampire.

Antron Pippen (Scottie Pippen's son) November 1987- April 18, 2021

Gregory Edward Jacobs

(August 25, 1963 – April 22, 2021), known professionally as

Shock G

(and his alter ego

Humpty Hump

), was an American musician, rapper, and lead vocalist for the

hip hop

group

Digital Underground

. He was responsible for Digital Underground's "

The Humpty Dance

",

2Pac

's breakthrough single "

I Get Around

", and co-producer of 2Pac's debut album

2Pacalypse Now

.

Piffy Quality Quotes

of the Week
At this stage in my life and spiritual journey I am realizing how hard it is to persevere. The climb gets steeper and the air thinner as you attempt to ascend the mountain.
Never stop to watch a few minutes of any of the
#Godfather
movies while you are trying to get stuff done around the house. You won't get stuff done around the house.