The Church, therefore, instructed by the words of Christ, and drawing on the experience of Pentecost and her own apostolic history, has proclaimed since the earliest centuries her faith in the Holy Spirit, as the giver of life, the one in whom the inscrutable Triune God communicates himself to human beings, constituting in them the source of eternal life.
Dominum et vivificantem (18 May 1986) | John Paul II (vatican.va)
When the Holy Spirit came down upon the 120 people in the upper room and lit them on fire, The third person of the one true God gave his children these 7 gifts as explained by Pope Francis with a few other notable examples that illustrate the point.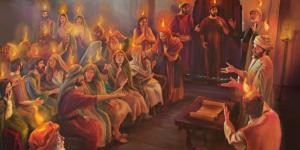 Wisdom
The first gift of the Holy Spirit according to this list is therefore wisdom. But it is not simply human wisdom, which is the fruit of knowledge and experience. In the Bible we are told that Solomon, at the time of his coronation as King of Israel, had asked for the gift of wisdom (cf. 1 Kings 3:9). And wisdom is precisely this: it is the grace of being able to see everything with the eyes of God. It is simply this: it is to see the world, to see situations, circumstances, problems, everything through God's eyes. This is wisdom. Sometimes we see things according to our liking or according to the condition of our heart, with love or with hate, with envy…. No, this is not God's perspective. Wisdom is what the Holy Spirit works in us so as to enable us to see things with the eyes of God. This is the gift of wisdom. Pope Francis Totus2Us
The more a man is deficient in wisdom, weak in strength, borne down with trouble, prone to sin, so ought he the more to fly to Him who is the never-ceasing fount of light, strength, consolation, and holiness.- Divinum illud munus (May 9, 1897) | LEO XIII (vatican.va)
"The only true wisdom is in knowing you know nothing." ― Socrates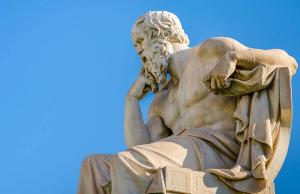 "The fool doth think he is wise, but the wise man knows himself to be a fool." ― William Shakespeare, As You Like It
Understanding
When the Holy Spirit dwells in our hearts and enlightens our minds, he makes us grow day by day in the understanding of what the Lord has said and accomplished. Jesus himself told his disciples: I will send you the Holy Spirit and he will enable you to understand all that I have taught you. To understand the teachings of Jesus, to understand his Word, to understand the Gospel, to understand the Word of God. One can read the Gospel and understand something, but if we read the Gospel with this gift of the Holy Spirit, we can understand the depths of God's words. And this is a great gift, a great gift for which we all must ask and ask together: Give us, Lord, the gift of understanding.-Pope Francis Totus2Us
"If you can't explain it to a six year old, you don't understand it yourself."― Albert Einstein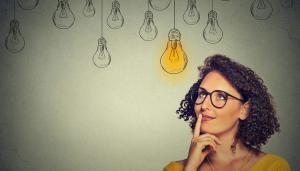 "Don't you understand that we need to be childish in order to understand? Only a child sees things with perfect clarity, because it hasn't developed all those filters which prevent us from seeing things that we don't expect to see."-Douglas Adams
Counsel (Right Judgement)
In intimacy with God and in listening to his Word, little by little we put aside our own way of thinking, which is most often dictated by our closures, by our prejudice and by our ambitions, and we learn instead to ask the Lord: what is your desire? What is your will? What pleases you? In this way a deep, almost connatural harmony in the Spirit grows and develops within us and we experience how true the words of Jesus are that are reported in the Gospel of Matthew: "do not be anxious how you are to speak or what you are to say; for what you are to say will be given to you in that hour; for it is not you who speak but the spirit of your Father speaking through you" (10:19-20). It is the Spirit who counsels us, but we have to make room for the Spirit, so that he may counsel us. And to give space is to pray, to pray that he come and help us always.
As with all of the other gifts of the Spirit, then, counsel too constitutes a treasure for the whole Christian community. The Lord does not only speak to us in the intimacy of the heart; yes, he speaks to us, but not only there; he also speaks to us through the voice and witness of the brethren. It is truly a great gift to be able to meet men and women of faith who, especially in the most complicated and important stages of our lives, help us to bring light to our heart and to recognize the Lord's will!-Pope Francis Totus2Us
The children of God are moved by the Holy Ghost according to their mode, without prejudice to their free-will which is the "faculty of will and reason" [Sent. iii, D, 24]. Accordingly the gift of counsel is befitting the children of God in so far as the reason is instructed by the Holy Ghost about what we have to do. SUMMA THEOLOGIAE: The gift of counsel (Secunda Secundae Partis, Q. 52) (newadvent.org)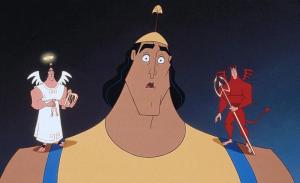 "How shall a man judge what to do in such times?'
'As he ever has judged,' said Aragorn. 'Good and ill have not changed since yesteryear…It is a man's part to discern them, as much in th Golden Wood as in his own house."
― J.R.R. Tolkien
Fortitude
We need not think that the gift of fortitude is necessary only on some occasions or in particular situations. This gift must constitute the tenor of our Christian life, in the ordinary daily routine. As I said, we need to be strong every day of our lives, to carry forward our life, our family, our faith. The Apostle Paul said something that will benefit us to hear: "I can do all things in him who strengthens me" (Phil 4:13). When we face daily life, when difficulties arise, let us remember this: "I can do all things in him who strengthens me". The Lord always strengthens us, he never lets strength lack. The Lord does not try us beyond our possibilities. He is always with us. "I can do all things in him who strengthens me. Dear friends, sometimes we may be tempted to give in to laziness, or worse, to discouragement, especially when faced with the hardships and trials of life. In these cases, let us not lose heart, let us invoke the Holy Spirit so that through the gift of fortitude he may lift our heart and communicate new strength and enthusiasm to our life and to our following of Jesus." "Pope Francis Totus2Us
Courage is the most important of all the virtues because without courage, you can't practice any other virtue consistently."― Maya Angelou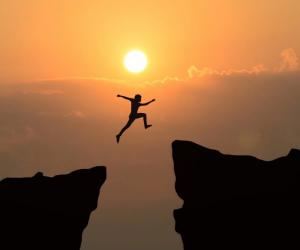 "Hope has two beautiful daughters; their names are Anger and Courage. Anger at the way things are, and Courage to see that they do not remain as they are." ― Augustine of Hippo
Knowledge
The gift of knowledge sets us in profound harmony with the Creator and allows us to participate in the clarity of his vision and his judgement. And it is in this perspective that we manage to accept man and woman as the summit of creation, as the fulfillment of a plan of love that is impressed in each one of us and that allows us to recognize one another as brothers and sisters.
All this is a source of serenity and peace and makes the Christian a joyful witness of God, in the footsteps of St Francis of Assisi and so many saints who knew how to praise and laud his love through the contemplation of creation. At the same time, however, the gift of knowledge helps us not to fall into attitudes of excess or error.- Pope Francis- Totus2Us
"The possession of knowledge does not kill the sense of wonder and mystery. There is always more mystery."― Anais Nin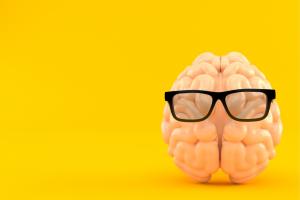 "People don't care how much you know until they know how much you care"― Theodore Roosevelt
Piety
If the gift of piety makes us grow in relation to and in communion with God and leads us to live as his children, at the same time, it helps us to pass this love on to others as well and to recognize them as our brothers and sisters. And then, yes, we will be moved by feelings of piety — not pietism! — in relation to those around us and to those whom we encounter every day. Why do I say "not pietism"? Because some think that to be pious is to close one's eyes, to pose like a picture and pretend to be a saint. In Piedmont we say: to play the "mugna quacia" [literally: the pious or serene nun]. This is not the gift of piety. The gift of piety means to be truly capable of rejoicing with those who rejoice, of weeping with those who weep, of being close to those who are lonely or in anguish, of correcting those in error, of consoling the afflicted, of welcoming and helping those in need. The gift of piety is closely tied to gentleness. The gift of piety which the Holy Spirit gives us makes us gentle, makes us calm, patient, at peace with God, at the service of others with gentleness. Pope Francis Totus2Us
The real problem is not why some pious, humble, believing people suffer, but why some do not. – C.S. Lewis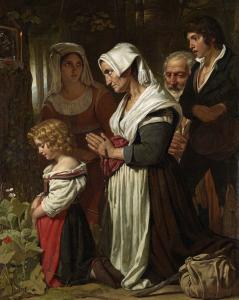 Young men, terminate, I beseech you, in your own experience, the sad divorce which has too often existed between intellect and piety. Take your stand, unswerving, heroic, by the altar of truth; and from that altar let neither sophistry nor ridicule expel you. Let your faith rest with a child's trust, with a martyr's grip, upon the truth as it is in Jesus.- William Morley Punshon
Fear of the Lord
This is what the Holy Spirit does through the gift of fear of the Lord: he opens hearts. The heart opens so that forgiveness, mercy, goodness and the caress of the Father may come to us, for as children we are infinitely loved.
When we are pervaded by fear of the Lord, then we are led to follow the Lord with humility, docility and obedience. This, however, is not an attitude of resignation, passivity or regret, but one of the wonder and joy of being a child who knows he is served and loved by the Father. Fear of the Lord, therefore, does not make of us Christians who are shy and submissive, but stirs in us courage and strength! It is a gift that makes of us Christians who are convinced, enthusiastic, who aren't submissive to the Lord out of fear but because we are moved and conquered by his love! To be conquered by the love of God! This is a beautiful thing. To allow ourselves to be conquered by this love of a father, who loves us so, loves us with all his heart.
Yet, we should take care, for the gift of God, the gift of fear of the Lord is also an "alarm" against the obstinacy of sin. When a person lives in evil, when one blasphemes against God, when one exploits others, when he tyrannizes them, when he lives only for money, for vanity, or power, or pride, then the holy fear of God sends us a warning: be careful! -Pope Francis Totus2Us
"The Fear of the Lord, that is the beginning of wisdom, and therefore belongs to the beginnings, and is felt in the first cold hours before the dawn of civilisation; the power that comes out of the wilderness and rides on the whirlwind and breaks the gods of stone; the power before which the eastern nations are prostrate like a pavement; the power before which the primitive prophets run naked and shouting, at once proclaiming and escaping from their god; the fear that is rightly rooted in the beginnings of every religion, true or false: the fear of the Lord, that is the beginning of wisdom; but not the end."
― G.K. Chesterton, Saint Thomas Aquinas
"I mean it takes a certain kind of maturity to live in the South these days. You don't have it yet, but you have a shadow of the beginnings of it. You haven't the humbleness of mind-" (Uncle Jack Finch)
"I thought the fear of the Lord was the beginning of wisdom." (Jean Louise Finch–Scout)
"It's the same thing. Humility." (Uncle Jack Finch) ― Harper Lee, Go Set a Watchman
The Holy Spirit gives us gifts and the gifts bear fruit.
The fruit of the Spirit is love, joy, peace, patience, kindness, generosity, faithfulness, gentleness, self-control. Galatians 5:22-23
"When you know how much God is in love with you then you can only live your life radiating that love." ― Mother Teresa, A Simple Path
"Joy, with peace, is the sister of charity. Serve the Lord with laughter." — St. Pio of Pietrelcina
A great means to preserve continual peace and tranquility of soul is to receive everything from the hands of God, both great and small, and in whatever way it comes. –St. Dorotheus
"Patience is power.
Patience is not an absence of action;
rather it is "timing"
it waits on the right time to act,
for the right principles
and in the right way."
― Fulton J. Sheen
"Kindness is a language which the deaf can hear and the blind can see."― Mark Twain
"Good people see the good and bring out the best in other people." ― Roy T. Bennett, The Light in the Heart
"Faithfulness is not doing something right once but doing something right over and over and over and over."― Joyce Meyer
"As we come to grips with our own selfishness and stupidity, we make friends with the impostor and accept that we are impoverished and broken and realize that, if we were not, we would be God. The art of gentleness toward ourselves leads to being gentle with others — and is a natural prerequisite for our presence to God in prayer."
― Brennan Manning, Abba's Child: The Cry of the Heart for Intimate Belonging
Educate your children to self-control, to the habit of holding passion and prejudice and evil tendencies to an upright and reasoning will, and you have done much to abolish misery from their future lives and crimes to society. – Daniel Webster
The Vulgate version of Galatians lists these 3 additional Fruits…
Longanimity (forbearance)
God, teach me to be patient, teach me to go slow, Teach me how to wait on You when my way I do not know. Teach me sweet forbearance when things do not go right So I remain unruffled when others grow uptight. Teach me how to quiet my racing, rising heart So I might hear the answer You are trying to impart. Teach me to let go, dear God, and pray undisturbed until My heart is filled with inner peace and I learn to know your will.-Helen Steiner Rice
Modesty
"There is no limit to the amount of good you can do if you don't care who gets the credit."― Ronald Reagan
Chastity
"Chastity is a difficult, long term matter; one must wait patiently for it to bear fruit, for the happiness of loving kindness which it must bring. But at the same time, chastity is the sure way to happiness."
–Pope John Paul II