Memorial Day is the day we remember our fallen brother and sisters in arms who answered the call to defend the interests of our nation by engaging in that horrible reality known as war. Anyone who has served and has risked their lives in combat deserves to remembered for their willingness to do something that they would probably rather not be doing. Getting shot at by unknown people in a foreign land cannot be anybody's idea of time well spent. And worse is the fact that those individuals being shot at had to kill someone else who thought they were doing good for their particular country we were at war with. I would find it hard to live with myself knowing I had ended another's life. War is hell and for those who have been involved with this very hard job, we remember them on this day.
War is terrible just like the cross in which Christ died. But like the cross, life and beauty can flow from the worst situations. And the Second World War produced some rather remarkable saints who displayed the glory and splendor of God in the midst of violence and hate. Here are some of those individuals.
( February 23, 1881 – July 26, 1942)
Feast Day July 27
Father Titus Brandsma who was ordained in 1905 and joined the Carmelite Order at Boxmeer, Netherlands. He could speak Italian, Frisian, Dutch, and English and read Spanish. Fr. Titus translated the works of St. Teresa of Avila from Spanish to Dutch and had them published. Because of his stature he was also known as 'Fr. Shorty' and like George Burns or Groucho Marx was known for the cigar he consistently had in his mouth.
In 1935 he first came to the attention of the Nazi party for his criticism of their anti-jewish laws. He declared that nobody could publish Nazi literature and still remain Catholic. He was arrested on January 19, 1942 for handing out a letter to publishers telling them to not print any Nazi gobbledygook. He got to be a prisoner at the first Nazi concentration camp Dachau. It became known as the "priests barracks," because more than 2,500 priests and religious were confined there. On July 26, 1942, due to failing health he was transferred to a hospital where a camp nurse assigned to Fr. Shorty was ordered to end his life with an injection of carbolic acid. The multi talented holy priest handed the woman his rosary and said to her, "What an unfortunate girl you are. I shall pray for you."
BOOM!
43 years later on November 3, 1985 this same nurse was at Venerable Titus Brandsma's beatification ceremony when this Martyr for the faith was beatified by Pope St. John Paul II. Holiness and Forgiveness witnessed by a killer can sometimes turn their wayward hearts towards God.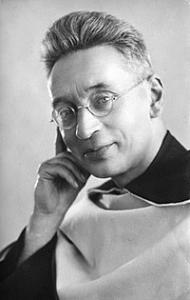 (February 28, 1898, – October 30, 1963)
During World War II, Father O'Flaherty was responsible for saving a mere 6,500 Allied soldiers and Jews. His ability to evade the traps set by the German Gestapo and Sicherheitsdienst (SD), earned O'Flaherty the nickname "The Scarlet Pimpernel of the Vatican". Fr. O'Flaherty was portrayed by superstar actor Gregory Peck in the 1983 television film, The Scarlet and the Black, which followed the exploits of O'Flaherty from the German occupation of Rome to its liberation by the Allies. You can watch the movie for free on Tubi.
Obersturmbannführer Herbert Kappler, the head of the SS Sicherheitsdienst and Gestapo in Rome, learned of O'Flaherty's actions; he ordered a white line painted on the pavement at the opening of St. Peter's Square (signifying the border between Vatican City and Italy), stating that the priest would be killed if he crossed it. After the war when Kappler was in prison and Fr. Hugh not being dead but very much alive despite having crossed the line several times visited his old nemesis as he sat in his jail cell. He visited him month after month, being his only visitor. In 1959, after witnessing the grace of God dripping from Fr. Hugh like a fountain, Kappler converted to Catholicism and was baptised by O'Flaherty. Again here is another story of forgiveness and preserving in the faith that turned another heart towards God.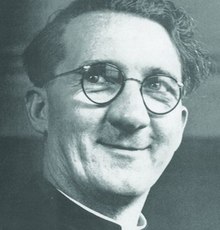 (September 18, 1884 – January 6, 1974)
Margit was from Hungary and n 1908 she joined a religious community, the Society of the Social Mission . In 1923 she founded the Sisters of Social Service. Just like the Sisters of Charity were known around Calcuta for their care of the poor and dying , the Social Sisters were well known throughout Hungary for nursing, midwifery, and orphanage services. The community opened professional schools for social work in Budapest and Cluj. Some students joined the religious community, others joined an affiliated lay association. In 1938 the first anti-Jewish laws were passed. She used to publish articles in her newspaper, Voice of the Spirit opposing anti-Jewish measures But in 1943 the government were having none of that and suppressed her newspaper. But in turn Slachta was having none of that and continued to publish it "underground". Throughout the war she continued to work for the Jews and against anti-semitic legislation.
Her crusade for justice led her to help stop the deportation of Jews. She even went to the vatican in 1943 to demand the Vatican do something to stop this insane persecution of this group of people. Margit had her sisters arrange baptisms in the hope it would spare people from deportation, sent food and supplies to the Jewish ghettos, and sheltered people in their convents. One of Slachta's sisters, Sára Salkaházi was executed by the Hungarist political party Arrow Cross, and Margit herself was beaten and only narrowly avoided execution. The sisters rescued probably more than 2000 Hungarian Jews. In 1985, Yad Vashem recognized Margit Slachta as Righteous Among the Nations.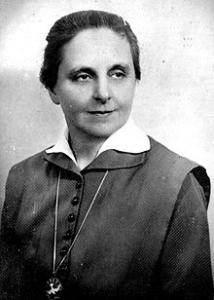 (March 16, 1878 – March 22, 1946)
Feast Day March 22
Bishop von Galen wrote in his first pastoral letter that "Neither the praises of men nor fear of men shall move us. Rather, our glory will be to promote the praise of God, and our steadfast effort will be to walk always in a holy fear of God."

During his entire episcopacy the bishop spoke up against the Nazis' euthanasia program and racial theories, and defended human rights and the cause of justice. He was among the most outspoken of Germany's bishops during that era, and assisted the writing of Pius XI's 1937 anti-Nazi encyclical Mit brennender Sorge.

He was made a cardinal in February 1946, just one month before his March 22 death, and he was beatified in 2005 by Benedict XVI. catholicnewsagency.com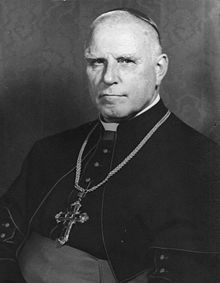 (September 26, 1900- August 31, 1995)
Gertrud was a Christian social worker involved in the German resistance to Nazism. She was a member of the banned German Catholic Peace Movement founded in Weimar Germany in 1919 by Fr. Max Josef Metzger. She helped organise food packages for Jews deported to Poland, and travelled Germany giving assistance to Jewish families.
When the Nazis came to power in 1933, Gertrud, who was a pacifist, began arranging exit strategies for the Jews threatened by Hitler's regime. Gertrud learned of the Nazis' genocidal plans by reading foreign newspapers at the university library, as the German media dared not report on the atrocities. Because of being informed, she was one of the first to attempt action against the Nazis.

After Kristallnacht, Gertrud bicycled around Freiburg, visiting her Jewish friends and neighbors to show her care and solidarity. She did more than that, though, securing safe passage for many refugees, sending food and clothing to those already interned, and finding safe places for Jews to hide.

During the war, Gertrud traveled through Germany establishing an underground network that supported Jewish individuals and communities. This not only allowed Jews to be smuggled out of Germany, but also communicated the atrocities of the Holocaust to the outside world.-A Bridge Builder and a Holocaust Hero | IFCJ
On one of her journeys of charity, she was arrested, and spent the remainder of the WW II in the Ravensbrück concentration camp. She was named as righteous among the Nations by Yad Vashem in 1966.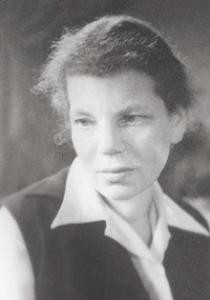 (1912-1944)
Fr. Ignatius Maternowski, of Holyoke, Massachusetts, stands as the first Polish-American priest to give his life in service to our country in World War II, and as the only US chaplain to die on D-Day in the Normandy invasion. He was posthumously awarded a "Purple Heart" by the US government. His name is commemorated on memorials in Holyoke, MA; Athol Springs, NY; Arlington National Cemetery, VA; London, England, and Normandy, France.

In the early morning hours of D-Day, Fr. Ignatius parachuted with a large number of troops into occupied territory, the hamlet of Guetteville in the town of Picauville. An American glider had crashed nearby. There were many casualties. Immediately Fr. Ignatius began ministering to the wounded paratroopers and glider victims. Realizing that a suitable aid station would be needed, Fr. Ignatius calculated a risky strategy: attempting negotiations with his German counterpart, in the peaceful hope of combining their wounded together in one common hospital. Walking between enemy lines unarmed, with helmet hanging from his belt, and wearing his chaplain's insignia and a Red Cross arm­band, he bravely went to meet with the head Nazi medic. As he returned through the no-man zone to the American side, he was shot in the back by an enemy sniper – becoming the only US chaplain to be killed on D­Day. He was 32 years of age, in the 5th year of his priesthood.

His dead body lay visible on the road for three days, because the enemy refused to allow it to be moved. On the 9th of June, US soldiers from the 90th Infantry Division recovered it, and removed it for burial near Utah Beach. In 1948, his remains were returned to Holyoke for a solemn Mass in Mater Dolorosa Church, and interment in the Franciscan Friars' plot at Mater Dolorosa Cemetery in South Hadley, MA.-+ Fr. Ignatius Maternowski, OFM Conv. | Our Lady of the Angels Province, USA (olaprovince.org)
(May 9, 1921 – February 22, 1943)
The White Rose was another non-violent group during WWII like the German Catholic Peace Movement. They were specifically an intellectual resistance group that were led by a group of students from the University of Munich, including Hans Scholl, Alexander Schmorell and Sophie Scholl. The White Rose went out of their way to distribute pamphlets instructing fellow Germans to passively resist the evil Nazi government. The pamphlets they gave out used both Biblical and philosophical support for an intellectual argument of resistance. Sophie helped author the literature as well as copy, distribute, and mail pamphlets while also managing the group's finances. Sophie and the White Rose (cool name for a rock band) were caught and arrested for distributing the sixth leaflet at the University of Munich on February 18, 1943.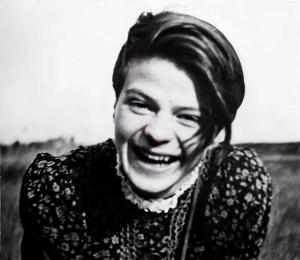 On February 22, 1943 she and her brother, Hans, and their friend, Christoph Probst were sentenced to death and their heads were chopped off by guillotine. Her one line of defence at their mock trial was…
Somebody, after all, had to make a start. What we wrote and said is also believed by many others. They just don't dare express themselves as we did.
And her last words before execution were…
Such a fine, sunny day, and I have to go… What does my death matter, if through us, thousands of people are awakened and stirred to action?
The Movie Sophie Scholl – The Final Days. chronicles her heroic life.
(January 2, 1918 – 12 October 12, 1943)
Wil was another member of the White Rose. His cause for canonization has started.
Graf oversaw recruitment to the White Rose movement. The movement was inspired by St. John Henry Newman's writings on conscience.

Graf, a medical student, was arrested and sentenced to death on April 19, 1943. For the next six months, the Gestapo interrogated him, but he refused to disclose details about the resistance movement. He was executed — probably by guillotine — on October 12, 1943, at the Stadelheim Prison in Munich.

On the day of his execution, the 25-year-old Graf wrote a letter to his parents.

It said: "On this day I'm leaving this life and entering eternity. What hurts me most of all is that I am causing such pain to those of you who go on living. But strength and comfort you'll find with God and that is what I am praying for till the last moment."

On December 16, 2017, it launched the beatification process for Fritz Gerlich, a journalist who publicly denounced Hitler, and Romano Guardini, one of the leading theologians of the 20th century who was forced to resign an academic post because of his criticism of the Nazis. Archdiocese prepares beatification cause of anti-Nazi White Rose member (catholicnewsagency.com)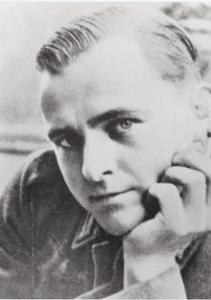 (October 25, 1916 – July 26, 2003)
Gereon Goldmann was a seminarian drafted into Hitler's army. It was there that he served God rather then Hitler by using his forced time in the army to live out his Catholic faith. The Nazi's wanted him and 200 other seminarians to be SS officers. This would mean they would have to formally renounce their faith. But unlike the priests who swore allegiance to King Henry VIII they said Ain't Happening. Their principled Nazi commander said in response to their defiance , "I salute you gentlemen – I expected nothing less." And several of them went off to the Eastern Front to get slaughtered like when King David sent Uriah to the front lines to get killed to cover up his adultery with Bathsheba.
Marked for another purpose, Gereon was saved by a timely illness and a surprising change of orders. At home on sick leave, he met a religious sister from the convent where he used to serve the 5 a.m. daily Mass. She told him in no uncertain terms that she had been praying for his ordination to the priesthood for 20 years, and that this year she was sure her prayers would be answered.

A shocking change of assignment and many miracles later, Gereon found himself kneeling before the Pope in Rome, begging for an early ordination to the priesthood. Soon back at the front and then a prisoner of war in the hands of cruel French guards and sadistic Nazi superiors in North African prison camps, newly ordained Father Gereon did not give up hope.

Not only did he bring the presence of Christ to many devout Catholic prisoners, but soon fallen-away Christians and even hardened atheists were attending Mass in his makeshift chapel. Moved from one hellish prison camp to another, often thirsty and starving to death, Father Gereon continued to serve his priestly duties with incredible energy.
'Under the Shadow of His Wings' – Wilmington News Journal (wnewsj.com)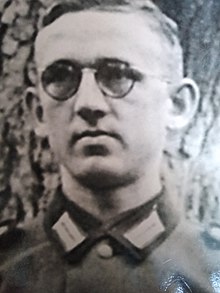 Mention of something almost miraculous needs to be made. This is the prayer network that grew all over Franciscan communities in Europe and North Africa. These nuns at many convents and hermitages all over the desert area had been praying for him, some for as long as twenty years. Franciscan missionaries had been in North Africa as early as 1219, and by the twentieth century, there were hundreds of missionaries there, some active, some cloistered and devoted to continuous prayer. Every time Father Gereon was transported to another prison, word got around among the nuns and several would appear at train stations with baskets of food and warm blankets for the cold desert nights. He did not know them, but they surely knew of him. He was continually amazed at this occurrence. Surely, he could never doubt the efficacy of such prayer storming Heaven.-Father Karl Gereon Goldmann, SS, OFM – Catholicism.org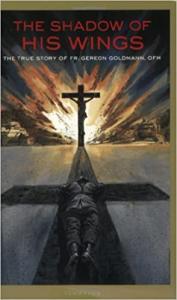 Read his story in The Shadow of His Wings: The True Story of Fr. Gereon Goldmann (1964) OFM Paperback by Gereron Goldmann
(August 13, 1907 – September 1, 1994)
80 years before Americans stormed the capital of the United States on January 6, 1941, Fr. Jean was arrested by the Germans who had stormed his country of Luxembourg. One of the reasons perhaps is because he, with so many others you have read about in this article, resisted the Nazis. He had helped Luxembourg families flee to France ahead of the German forces to return to their home country. A few months later in the merry ol mouth of May he was sent to Dachau. In February 1942, he was unexpectedly released for nine days. He believed that this was part of a scheme to persuade six Luxembourgish priests to publicly voice their support for the Nazi regime. Like the 200 seminarians Fr. Bernard refused to cooperate, and was sent back to Dachau. But on his behalf it seems as if intervention by his brother with senior Nazi officials in Paris secured his definitive release on 5 August, 1942.
Until September 1944, when Luxembourg was liberated, Bernard lived securely and safely away in a monastery.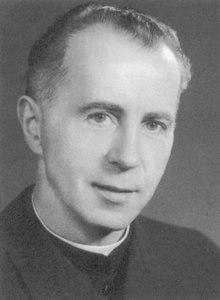 After the war was over, he served as the editor of the Luxemburger Wort, held senior positions in the Catholic Church in Luxembourg, and received many awards. From 1945 to 1946 he described his experiences in a series of articles in the Wort, under the title Dachau. Aus dem Tagebuch eines Sträflings, and later in the book Pfarrerblock 25487. The book was the basis for Volker Schlöndorff's film The Ninth Day (Der neunte Tag), released in November 2004, about his nine-day release from Dachau.
(August 30, 1880 – December 21, 1950)
In 1933, Adolf Hitler was appointed Chancellor of Germany. A stern opponent of the Nazi regime, Bishop Konrad von Preysing , who became the bishop of Berlin in 1935 said "We have fallen into the hands of criminals and fools" when the party came to power."
Of course Hitler didn't much like Bishop Konrad either. The dictator said "the foulest of carrion are those who come clothed in the cloak of humility and the foulest of these Count Preysing! What a beast!"
Bishop Konrad spoke out on a regular basis against the Nazi's. While Preysing was protected from Nazi retaliation by his position, his cathedral administrator and confidant Bernard Lichtenberg, was not. From 1938, Lichtenberg conducted prayers for the Jews and other inmates of the concentration camps, including "my fellow priests there". For preaching against Nazi propaganda and writing a letter of protest concerning Nazi euthanasia, he was arrested in 1941, sentenced to two years penal servitude, and died en route to Dachau Concentration Camp in 1943
A January 1941 letter from Preysing to Pope Pius XII indicated that he was aware of the dire situation of European Jews and that he had been seeking help from the Holy See on the question. In a sermon in March 1941, Preysing reaffirmed Pius XII's opposition to the killing of the sick or otherwise infirm on either economic or eugenical grounds.
There are many more things that he did to resist Hitler and the amazing thing is despite Preysing's open opposition, the Nazis did not dare arrest him and several months after the end of the war he was named a cardinal by Pope Pius XII.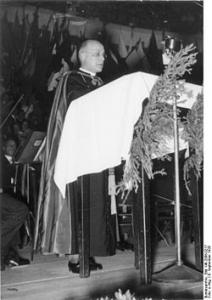 (February 6, 1887 – December 17, 1978)
Bishop Frings served as Archbishop of Cologne from May 1, 1942 1942 to 1969. His consecration ceremony and all consecration ceremonies was banned to the German press. Having none of that, the citizens of Cologne started to publish small private advertisements to inform each other of the news.
Interestingly, the international press was allowed to report the consecration. Bishop Frings got to tell the world through the international press about the persecution of the Jews. It was described by Frings as "himmelschreiendes Unrecht" (injustice crying out to heaven). Because of his popularity he was saved him from reprisals on more than occasion. Nevertheless, the Gestapo had their eagle eye on him with the aid of several informers, including some clerics.
Frings's consecration was used as a demonstration of Catholic self-assertion. In his sermons, he repeatedly spoke in support of persecuted peoples and against state repression. In March 1944, Frings attacked arbitrary arrests, racial persecution and forced divorces. That autumn, he protested to the Gestapo against the deportations of Jews from Cologne and surrounds. In 1943, the German bishops had debated whether to confront Hitler directly and collectively over what they knew of the treatment of Jews. Frings wrote a pastoral letter cautioning his diocese not to violate the inherent rights of others to life, even those "not of our blood" and even during war, and preached in a sermon that "no one may take the property or life of an innocent person just because he is a member of a foreign race". –Wikipedia