Every month I try to update my public book list so that my readers will keep up to date on the latest books being published.
These are books that stood out to me, that in theory I would like to read someday if I ever have the focus to do so.
I try to cover several different genres, because life is full of so many different interesting things.
I'll admit for fiction I might put a little more Sci-Fi then other genres.
So, here are some books you can add to your never ending always growing book list.
Most of these came out in April and May, so maybe you'll find something you'll like.
Unless otherwise noted, all descriptions are simply borrowed from Amazon.
Catholic Books
The Church in the United States is greatly blessed by the contributions of Black Catholics and the legacy of holiness of so many men and women of color. These men and women lived lives that are worthy of our study and emulation.

In Black Catholics on the Road to Sainthood, Michael R. Heinlein provides the first book to explore the lives of the six Black Catholics from the United States whose causes are under formal consideration by the Catholic Church for canonization. Including biographies and personal reflections from diverse contributors, this book shows how these six men and women provide a model of holiness for all Catholics and people of good will. Venerable Pierre Toussaint, Venerable Henriette Delille, Venerable Father Augustus Tolton, Servant of God Mother Mary Lange, Servant of God Julia Greeley, and Servant of God Sister Thea Bowman are sources of inspiration for us all.

As we continue to pray for the advancement of their causes for canonization, all Catholics of every race can learn a great deal from these holy men and women. By their stories of faith and virtue, they show us how to respond to the call to holiness, bringing healing, reconciliation, and peace to our wounded nation and world.

"As a kid, I was forced to go to Church every Sunday. In my senior year of high school I gave up faith and religion altogether and embraced being agnostic.

I sought the American dream by co-founding a $4.5mil software company and pursued money, fitness, and success, but none of that ever satisfied or gave me peace.

One day my business partner, a devout Catholic, asked me how I reconciled my behaviors and beliefs? Through historical research, intellectual honesty and this thing called "prayer," I moved from being agnostic, to "spiritual," to non-denominational Christian, then, ultimately home to the Catholic Church.

Why Be Catholic? is not exactly my journey, but it is the Journey of the Church. This book will help you make sense of the logical and historical realities that reveal how and why the Catholic Church is who She says She is. This book will address the questions What Did Jesus Do – give us a Church or Bible; and how can you know?

Love Never Fails: Living the Catholic Faith in Our Daily Lives By Bishop Donald Hying

The spiritual fruit of much pastoral experience, this book addresses both perennial and current issues facing Catholics in the world today. Ranging from the interior life of prayer and devotion to the practicalities of evangelization and virtue, Bishop Hying offers contemporary and practical insights into the depths of the Catholic faith and how to live it with heroism and humility. He gives a particular focus on the person of Jesus Christ–his identity, mission, and presence in our lives.

As a pastor of souls a good Bishop must apply theology to the lives of the people he serves. These reflections are born from the heart and mind of a pastor who has served in varied contexts of priestly and episcopal ministry, including suburban, inner city, Hispanic, seminary formation, and missionary settings. In the beauty, challenge, grace, and complexity of interacting with a wide variety of people sincerely striving to be holy, Bishop Hying has learned much about the efficacy of God's purpose and action in human lives and events. This book seeks to feed the Christian soul, mind, and heart.

Survivor: An Abortion Survivor's Surprising Story of Choosing Forgiveness and Finding Redemption (2021) by Claire Culwell

Raised in a loving adoptive home, Claire Culwell, at the age of twenty-one, decided to meet her birth mother—and got the shock of her life. Claire's birth mother, Tonya, confessed that when she was pregnant with Claire, she'd gone to a clinic for an abortion. Yet, after the abortion, the pregnancy continued to progress. What Tonya's doctor had overlooked was that she'd been pregnant with twins. The abortion that terminated the life of Claire's twin had miraculously spared Claire.

Claire embraced the unique circumstances, soon sharing her story with the world and urging her listeners to understand how abortion takes the life of a child. When Claire faced her own unplanned pregnancy as a single woman, she embraced the added opportunity to step into the shoes of those she advocates for. Her heart grew bigger on the issue of life, which increased her extension of empathy and grace to women in pregnancy crisis. At the same time, she began to challenge churches to truly value not just the unborn but also the women who face unexpected pregnancy.

Survivor is Claire's incredible story of surviving abortion and advocating for life—the lives of unborn babies as well as the lives of their mothers. Her powerful message of grace speaks louder than politics or controversy or shame as she inspires each of us to choose life wherever we are.

Fighting for Life: Becoming a Force for Change in a Wounded World by Lila Rose

What makes your heart break for our broken world?

You want to make a difference in the world. You're concerned about all the problems you see, the injustices and the suffering. But you don't know where to begin. Designed for the aspiring activist or world-changer, this book is the key to get you started.

Live Action founder Lila Rose says transformation begins with heartbreak—with seeing the injustices around you and allowing that suffering to light a fire in your soul. In this book, she shares raw and intimate stories from both her personal journey and pro-life activism that will inspire you to become a champion for your own cause. Along the way, you'll discover how to

determine where the need for your gifts is the greatest and begin making a difference;
overcome insecurities and imposter syndrome and become a leader through practice;
find inner courage and confidence in the face of obstacles and criticism; and
bounce back from mistakes to continually grow and make a long-lasting impact.

The fight for a world that is more just, more beautiful, and more loving needs all of us. In allowing yourself to be wounded by the brokenness of our world, you'll find the passion you need to make a difference—and draw closer to the One who truly saves.
Stumbling into Grace: How We Meet God in Tiny Works of Mercy (2021) by Mary Pezzulo
Mary Pezzulo intended to learn all about God through graduate studies in philosophy and Christian ethics, but serious illness ruined those plans and landed her young family in desperate straits. Despite chronic illness, deep poverty, blatant discrimination, and the cruelty she encountered, Pezzulo began tripping over God in the tiny works of mercy she offered to others and received herself. With striking candor and gritty faith she shows us how we also can meet God in the smallest acts of love.
When Pezzulo began her blog Steel Magnificat in 2016, she never imagined she would be writing so much about poverty, discrimination, abuse, or the loneliness of chronic illness. Nor did she realize that the corporal and spiritual works of mercy would bring stark clarity and unflinching hope to her life. She had moved to Steubenville, Ohio, to study philosophy and ethics so that she could teach people about Jesus and make the world a better place. She expected to find God in beautiful churches, inspiring books, and the spoken words of brilliant scholars. But when her life and professional ambitions crumbled around her, she entered a terrible darkness and floundered in desperate poverty, illness, and the lingering trauma of abuse.
In that dark time, Pezzulo began to know mercy, finding God in countless tiny acts. In Stumbling into Grace she shows how the works of mercy have become her anchor in turbulence and calm, piercing sorrow and ridiculous joy, overcoming despair and bringing enduring hope. Now she shares with you how to live the works of mercy in your own life.
When Feeding the Hungry, keep in mind that the more needy the person you're feeding is the more care you should take—these are the people who are most in need of hope and visible acts of love.
Instructing the Ignorant begins with helping people and forming good relationships because people are worth it.
Giving Drink to the Thirsty can mean advocacy and charitable giving that support access to clean water for those throughout the world just as much as it means offering drinks to anyone who enters your home.
Counseling the Doubtful starts with acknowledging that faith is bigger than all of us and that it's not wrong to have questions, doubts, or to look at another faith to see if its beliefs and practices are closer to your spiritual longings.
Clothing the Naked means restoring a sense of dignity to every part of a person by providing appropriate, comfortable, and good-looking clothing, and by protecting people from gossip and prejudice.
Blessed Carlo Acutis by Monsignor Anthony Figueiredo (Author)

From Goodreads- A beautiful new life of Carlo Acutis the IT enthusiast who died at just 15 years old but lived his life for Christ. The author introduces us to the five simple practices which helped to make Blessed Carlo Acutis the first Millennial Blessed. Richly illustrated with photographs of Blessed Carlo and with a great selection of his sayings this is an ideal introduction to a wonderful life.

"We make a choice in life: God or nothing. Blessed Carlo Acutis chose God – "Not I, but God" – in five simple practices. The Mass, Adoration, Confession and spiritual guidance, befriending the Blessed Mother and the saints, and charity. These daily "appointments" led Carlo to a life of intimacy with Jesus and love for neighbour " – Cardinal Sarah
A compelling debut by a new voice in fantasy fiction, The Conductors features the magic and mystery of Jim Butcher's Dresden Files written with the sensibility and historical setting of Octavia Butler's Kindred: Introducing Hetty Rhodes, a magic-user and former conductor on the Underground Railroad who now solves crimes in post–Civil War Philadelphia.
As a conductor on the Underground Railroad, Hetty Rhodes helped usher dozens of people north with her wits and magic. Now that the Civil War is over, Hetty and her husband Benjy have settled in Philadelphia, solving murders and mysteries that the white authorities won't touch. When they find one of their friends slain in an alley, Hetty and Benjy bury the body and set off to find answers. But the secrets and intricate lies of the elites of Black Philadelphia only serve to dredge up more questions. To solve this mystery, they will have to face ugly truths all around them, including the ones about each other.- Goodreads
All the Children Are Home: A Novel by Patry Francis(Goodreads Author)

Set in the late 1950s through 1960s in a small town in Massachusetts, All the Children Are Home follows the Moscatelli family—Dahlia and Louie, foster parents, and their long-term foster children Jimmy, Zaidie, and Jon—and the irrevocable changes in their lives when a six-year-old indigenous girl, Agnes, comes to live with them.

When Dahlia decided to become a foster mother, she had a few caveats: no howling newborns, no delinquents, and above all, no girls. A harrowing incident years before left her a virtual prisoner in her own home, forever wary of the heartbreak and limitation of a girl's life.

Eleven years after they began fostering, Dahlia and Louie consider their family complete, but when the social worker begs them to take a young girl who has been horrifically abused and neglected, they can't say no.

Six-year-old Agnes Juniper arrives with no knowledge of her Native American heritage or herself beyond a box of trinkets given to her by her mother and dreamlike memories of her sister. As the years pass and outside forces threaten to tear them apart, the children, now young adults, must find the courage and resilience to save themselves and each other. Heartfelt and enthralling, All the Children Are Home is a moving testament to the enduring power of love in the face of devastating loss.

By the Daughter of acclaimed Catholic film critic Deacon Steven D. Greydanus
On a remote mountain, a young girl discovers a hidden world where legends live on. Befriended by a Snow Elf, she becomes part of the mountain's unique life—but her adventures bring her face to face with long-hidden fears and an important decision about her future.
The Newbery Award-winning author of Catherine, Called Birdy and The Midwife's Apprentice tells a heartfelt and humorous story of WWII on the homefront.

Millie McGonigle lives in sunny California, where her days are filled with beach and surf. It should be perfect–but times are tough. Hitler is attacking Europe and it looks like the United States may be going to war. Food is rationed and money is tight. And Millie's sickly little sister gets all the attention and couldn't be more of a pain if she tried. It's all Millie can do to stay calm and feel in control.

Still–there's sand beneath her feet. A new neighbor from the city, who has a lot to teach Millie. And surfer boy Rocky to admire–even if she doesn't have the guts to talk to him.

It's a time of sunshine, siblings, and stress. Will Millie be able to find her way in her family, and keep her balance as the the world around her loses its own?

In the summer of his seventeenth year, Sam­uel Sooleymon gets the chance of a lifetime: a trip to the United States with his South Sudanese teammates to play in a showcase basket­ball tournament. He has never been away from home, nor has he ever been on an airplane. The opportunity to be scouted by dozens of college coaches is a dream come true.

Samuel is an amazing athlete, with speed, quick­ness, and an astonishing vertical leap. The rest of his game, though, needs work, and the American coaches are less than impressed.

During the tournament, Samuel receives dev­astating news from home: A civil war is raging across South Sudan, and rebel troops have ran­sacked his village. His father is dead, his sister is missing, and his mother and two younger brothers are in a refugee camp.

Samuel desperately wants to go home, but it's just not possible. Partly out of sympathy, the coach of North Carolina Central offers him a scholar­ship. Samuel moves to Durham, enrolls in classes, joins the team, and prepares to sit out his freshman season. There is plenty of more mature talent and he isn't immediately needed.

But Samuel has something no other player has: a fierce determination to succeed so he can bring his family to America. He works tirelessly on his game, shooting baskets every morning at dawn by himself in the gym, and soon he's dominating everyone in practice. With the Central team los­ing and suffering injury after injury, Sooley, as he is nicknamed, is called off the bench. And the legend begins.

But how far can Sooley take his team? And will success allow him to save his family?

Gripping and moving, Sooley showcases John Grisham's unparalleled storytelling powers in a whole new light. This is Grisham at the top of his game.

Project Hail Mary: A Novel Kindle Edition by Andy Weir

Ryland Grace is the sole survivor on a desperate, last-chance mission—and if he fails, humanity and the earth itself will perish.

Except that right now, he doesn't know that. He can't even remember his own name, let alone the nature of his assignment or how to complete it.

All he knows is that he's been asleep for a very, very long time. And he's just been awakened to find himself millions of miles from home, with nothing but two corpses for company.

His crewmates dead, his memories fuzzily returning, Ryland realizes that an impossible task now confronts him. Hurtling through space on this tiny ship, it's up to him to puzzle out an impossible scientific mystery—and conquer an extinction-level threat to our species.

And with the clock ticking down and the nearest human being light-years away, he's got to do it all alone.

Or does he?

An irresistible interstellar adventure as only Andy Weir could deliver, Project Hail Mary is a tale of discovery, speculation, and survival to rival The Martian—while taking us to places it never dreamed of going.

Nebula, Locus, and Alex Award-winner P. Djèlí Clark goes full-length for the first time in his dazzling debut novel

Cairo, 1912: Though Fatma el-Sha'arawi is the youngest woman working for the Ministry of Alchemy, Enchantments and Supernatural Entities, she's certainly not a rookie, especially after preventing the destruction of the universe last summer.

So when someone murders a secret brotherhood dedicated to one of the most famous men in history, al-Jahiz, Agent Fatma is called onto the case. Al-Jahiz transformed the world forty years ago when he opened up the veil between the magical and mundane realms, before vanishing into the unknown. This murderer claims to be al-Jahiz, returned to condemn the modern age for its social oppressions. His dangerous magical abilities instigate unrest in the streets of Cairo that threaten to spill over onto the global stage.

Alongside her Ministry colleagues and a familiar person from her past, Agent Fatma must unravel the mystery behind this imposter to restore peace to the city—or face the possibility he could be exactly who he seems…

Novellas by P. Djèlí Clark
The Black God's Drums
The Haunting of Tram Car 015
Ring Shout

The Dead Djinn Universe contains stories set primarily in Clark's fantasy alternate Cairo, and can be enjoyed in any order.
The long and turning path to the abolition of American slavery has often been attributed to the equivocations and inconsistencies of antislavery leaders, including Lincoln himself. But James Oakes's brilliant history of Lincoln's antislavery strategies reveals a striking consistency and commitment extending over many years. The linchpin of antislavery for Lincoln was the Constitution of the United States.
Lincoln adopted the antislavery view that the Constitution made freedom the rule in the United States, slavery the exception. Where federal power prevailed, so did freedom. Where state power prevailed, that state determined the status of slavery, and the federal government could not interfere. It would take state action to achieve the final abolition of American slavery. With this understanding, Lincoln and his antislavery allies used every tool available to undermine the institution. Wherever the Constitution empowered direct federal action—in the western territories, in the District of Columbia, over the slave trade—they intervened. As a congressman in 1849 Lincoln sponsored a bill to abolish slavery in Washington, DC. He reentered politics in 1854 to oppose what he considered the unconstitutional opening of the territories to slavery by the Kansas–Nebraska Act. He attempted to persuade states to abolish slavery by supporting gradual abolition with compensation for slaveholders and the colonization of free Blacks abroad.
President Lincoln took full advantage of the antislavery options opened by the Civil War. Enslaved people who escaped to Union lines were declared free. The Emancipation Proclamation, a military order of the president, undermined slavery across the South. It led to abolition by six slave states, which then joined the coalition to affect what Lincoln called the "King's cure": state ratification of the constitutional amendment that in 1865 finally abolished slavery.
From the acclaimed, #1 New York Times bestselling author of Make Your Bed—a short, inspirational book about the qualities of true, everyday heroes.
THE HERO CODE is Admiral McRaven's ringing tribute to the real, everyday heroes he's met over the years, from battlefields to hospitals to college campuses, who are doing their part to save the world.
When Bill McRaven was a young boy growing up in Texas, he dreamed of being a superhero. He longed to put on a cape and use his superpowers to save the earth from destruction. But as he grew older and traveled the world, he found real heroes everywhere he went — and none of them had superpowers. None of them wore capes or cowls. But they all possessed qualities that gave them the power to help others, to make a difference, to save the world: courage, both physical and moral; humility; a willingness to sacrifice; and a deep sense of integrity.
THE HERO CODE is not a cypher, a puzzle, or a secret message. It is a code of conduct; lessons in virtues that can become the foundations of our character as we build a life worthy of honor and respect.
Learn how to fight better and end arguments feeling closer, more loved, and better understood by your partner.
We take our cars in for oil changes. We mow our lawns and pull weeds. Why don't we do maintenance on our marriages? This relationship is the most important one we will ever have, so why not get better at it?
For the last several years, Penn and Kim Holderness of The Holderness Family have done the hard maintenance and the research to learn how to fight better. With the help of their marriage coach Dr. Christopher Edmonston, they break down their biggest (and in some cases, funniest) fights. How did a question about chicken wings turn into a bra fight (no, not a bar fight; a bra fight)? How did a roll of toilet paper lead to tears, resentment, and a stint in the guest bedroom?
With their trademark sense of humor and complete vulnerability, Penn and Kim share their ten most common Fight Fails and how to combat them. Throughout the book, they offer scripts for how to start, continue, and wrap up hard conversations. Couples will emerge equipped to engage and understand, not do battle—and maybe laugh a little more along the way.
In Everybody Fights, couples will learn how to
use "magic words" to navigate conflict
break free of secret contracts
banish the three Ds—distraction, denial, and delay
carry their own individual baggage while helping each other deal with theirs
Penn and Kim want you to know you're not alone. Everybody fights. Marriage is messy. Marriage is work. But marriage is worth it. Fight for it.
Blood and Treasure: Daniel Boone and the Fight for America's First Frontier (2021) by Bob Drury (Author), Tom Clavin (Author)
It is the mid-eighteenth century, and in the 13 colonies founded by Great Britain, anxious colonists desperate to conquer and settle North America's "First Frontier" beyond the Appalachian Mountains commence a series of bloody battles. These violent conflicts are waged against the Native American tribes whose lands they covet, the French, and finally against the mother country itself in an American Revolution destined to reverberate around the world.
This is the setting of Blood and Treasure, and the guide to this epic narrative is America's first and arguably greatest pathfinder, Daniel Boone—not the coonskin cap-wearing caricature of popular culture but the flesh-and-blood frontiersman and Revolutionary War hero whose explorations into the forested frontier beyond the great mountains would become the stuff of legend. Now, thanks to painstaking research by two award-winning authors, the story of the brutal birth of the United States is told through the eyes of both the ordinary and larger-than-life men and women, white and red, who witnessed it.
This fast-paced and fiery narrative, fueled by contemporary diaries and journals, newspaper reports, and eyewitness accounts, is a stirring chronicle of the conflict over America's "First Frontier" that places the reader at the center of this remarkable epoch and its gripping tales of courage and sacrifice.
The Next Everest: Surviving the Mountain's Deadliest Day and Finding the Resilience to Climb Again by Jim Davidson
On April 25, 2015, Jim Davidson was climbing Mount Everest when a 7.8-magnitude earthquake released avalanches all around him and his team, destroying their only escape route and trapping them at nearly 20,000 feet. It was the largest earthquake in Nepal in eighty-one years and killed nearly 8,900 people. That day also became the deadliest in the history of Everest, with eighteen people losing their lives on the mountain.
After spending two unsettling days stranded on Everest, Davidson's team was rescued by helicopter. The experience left him shaken, and despite his thirty-three years of climbing and serving as an expedition leader, he wasn't sure that he would ever go back. But in the face of risk and uncertainty, he returned in 2017 and finally achieved his dream of reaching the summit.
Suspenseful and engrossing, The Next Everest portrays the experience of living through the biggest disaster to ever hit the mountain. Davidson's background in geology and environmental science makes him uniquely qualified to explain why the seismic threats lurking beneath Nepal are even greater today. But this story is not about "conquering" the world's highest peak. Instead, it reveals how embracing change, challenge, and uncertainty prepares anyone to face their next "Everest" in life.
Because He's Jeff Goldblum: The Movies, Memes, and Meaning of Hollywood's Most Enigmatic Actor (2021) by Travis M. Andrews
When did you first encounter Jeff Goldblum? Maybe as a deranged killer in his 1974 screen debut in Death Wish? Maybe as a cynical journalist in 1983s The Big Chill? Or a brilliant if egotistical scientist-turned-fly in 1986s The Fly? Perhaps as the wise-cracking skeptical mathematician in 1993s Jurassic Park? Or maybe you're not a film buff but noticed his face as part of one of the Internet's earliest memes. Who knows?
Whenever it was, you've probably noticed that Goldblum has become one of Hollywood's most enduring actors, someone who only seems to grow more famous, more heralded, more beloved through the decades, even though he's always followed his own, strange muse. The guy primarily plays jazz music these days, but is more famous than ever. Actor, pianist, husband, father, style icon, meme. Goldblum contains multitudes, but why? What does he mean?
The Washington Post's Travis M. Andrews decided to find out. And so he set out on a journey through Goldblum's career, talking to directors like Lawrence Kasdan and Philip Kaufman, colleagues like Harry Shearer and Billy Crudup, and pop culture experts like Chuck Klosterman and Sean Fennessey, to get to the bottom of this whole Goldblum thing. And then he took what he learned and he wrote this book, which is titled Because He's Jeff Goldblum and is the best thing written since The Brothers Karamazov and slightly easier to follow. But you should already know that. In this new semi-biography, semi-rumination, and semi-ridiculous look at the career of Goldblum, Andrews takes you behind the scenes of his iconic movies, explores the shifting nature of fame in the twenty-first century, and spends far too much time converting Goldblum's name into various forms of speech.
Want to hear how Goldblum saved a script supervisor from an amorous baboon? Or what he would write on the mirror after taking showers when he was a teenager? How about his feelings on various brands of throat lozenges? (That one could be an entire book unto itself.) Then this is the book for you!
A collection of funny personal essays from one of the writers of Superbad and Pineapple Express and one of the producers of The Disaster Artist, Neighbors, and The Boys. (All of these words have been added to help this book show up in people's searches using the wonders of algorithmic technology. Thanks for bearing with us!)
Hi! I'm Seth! I was asked to describe my book, Yearbook, for the inside flap (which is a gross phrase) and for websites and shit like that, so… here it goes!!!
Yearbook is a collection of true stories that I desperately hope are just funny at worst, and life-changingly amazing at best. (I understand that it's likely the former, which is a fancy "book" way of saying "the first one.")
I talk about my grandparents, doing stand-up comedy as a teenager, bar mitzvahs, and Jewish summer camp, and tell way more stories about doing drugs than my mother would like. I also talk about some of my adventures in Los Angeles, and surely say things about other famous people that will create a wildly awkward conversation for me at a party one day.
I hope you enjoy the book should you buy it, and if you don't enjoy it, I'm sorry. If you ever see me on the street and explain the situation, I'll do my best to make it up to you.
Killing the Mob is the tenth book in Bill O'Reilly's #1 New York Times bestselling series of popular narrative histories, with sales of nearly 18 million copies worldwide, and over 320 weeks on the New York Times bestseller list.

O'Reilly and co-author Martin Dugard trace the brutal history of 20th Century organized crime in the United States, and expertly plumb the history of this nation's most notorious serial robbers, conmen, murderers, and especially, mob family bosses. Covering the period from the 1930s to the 1980s, O'Reilly and Dugard trace the prohibition-busting bank robbers of the Depression Era, such as John Dillinger, Bonnie & Clyde, Pretty Boy Floyd and Baby-Face Nelson. In addition, the authors highlight the creation of the Mafia Commission, the power struggles within the "Five Families," the growth of the FBI under J. Edgar Hoover, the mob battles to control Cuba, Las Vegas and Hollywood, as well as the personal war between the U.S. Attorney General Bobby Kennedy and legendary Teamsters boss Jimmy Hoffa.

O'Reilly and Dugard turn these legendary criminals and their true-life escapades into a read that rivals the most riveting crime novel. With Killing the Mob, their hit series is primed for its greatest success yet.
In August 1897, the young Belgian commandant Adrien de Gerlache set sail for a three-year expedition aboard the good ship Belgica with dreams of glory. His destination was the uncharted end of the earth: the icy continent of Antarctica.

But de Gerlache's plans to be first to the magnetic South Pole would swiftly go awry. After a series of costly setbacks, the commandant faced two bad options: turn back in defeat and spare his men the devastating Antarctic winter, or recklessly chase fame by sailing deeper into the freezing waters. De Gerlache sailed on, and soon the Belgica was stuck fast in the icy hold of the Bellingshausen Sea. When the sun set on the magnificent polar landscape one last time, the ship's occupants were condemned to months of endless night. In the darkness, plagued by a mysterious illness and besieged by monotony, they descended into madness.

In this epic tale, Julian Sancton unfolds a story of adventure and horror for the ages. As the Belgica's men teetered on the brink, de Gerlache relied increasingly on two young officers whose friendship had blossomed in captivity: the expedition's lone American, Dr. Frederick Cook—half genius, half con man—whose later infamy would overshadow his brilliance on the Belgica; and the ship's first mate, soon-to-be legendary Roald Amundsen, even in his youth the storybook picture of a sailor. Together, they would plan a last-ditch, nearly certain-to-fail escape from the ice—one that would either etch their names in history or doom them to a terrible fate at the ocean's bottom.

Drawing on the diaries and journals of the Belgica's crew and with exclusive access to the ship's logbook, Sancton brings novelistic flair to a story of human extremes, one so remarkable that even today NASA studies it for research on isolation for future missions to Mars. Equal parts maritime thriller and gothic horror, Madhouse at the End of the Earth is an unforgettable journey into the deep.

The Anthropocene is the current geologic age, in which humans have profoundly reshaped the planet and its biodiversity. In this remarkable symphony of essays adapted and expanded from his groundbreaking podcast, bestselling author John Green reviews different facets of the human-centered planet on a five-star scale—from the QWERTY keyboard and sunsets to Canada geese and Penguins of Madagascar.

Funny, complex, and rich with detail, the reviews chart the contradictions of contemporary humanity. As a species, we are both far too powerful and not nearly powerful enough, a paradox that came into sharp focus as we faced a global pandemic that both separated us and bound us together.

John Green's gift for storytelling shines throughout this masterful collection. The Anthropocene Reviewed is a open-hearted exploration of the paths we forge and an unironic celebration of falling in love with the world.
In the wake of the French Revolution, Napoleon Bonaparte, First Consul of France, and Pope Pius VII shared a common goal: to reconcile the church with the state. But while they were able to work together initially, formalizing an agreement in 1801, relations between them rapidly deteriorated. In 1809, Napoleon ordered the Pope's arrest.
Ambrogio Caiani provides a pioneering account of the tempestuous relationship between the emperor and his most unyielding opponent. Drawing on original findings in the Vatican and other European archives, Caiani uncovers the nature of Catholic resistance against Napoleon's empire; charts Napoleon's approach to Papal power; and reveals how the Emperor attempted to subjugate the church to his vision of modernity. Gripping and vivid, this book shows the struggle for supremacy between two great individuals—and sheds new light on the conflict that would shape relations between the Catholic church and the modern state for centuries to come.
My Name Is Tani . . . and I Believe in Miracles: The Amazing True Story of One Boy's Journey from Refugee to Chess Champion (2020)- by Borlase, Craig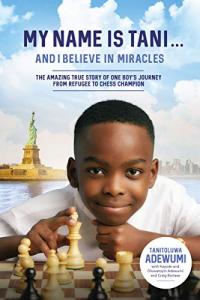 An amazing, miraculous refugee story of coming to America, the young readers edition of Tani Adewumi's story will inspire kids looking for true stories of doing hard things.
At eight years old, Tani Adewumi, a refugee, won the 2019 New York State Chess Championship after playing the game for only a year–and while homeless.
Tani and his family fled Boko Haram's reign of terror in Nigeria to come to the United States, where they lived in a New York City homeless shelter while waiting to be granted religious asylum. Tani began attending a public elementary school and decided he wanted to join the chess program, but it required a fee. Tani's mother reached out to the coach, who offered Tani a scholarship–and a year later the young immigrant became a chess champion.
Ideal for readers 8 to 12 years old, this adaptation presents compelling insight into:
What it means to leave a comfortable home and move to a new country with nothing
What it's like to live in America as a homeless family

How it feels to be an outsider, a Nigerian, in a new school
And what it means to learn a game, compete, and experience the thrill of winning
Tani's story will inspire you to believe in the power of the human spirit to triumph over the greatest adversities. And his family's faith will inspire you to believe in miracles.