Today is our adopted daughter's 23rd birthday.
Last year she called us on her birthday so we could take her out to eat.
We haven't' heard from her in about a year.
My wife poems about her.
18 IS THE MAGIC NUMBER
I am a mother and will always be.
Unconditional love never floats away.
I am also a grandmother.
No, not the kind that interacts with the baby, or helps out.
You see, my husband and I were put through the wringer and back again, and again and again…
My self esteem flaked off like dead skin against a rough towel.
I feel like we tried so hard and things only got worse as she aged.
I was not sure if I was in purgatory or the Twilight Zone, or somewhere else.
Yes, there were happy times but the danger in the long run far out ways a trip to Disney.
We do not know where our Princess is.
Nor have we met our granddaughter, Aurora.
It is not from lack of trying,
Princess, our child adopted at the age of fifteen wants nothing to do with us.
The State won't help.
There are no Grandparents rights here in this state.
A child can make her own decisions even if they are dangerous ones.
Some may say, let her go, but I say love is love forever.
Just a phone call or a Skype? Zoom?
Would put my mind at ease.
To know a child with challenges is raising an infant is a scary thought.
I want to know if my Aurora is being taken care of.
All my tears over all these years.
They don't matter, I guess.
Maybe she does not understand
a number does not make you an adult.
18 means freedom here,
Yes 18 is the magic number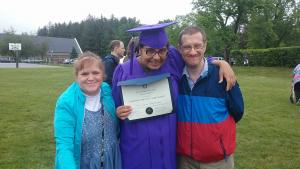 And yet one poem is not enough.
DEMENTIA
Look at her,
look closer,
even closer.
What do you see?
Who do you see?
I see someone who spent nearly her who life as an alto in Saint Anthony's Choir
Someone who raised six children, and now visits with her great grandchild Bridget
Held down a well paying job as a flight attendant
and was happily married for over fifty years.
Someone who helped a great many people in the social work field.
Someone highly educated.
Someone being treated like a child today.
Another Symbolic Poem
A big redbird built a wall
Cause he did not like his neighbors at all
He ate a peach ripe though blue
Not just one but truly two
George and his friend's matter, whether child, old, or teen
And all the world watched as he lied about the spread of 19
Our bird unpredictable, we grew frightful and tired
Number 45 held us in suspense1,2,3,4, you're fired!
Remember that my Wife is…
I am just a poet,
but no not just a poet
for poetry, good poetry
tells a story.
I am more,
A Catholic,
a Secular Carmelite at that.
OCDS
A wife, a mother, a daughter
a sister, an employee, a friend,
a landlady
I am many things to may different people.
but most of all, like us all, a child of God
made in His image and likeness.
Perhaps God is a poet too.