With everything at Fitchburg State running in smooth order, you might have the opportunity to be reading this issue of The Strobe.
(Or in this case this resurrected college newspaper article I wrote back in 1993 several months before I meet my wife (The Carmelite) for the first time. It is now turned into a post for the Catholic Bard. The overall point is still relevant to today's world. One of my closest friends named Marshall Myers was an editor of the Strobe at the time. As a film student he made a movie about editing a newspaper that I think is now lost. I'm glad I found this article while cleaning out my house and downsizing.)
You're probably reading this down by G-lobby, waiting for the mail that will never arrive, or perhaps in the commuter's café. And maybe even in DAKA eating their terrible awful food as some people have put it.
A lot of people complain about DAKA and the way they serve their food.
(DAKA was the company that feed Fitchburg State's college community).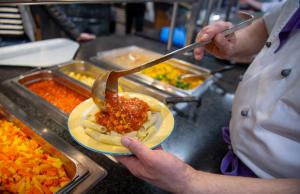 They complain that's it's the worst food they've ever had and even sometimes it makes them sick to their stomach. These are same people who when getting food always get more than they can eat.
(My close friend Dave Patten who I meet that year was one of these people)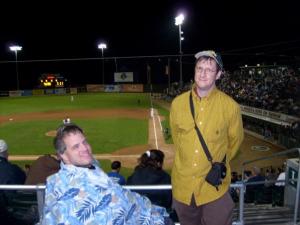 If the students were to run the dinning service, what would they do that the workers don't already do? Perhaps allow beer for those over 21?
I happen to believe that if students were to run the food service, it wouldn't be run much differently than it already is. I know that I would probably run it the same except I'd have more Taco nights and Sugar Smacks.
(You know I eat the same way I did back in 1993. Back several years ago I once had a co-worker who I worked with at CatholicTV say to me that you can't eat the same way in your 40's that you did in your 20's. My weight is proof of that, but yet I still eat Captain Crunch sometimes, still with Milk on the side in a cup and not on the actual cereal. Yes, I know that's weird. By the way Sugar Smacks are now Honey Smacks.)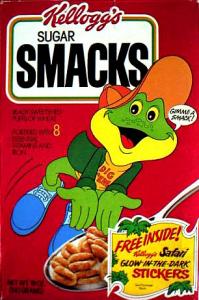 Those of you who complain about the terrible taste of DAKA and eat out every night are probably those who seldom eat anything but beef sandwiches, pizza and french fries. A real way to build up nutrition especially if you do it every night. I'm not picking on the majority, only those who complain that they're getting a better deal for one large pizza that costs about ten dollars or more, then eating as much as you want for six dollars.
Why do people complain about DAKA? Because people are so used to getting food exactly how they want when they want it. At home they get it their way. I'll admit I don't always like the DAKA food and sometimes I do complain but I shouldn't and neither should anyone else.
We went over to Somalia to help feed the hungry; those who were not getting enough food. Here we have so much of it. We take as much as we want even when we know we can't possibly finish it all. That food is then thrown away. It's not perfect food but it's food. That fact alone makes me grateful that I have it to eat.
(According to Wikipedia- Operation Provide Relief began in August 1992, when U.S. President George H. W. Bush announced that U.S. military transports would support the multinational U.N. relief effort in Somalia. Ten C-130s and 400 people were deployed to Mombasa, Kenya, airlifting aid to Somalia's remote areas and reducing reliance on truck convoys. The C-130s delivered 48,000 tons of food and medical supplies in six months to international humanitarian organizations trying to help Somalia's more than three million starving people.)
There is certainly more variety of nutritious food at DAKS then there is at McDonald's. But unless you would do things differently in the food service (not just talk about it, because most people only like to talk about changing things when in reality, they know they can't or won't) please don't be a hypocrite and complain, just eat your cereal and be quiet.
(Here is how that article looked in the school Newspaper)