October is here,
and here is another month of movies
and here is another list of potential movies and TV shows for you to look through.
Movie Descriptions from Rotten Tomatoes/IMDB
Friday, Oct. 1
Venom: Let There Be Carnage
Tom Hardy returns to the big screen as the lethal protector Venom, one of MARVEL's greatest and most complex characters. Directed by Andy Serkis, the film also stars Michelle Williams, Naomie Harris and Woody Harrelson, in the role of the villain Cletus Kasady/Carnag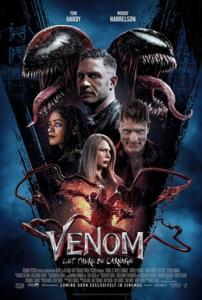 The Addams Family 2 (2021)
The Addams get tangled up in more wacky adventures and find themselves involved in hilarious run-ins with all sorts of unsuspecting characters. Sequel to the 2019 animated film, 'The Addams Family'.
The Many Saints of Newark (2021) HBO Max
A look at the formative years of New Jersey gangster, Tony Soprano.
Titane (2021)
Following a series of unexplained crimes, a father is reunited with the son who has been missing for 10 years. Titane : A metal highly resistant to heat and corrosion, with high tensile strength alloys.
Diana (2021) Netflix
A definitive portrait of Princess Diana, marking what would have been her 60th birthday, piecing together her incredible journey from being a teenage Pimlico nursery assistant to finding her voice as the Princess of Wales.
Mayday (2021)
Ana is transported to a dreamlike and dangerous land where she joins an army of girls engaged in a never-ending war. Though she finds strength in this exhilarating world, she realizes that she's not the killer they want her to be.
The Guilty (2021) Netflix
The film takes place over the course of a single morning in a 911 dispatch call center. Call operator Joe Baylor (Jake Gyllenhaal) tries to save a caller in grave danger-but he soon discovers that nothing is as it seems, and facing the truth is the only way out.
Scaredy Cats: Season 1 (2021) Netflix
On her 12th birthday, Willa Ward receives a purr-fect gift that unlocks a world of witchcraft, talking animals and so much more with her best friends.
The Jesus Music (2021)
This documentary reveals Jesus Music's untold story – from its humble beginnings at the Calvary Chapel in Costa Mesa, California through its transformation into the multi-billion-dollar industry of Christian Contemporary Music today.
LEGO Star Wars Terrifying Tales, Disney+
Dean, Poe and BB-8 must face their fears, stop an ancient evil from rising, and escape to make it back to their friends.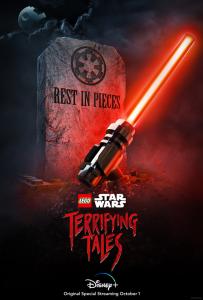 The Most Magical Story on Earth: 50 Years of Walt Disney World, 8 p.m., ABC
This special, hosted by Disney Legend Whoopi Goldberg, will take you on a journey spanning half a century and beyond at Walt Disney World in Florida.
'The Most Magical Story on Earth: 50 Years of Walt Disney World' to Air Oct. 1 on ABC | Disney Parks Blog (go.com)
Saturday, Oct. 2
The Haunted Museum: Season 1, Discovery+
Follow the frightening and hellish tales behind the spooky relics on display in Zak Bagans' Las Vegas museum, by way of scripted shorts produced by Roth and his accredited team, and with featured commentary from Bagans himself.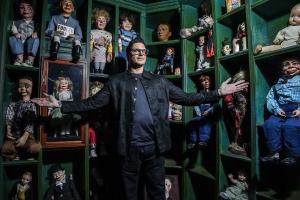 iHeartRadio Music Festival, 8 p.m., The CW
Now in its eleventh year, the annual iHeartRadio Music Festival is a two-day music festival in Las Vegas that features today's biggest names – across genres and formats. Hosted at T-Mobile Arena in Las Vegas on September 17th and 18th, the Festival features two nights of non-stop chart-topping hits, musical World Premieres, and never-before-seen collaborations from the world's most iconic and hottest emerging artists. Home to artists from McCartney to Mary J. Blige, Drake to Deadmau5 and Timberlake to Taylor, the iHeartRadio Music Festival stage is the biggest multi-genre music event anywhere.
Sunday, Oct. 3
America's Funniest Home Videos, 7 p.m., ABC 32nd season
The Walking Dead: World Beyond: Season 2 (2021) 8 p.m., AMC
A group of teenagers sheltered from the dangers of the post-apocalyptic world receive a message that inspires them to leave the safety of the only home they have ever known and embark on a cross-country journey to save their father.
Thursday, Oct. 7
Ghosts: Season 1 (2021) 9 p.m., CBS
Samantha (Rose McIver) and Jay (Utkarsh Ambudkar) believe that their dreams have come true in receiving a beautiful country house, only to find that it is falling apart and inhabited by a number of deceased previous residents.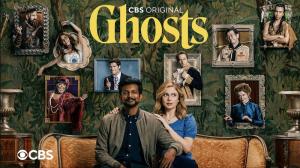 Friday, Oct. 8
Muppets Haunted Mansion (2021) Disney+
Having survived every one of his daredevil performances, Gonzo takes on his biggest challenge yet at The Haunted Mansion where he must spend one night there.
No Time to Die (2021)
Recruited to rescue a kidnapped scientist, globe-trotting spy James Bond finds himself hot on the trail of a mysterious villain, who's armed with a dangerous new technology.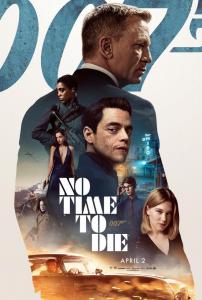 Saturday, Oct. 9
Whose Line Is It Anyway?: Season 18, 8 p.m., The CW
World's Funniest Animals: Season 2 (2021) 9 p.m., The CW
Sunday, Oct. 10
Legends of the Hidden Temple: Season 1 (2021) 8 p.m., The CW
Five teams journey through a mysterious jungle where they compete to enter the ominous temple, avoid the dreaded temple guards, retrieve a lost treasure and return it to its rightful owner.
Tuesday, Oct. 12
The Movies That Made Us: Season 3 (2021) Netflix
Chucky: Season 1 (2021) 10 p.m., SYFY and USA Network
After a vintage Chucky doll turns up at a suburban yard sale, an idyllic American town is thrown into chaos.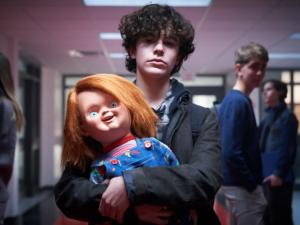 Wednesday, Oct. 13
DC's Legends of Tomorrow: Season 7 (2021) 8 p.m., The CW
Batwoman: Season 3 (2021) 9 p.m., The CW
Friday, Oct. 15
Halloween Kills (2021) Peacock
The saga of Michael Myers and Laurie Strode continues in the next thrilling chapter of the Halloween series.
The Last Duel (2021)
King Charles VI declares that Knight Jean de Carrouges settle his dispute with his squire by challenging him to a duel.
Bergman Island (2021)
A couple retreat to the island that inspired Ingmar Bergman to write screenplays for their upcoming films when the lines between reality and fiction start to blur.
Needle in a Timestack (2021)
Nick and Janine live in marital bliss until Janine's ex-husband warps time to try to tear them apart. As Nick's memories disappear, he must decide what he's willing to sacrifice in order to hold onto – or let go of – everything he loves.
Extinct (2021)
Op and Ed accidentally time-travel from the Galapagos Islands in 1835 to present-day Shanghai. They make their way through the city in confusion and make the horrifying discovery that the species to which they belong became extinct shortly after.
Seal Team (2021)
After his best friend is killed in a shark attack, Quinn, a lovable yet tenacious seal assembles a SEAL TEAM to fight back against a gang of sharks overtaking the neighborhood. But this merry band of international seals are not at all trained for such a mission. They seek the help of a much more skillful combatant, Claggart, but even his tricks and flips can't whip these guys into shape. However, with a little bit of ingenuity, intelligence and a lot of heart, our SEAL TEAM may actually be able to bring peace back to their undersea community.
Saturday, Oct. 16
Misfit: The Series: Season 1, Netflix
After being sentenced to six weeks of community service, five ne'er-do-well teens discover that a freak storm has given them superpowers.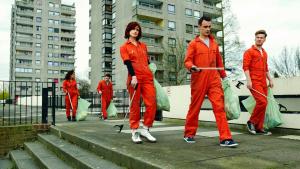 Sunday, Oct. 17
Fear the Walking Dead: Season 7 (2021) 9 p.m., AMC
Season 7 of AMC's Fear The Walking Dead will consist of 16 episodes. The series is a companion series to The Walking Dead, which is based on the comic book series of the same name by Robert Kirkman, Tony Moore, and Charlie Adlard. The executive producers are Kirkman, David Alpert, Greg Nicotero, Gale Anne Hurd, Scott Gimple, Andrew Chambliss, and Ian Goldberg, with Chambliss and Goldberg as showrunners for the fourth consecutive season.[2]
The season follows Morgan's group scattered across the landscape of Texas as they try to survive the nuclear fallout brought about by Teddy (John Glover) and his followers. Meanwhile, Morgan Jones (Lennie James) and Victor Strand (Colman Domingo) clash over their philosophies. Season 7 (Fear) | Walking Dead Wiki | Fandom
Friday, Oct. 22, 2021
Dune (2021) HBO Max
Feature adaptation of Frank Herbert's science fiction novel, about the son of a noble family entrusted with the protection of the most valuable asset and most vital element in the galaxy.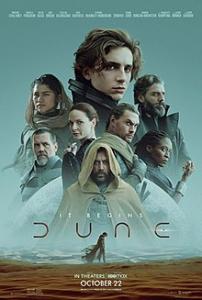 Invasion: Season 1 (2021) Apple TV+
An alien invasion is chronicled from multiple perspectives around the world.
Locke & Key: Season 2 (2021) Netflix
After their dad's murder, three siblings move with their mom to his ancestral estate, where they discover magical keys that unlock powers — and secrets.
Maya and the Three, Netflix
A spirited princess with the heart of a warrior embarks on a mission to fulfill an ancient prophecy and save humanity from the wrath of vengeful gods.
The French Dispatch (2021)
A love letter to journalists set in an outpost of an American newspaper in a fictional twentieth century French city that brings to life a collection of stories published in "The French Dispatch Magazine".
Ron's Gone Wrong (2021)
The story of Barney, an awkward middle-schooler and Ron, his new walking, talking, digitally-connected device. Ron's malfunctions set against the backdrop of the social media age launch them on a journey to learn about true friendship.
Monday, Oct. 25, 2021
4400: Season 1 (2021) 9 p.m.,
The CW The series is a reboot of the 2004 television series The 4400. 4400 marginalized people who vanished without a trace over the last century all make a sudden return, having not aged a single day and with no memory of what happened to them
Thursday, Oct. 28, 2021
Star Trek: Prodigy: Season 1 (2021) Paramount+
A motley crew of young aliens in the Delta Quadrant find an abandoned Starfleet ship, the U.S.S. Protostar; taking control of the ship, they must learn to work together as they make their way towards the Alpha Quadrant.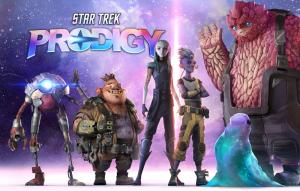 Walker: Season 2 (2021) 8 p.m.,
The CW A widowed father returns to Austin after one year, attempting to reconnect with his children, navigate clashes with his family, and find common ground with his new partner, while growing increasingly suspicious of his wife's death.
Friday October 29, 2021
Last Night in Soho (2021)
An aspiring fashion designer is mysteriously able to enter the 1960s where she encounters a dazzling wannabe singer. But the glamour is not all it appears to be and the dreams of the past start to crack and splinter into something darker.
Antlers (2021)
In an isolated Oregon town, a middle-school teacher and her sheriff brother become embroiled with her enigmatic student, whose dark secrets lead to terrifying encounters with a legendary ancestral creature who came before them.