Last Week In Life:
September 27, 2021- October 3, 2021
Hidden People Exposed by God:
As I am moving, I have less time for sitting at the computer as I am packing, cleaning, eating, going to work.
I should be praying. I wish I could be sleeping. But I'm sinful.
But I still manage to write.
For Good or for Bad here is…
Last Week's SPECTACULAR STORY OF WEEK
Amen I say to you, wheresoever this gospel shall be preached in the whole world, that also which she hath done, shall be told for a memory of her.-Matthew 26:13
As Catholics we kick off the month of October with the feast day of a person we might not have heard of, had Jesus not taken her out of the hidden shadows of obscurity. In the late 19th century 15 year old Therese Martin entered the silent closeted walls of Carmel. She entered a hidden life at the same age we adopted out daughter. She started her pious life of prayerful contemplation as a teen and exited her Carmelite and earthly existence as a young adult. She might have been left known only to her family, religious community and God, had her super soaked spiritual memoir not spread beyond the walls of her enclosed environment.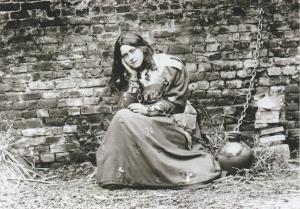 Her added after-death appearances and rose scented miracles helped propel her to saint statius. But God was not content with her being named the greatest saint of modern times. Her mystical fantastical writings pushed her saintly self to that of the rank of Doctor of the Church. That is very great accomplishment for someone confined to one place for the last several years of her life doing nothing but writing, praying, and serving the community in which she lived. Thanks to this young peach of a saint, we know can know and practice her advanced way of approaching and relating to God almighty.
Countless souls have embraced the so-called Little Way of Saint Thérèse of Lisieux in the practice of moral virtue and advanced to sanctity as a result. The Saint describes her Little Way succinctly: "It is the little way of spiritual childhood, the way of trust and absolute self-surrender.-The Little Way of Beauty – OnePeterFive
St. Therese's feast day is sandwiched in between a whole nother group of people we were very unlikely to know about had it not been revealed in public revelation. These are the angels. The 3 big angels who warrant a place in holy writ with an actual name get their feast day on September 29th. That is Michael, Gabriel and Raphael. The group of angels assigned personally to protect a particular human being, known as the Guardian Angels, get their day of acknowledgment on October 2. These mysterious beings made of light can cause one to wonder and ponder the existence of those we will never see except in the next phase of our life in eternity.
Of all the questions you might want to ask
about angels, the only one you ever hear
is how many can dance on the head of a pin.

No curiosity about how they pass the eternal time
besides circling the Throne chanting in Latin
or delivering a crust of bread to a hermit on earth
or guiding a boy and girl across a rickety wooden bridge.
Billy Collins, "Questions About Angels" (1991) Questions about Angels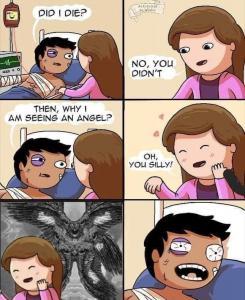 Even more wondrous, ponderous, and unlikely for us to see in this realm of reality is the eternal Son of God wed and intertwined in the hypostatic union of divinity and humanity in the person of Jesus Christ. When the Word became flesh, He became one of us, with the amazing imperfect body that we all have.
The video below explains scientifically how our material being operates and how it could potentially work better. Watch this video and then grasp how the God who made all the atoms in the material universe and created his earthly form became one of us, with all our flaws and human weaknesses. Note for those who watch this, it talks about evolution, which some devout Catholics may have trouble with, alongside biological realities, which devout Catholics shouldn't have trouble with. The church's official position is this…
The Teaching Authority of the Church does not forbid that, in conformity with the present state of human sciences and sacred theology, research and discussions, on the part of men experienced in both fields, take place with regard to the doctrine of evolution, in as far as it inquires into the origin of the human body as coming from pre-existent and living matter – for the Catholic faith obliges us to hold that souls are immediately created by God.-Humani Generis
With that footnote I felt that I had to include, please go on to watch and then contemplate that this is the nature God the Son took and combined with his divine person.
God can take any hidden person, including a poor widow, a hidden prayer warrior, hidden spiritual beings, and his own hidden presence and make it visible and public. Even if your never known by the general public, you will always be known by God.
Last Week's Other Stories, Articles and Things
The Academy Museum's Hayao Miyazaki retrospective is utterly enchanting : NPR
The World's Oldest Grape Vine Has Been Around For Nearly 500 Years
Canonization cause advances for married couple killed in Rwandan genocide – by Michelle La Rosa – The Pillar (pillarcatholic.com)
Dozens killed in Islamist attacks in northern Nigeria | Crux Now
This Week on
MYS174: In 1897, a West Virginia woman was murdered, but then her ghost revealed to her mother from beyond the grave what really happened. Jimmy Akin and Dom Bettinelli discuss how her murderer was put on trial and convicted on the testimony of a ghost! What really happened? Were they really guilty?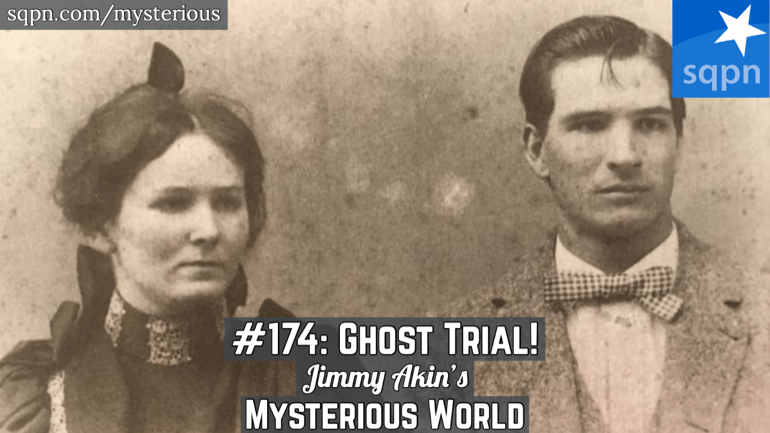 FEAST DAYS ,HOLIDAYS AND LAST WEEK IN HISTORY
WinCalendar: Calendars, Holidays, Days & Today
Banned Books Week | September 26 – October 2, 2021
Monday September 27, 2021
Saint Vincent de Paul, priest – Memorial
Here is what else happened on this day in History.
1540 – The Society of Jesus (Jesuits) receives its charter from Pope Paul III.

1590 – The death of Pope Urban VII, 13 days after being chosen as the Pope, ends the shortest papal reign in history.
1957 – Peter Sellars, American actor, director, and screenwriter is born.
Tuesday September 28, 2021
Saint Wenceslaus, martyr; or Saint Lorenzo Ruiz and companions, martyrs – Optional Memorial
Thomas Lee Kirk (December 10, 1941 – September 28, 2021) was an American actor, best known for his performances in films made by Walt Disney Studios such as Old Yeller, The Shaggy Dog, Swiss Family Robinson, and The Misadventures of Merlin Jones, as well as the beach-party films of the mid-1960s.
US bans swimming with Hawaii's protected spinner dolphins (fox5ny.com)
Here is what else happened on this day in History.
Wednesday September 29, 2021
Saints Michael, Gabriel and Raphael, Archangels – Feast
BREAKING: No One Outside Of China Allowed To Attend 2022 Winter Games In Beijing | The Daily Wire
Here is what else happened on this day in History.
Thursday September 30, 2021
Saint Jerome, priest and doctor of the Church – Memorial
Here is what else happened on this day in History.
Friday October 1, 2021
Saint Therese of the Child Jesus, virgin and doctor of the Church – Feast
International Day of Older Persons
Here is what else happened on this day in History.
Saturday October 2, 2021
Guardian Angels – Memorial
Here is what else happened on this day in History.
Sunday October 3, 2021
Here is what else happened on this day in History.
POPE FRANCIS'S FAMOUS LAST WEEK'S WORDS
Pope Francis: Pray that 'every baptized person may be engaged in evangelization' – Catholic World Report
A Chance To Do A Work Of Mercy
First and foremost we great you in Jesus name… Kindly we are down of food as soon our kids will sleep hungry … please we are in need $830 food $130 is for rent.it cost $700 to feed our kids monthly..Here it's the link to Donate https://www.paypal.com/paypalme/MercyForLifeCorp

Hi,

I would like to take a moment to tell you about a Go Fund Me Page that I have established with the help of some high school classmates. Please see below. We set up this page with the hopes that it would afford me the opportunity to achieve some important goals to further my independence as well as provide for a little bit of financial security. Any help that you could provide would be greatly appreciated and I ask you please share the link. See below. I want to thank you in advance for taking the time to read my page and for your support. Thanks again!

David M. Patten (CatholicBard Contributor)
The Bettinelli Family – Domenico, Melanie, and their five kids Isabella, Sophia, Ben, Anthony, and Lucy – would very much like to come home to a house with walls, floors, and running water before the cold weather comes this fall!
And they need your help. What started as a small bathroom leak has turned into a huge problem that will require the entire house to be re-piped, floors replaced a bathroom, three bedrooms, living room, and dining room, and mold remediation/drywall replacement.
Plus, all seven people and their stuff has to be off the floor and out of the house while this work is being done.
Melanie homeschools the kids and Dom works from home for a Catholic non-profit. Any little bit you can donate not only will help them get their house fixed but will also encourage them and let them know how many people are thinking and praying for them in this extremely stressful time.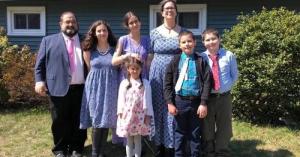 Book Titles I Came Across Last Week
They didn't necessarily come out last week.
The Year's Best Science Fiction Vol. 2: The Saga Anthology of Science Fiction 2021 by Jonathan Strahan
New and Old Movies/TV I Came Across Last Week
Friday, Oct. 1
Tom Hardy returns to the big screen as the lethal protector Venom, one of MARVEL's greatest and most complex characters. Directed by Andy Serkis, the film also stars Michelle Williams, Naomie Harris and Woody Harrelson, in the role of the villain Cletus Kasady/Carnag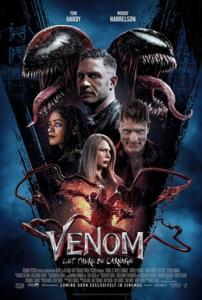 Venom: Let There Be Carnage Post-Credits Scene is a World-Shattering Game Changer – Den of Geek
The Many Saints of Newark (2021) HBO Max
A look at the formative years of New Jersey gangster, Tony Soprano.
LEGO Star Wars Terrifying Tales, Disney+
Dean, Poe and BB-8 must face their fears, stop an ancient evil from rising, and escape to make it back to their friends.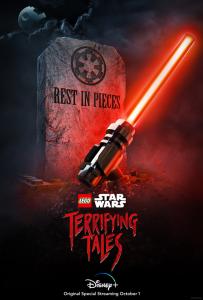 Saturday, Oct. 2
The Haunted Museum: Season 1, Discovery+
Follow the frightening and hellish tales behind the spooky relics on display in Zak Bagans' Las Vegas museum, by way of scripted shorts produced by Roth and his accredited team, and with featured commentary from Bagans himself.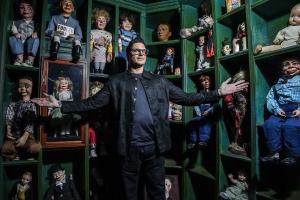 iHeartRadio Music Festival, 8 p.m., The CW
Now in its eleventh year, the annual iHeartRadio Music Festival is a two-day music festival in Las Vegas that features today's biggest names – across genres and formats. Hosted at T-Mobile Arena in Las Vegas on September 17th and 18th, the Festival features two nights of non-stop chart-topping hits, musical World Premieres, and never-before-seen collaborations from the world's most iconic and hottest emerging artists. Home to artists from McCartney to Mary J. Blige, Drake to Deadmau5 and Timberlake to Taylor, the iHeartRadio Music Festival stage is the biggest multi-genre music event anywhere.
Sunday, Oct. 3
America's Funniest Home Videos, 7 p.m., ABC 32nd season
The Walking Dead: World Beyond: Season 2 (2021) 8 p.m., AMC
A group of teenagers sheltered from the dangers of the post-apocalyptic world receive a message that inspires them to leave the safety of the only home they have ever known and embark on a cross-country journey to save their father.
Piffy Quality Quotes

of the Week