On the occasion of our 300th post, here is a story about a big change in our lives here at the Catholic Bard.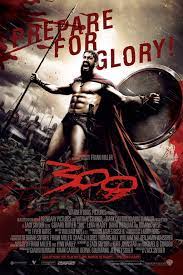 A few months ago, perhaps in July, my wife woke up one morning unable to walk. Her balance had suddenly gone array, and she wasn't able to stand on her own two feet. Her words to the 911 dispatcher were nearly identical to that somehow never forgotten TV commercial 'I've fallen and I can't get up." Kristin couldn't even crawl to the door to let in the EMTS. They had taken out the air conditioner and surpassingly managed to crawl through the window in order to open the front door, where they heard her barely calm voice calling from her bedroom, "I'm down here. I'm OK. I can't walk, but I usually can."
After a brief stay in the hospital, she went to a nursing home for rehabilitation. We were hoping she would come to where I work so I could visit her every day. But she went to one across town where I visited her all most every day. I had to once again sleep in this house all by myself. I was glad the ghosts didn't visit me and freak me out while I was alone. It's an irrational fear I know, but a woman did die in our house before we bought it. Slipped in the bathtub. Our beloved priest did bless our house when we moved in. This was even before we knew what happen.
After the Carmelite was released and sent home, we contemplated putting in a ramp as she was primarily using walkers and wheelchairs and would be for the rest of her life. We nixed the ramp idea and Kris went on a small spending spree and bought an assortment of walkers, grabbers, and other such things to help her in her new life. While this transition was going on two of Kristin's mother's cousins died within a month of each other. With their passing on into eternal life, The Carmelite, being a contemplative person, began to contemplate by the suggestion of her father of moving to Rhode Island.
I thought the process would take several months to a year, but God had other plans set in place. One of the ways I think I can figure out God's will for my life is when I see doors open and opportunities fall into place. And thus, the doors started to open and God's providential dominos started to land and build a bridge to a new life for us.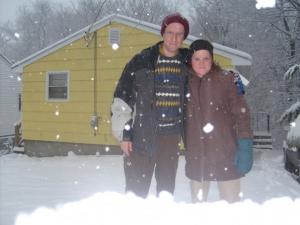 The first thing Kris did was begin the hunt for a new dwelling place for The Catholic Bard to write their articles. I'm always talking with my manager at work, named Barbara, about life and other interesting things. She pointed out this townhouse in Cranston on some website. So, I looked at it, told Kris, who looked at it and she liked it. Not soon after that her parents' friend who is a real estate agent told us that an open house for the very home that we were interested in, was going to happen in a few days. We had previously gone to that house where we peeked in the windows which were covered by drapes. We even talked to a few neighbors, who lived in homes adjacent to our potential new home, while they were walking their dogs.
Next Kris looked for a job for me and even landed me a few interviews. To make a short series of events even shorter, we got the place, I got the job and we will be signing the paperwork for our new place in Cranston RI on Wednesday October 6th, 2021. My in-laws told me that they wanted the house cleaned out in a little over a week so we could put the house on the market. I thought it would take forever to clean out our house and that this goal was as likely to happen as Trump becoming president, but with the help of Kristin's parents and the help of Kristin's family it managed to happen.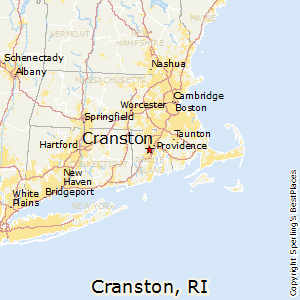 The last big hurdle was going to sell the house. Was it going to be hard to put it on the market and wait for someone to come along and want to buy it? Actually, it was going to be super easy, barely an inconvenience. Our neighbors across the street, whom we have only interacted with a few times over the last several years, saw that we were packing. A woman named Nicky decided to be the brave one, and came over to meet us and asked us, "Are you selling your house? We'd like to buy it". And Walla, our house is going to be sold to our neighbors.
Stress.
Anxiety. Deciding what to keep, throw away and give away.
Arguments.
Sleeping on a hard wood floor as most things were packed.
Waiting for the closing and other things to fall into place.
These are some of the things that moving produces. Moving overall helps you prioritize your life. It helps you to detach from things. I would have been fine just staying in my comfortable familiar life. It made sense for us to live in Framingham all those 12 years ago. But our life has changed since then. My mother has died, our daughter won't talk to us, and I don't see my side of the family all that much. We do get along however. Also, we don't have roots in Framingham, no real attachments to friends in the area. We're not involved in our church as actively as we once were. The type of job I have is one that I could get anywhere, and I did. It won't have the same sweet commute time of 5 minutes sadly.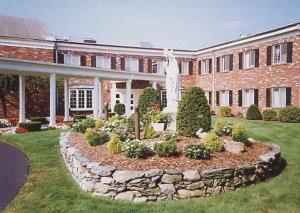 In Rhode Island, Kristin will be closer to her family. She wants to be there for when her relatives get older. Some will need care. Some will eventually pass on. Living in Framingham we sometimes missed family parties and other events. And now we won't because we will be living closer. I can still hop in the car and visit people in Massachusetts. It's not like were moving to California.
So, a new chapter is about to begin in our lives. We don't know what will happen, but what ever happens we will face new challenges together and hopefully have several more years to make new memories together.
I don't care what you say anymore this is my life
We didn't start the fire
It was always burning,
But here you are in the ninth
Two men out and three men on
Nowhere to look but inside
Where we all respond to
Pressure
Pressure
You're only human
You're gonna have to deal with heartache
You're not the only one who's made mistakes
But they're the only thing that you can truly call your own
And it seems such a waste of time
If that's what it's all about
Massachusetts if that's movin' up then I'm movin' out!
Mmm I'm movin' out
Mmm, mmm
Woo-hoo
Uh-huh
And I'll be cruisin' through Block Island Sound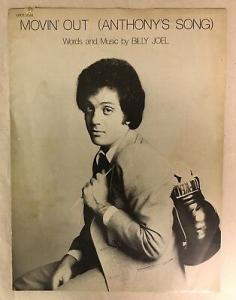 More Catholic Bard Milestones
By the Light of My Prayer | Mark Wilson (patheos.com) 1st Post
25th Post: 25 Tweets From Twitter Catholics | Mark Wilson (patheos.com)
50 Years of Catholic History During My Life: The Next 25 | Mark Wilson (patheos.com)
100 Posts and 100 Years Ago… | Mark Wilson (patheos.com)
While you were Opening your Presents, This Happen… | Mark Wilson (patheos.com) 150th Post
Traveling through Ever-Changing Ireland | Kristin Wilson (patheos.com) 200th Post
Catholic Bard 1 Year Anniversary | Mark Wilson (patheos.com)
Writing Thoughts On My 250th Post | Mark Wilson (patheos.com)