On the 200th Post of the Catholic Bard we present to you a piece that was originally published in Fairy and Fellowship magazine.
On St. Patrick's Day (what would have been my father's 100th Birthday) we present to you Kristin's Travels Through Ever-Changing Ireland.
Ireland 1982: Age 7. I had never traveled by plane anywhere. I'll never forget that we went from Boston to Shannon via "Pan Am" and fell asleep. When we were approaching Ireland we looked out the window as the plane came closer, and closer to the ground. My sister and I looked out the window as best as we could. Kathleen said she could see matchbox cars, and then we went on to say, "matchbox cows, matchbox houses…" until we landed in a different world that hit us with a culture shock that I will never forget.
It was not because of the accents. I grew up listening to my grandparents' Limerick accents. My father had the same accent when he got angry. It was not the Celtic look; my twin sister and I had, still have, the map of Ireland on our face. We fit that stereo-type more than some "real" Irish people.
No, the culture shock we saw was in the gypsies who lived in caravan (R.V. or trailer) on the side of the road. My father told us they did not go to work, school or church. That was not all together true, as I saw some of them selling stuff at the market. I did not realize at the time that they were a close-knit culture.
The culture shock was also that the girls on the streets of Limerick all wore dresses, even outside to play. It was like being in a decade long past. People did a lot more walking to shops, banks and churches. The houses, many of them were attached in rows but were compact with very small yards they called gardens, even if they were not growing food or flowers.
I remember seeing a man riding a donkey, or something, with an open, wooden trailer behind it on the road where my aunt lived. I also remember sitting in the car waiting on a thin road while a shepherd guided sheep, or was it cows, who had the right of way. And the smell of it. The farms smelled of manure and the cities made up for it with the smell of turf, which burned even in the summer back then. The smell of the burning turf made me decide that is what Ireland smells like.
We climbed the steps of Blarney Castle. We traveled and waited in line. It was high enough that looking down could worry anyone afraid of heights. We bent down and could see the ground though the metal gate only to put our lips where many others from around the world had put there's. Not very sanitary. Even with the man who worked there helping you not to fall over as you kissed the stone, it did not feel safe. But I, at the age of seven could say I kissed the Blarney Stone.
Ireland 1985: Age 10. As we were landing in Shannon, we remembered the time we saw the matchbox world below. I remember how excited my father was to be back in Ireland, after only three years. He was yelling with joy once we got into the rented car. We went to stay with the same aunt and uncle, played Irish games called Queenie and 4 Corners, running on the side street where not everyone had a car, and fewer had more than 1 vehicle. We walked to the same shop nearly every day to buy Irish candy. I remember how a girl on the street used a hula hoop to jump through. Some of the kids remembered us. One had started wearing pants.
The swings in Kilkee were still there. We swung, traveling higher and higher, sitting together using a unique rope pully system. We stayed in a trailer park, and remembered 2 girls who also stayed there in the summers. They did not remember us from three years earlier, but we remembered them; Emily and Harriet.
The greatest traveling we did that year though, was taking the ferry, a rented car included, from Ireland to the British Isles and eventually finding ourselves in London. The water was rougher than usual and my mother felt sick.
We stayed in an old motel called The Celtic Hotel. Naive as I was, and being from New England, I thought it was named for the basketball team. My sister Erin lost a tooth and my parents told me it was them who put a quarter under her pillow, thus taking away the idea of the tooth fairy for me.
We visited my Father's first cousin Mary who lived in London. I remember her and how mad she was when the taxi would not let all of us in the cab at once, even during a down pour. I also remember a sign she had in her small home that said a lot of things including "Everyone writes on this wall except me."
We went to all the famous places we could in 4 days. We traveled on the English subway system called the "underground" quite a lot and one time ascended a flight of 100 steps to leave one entrance . I don't know if I could do that now, or what part of London that was. We were getting used to climbing subway stairs and castle stairs as well as driving on thin roads up and down hills.
We went up Tower Bridge to see the view of the city. That is the one mistaken for London Bridge. By the time we got to the top I found myself crawling up a small ramp on my hands and knees so I could see out the window. I do not know if I felt weak or was afraid of the heights by then. What a way to travel.
Ireland 1996: Age 22.
Traveling to Ireland this time we stayed at a different aunt's house, though still in Limerick. Her sister, my great aunt who lived in New Jersey was there when we arrived along with their sister Maureen who lived in the home. It was beautiful to see them all together. Nothing like burnt Irish sausages after a long trip across the Atlantic. The home had its own quaint smell to it. Anie's house was calming. We visited cousin's we had not seen in years.
We walked with my father's uncle Liam to the beach in Kilkee. This time we got to jump into the Polic Holes of the Atlantic Ocean. Something my father did as a child. You have rocks all around, naturally put there, maybe millions of years ago. I had always wanted to go in. It was not just salty but freezing. I do not think anyone else went in except Kathleen and I, and maybe Liam.
We went to Catholic shrine of Knock. This is where the blessed mother, Saint Joseph and Saint John the Evangelist all appeared silently in the little small town in Knock Ireland. While there, I got a large plastic bottle, and filled it from the fountain wall to take home with me. I was surprised how empty the place was. I learned later that a Mass was going on and my parents figured that if I knew that I would want to go.
This time we drove North, The real North. We ran up and down the rocks of Giants Causeway. I had never seen anything like it. I had never heard of it until someone mentioned it.
When we stopped to get something to eat you could tell by the decorations or the framed poetry on the wall hanging in the restaurant or pub, if they were Irish, or English, or better put, their religion or political leanings. My father told me not to bless myself before I eat in case, just in case. He had never been to Northern Ireland in all his life and did not have anything good to say about the English Royal Family.
We stopped at a Bed and Breakfast with no rooms open. The owner gave us directions to another Bed and Breakfast which just happened to be in the middle of nowhere. A woman with dark curly hair in a dress opened the door. She had space for us and a ceramic head of a pope. I understood very little of what she was saying, though she was speaking English. We were not in Limerick or Clare or Dublin anymore. I do not think you could walk to a shop, bank or Church.
What surprised me, even scared me a bit was the neighborhoods with barbed wire around them. Apparently, there were Catholic-Irish neighborhoods and there were Protestant- English leaning neighborhoods in cities. My father had us keep the doors locked and stayed on the main roads.
Ireland 2018: Age 43. I had not been to Ireland for 22 years, almost half my life since I had last been. This time it was my parents, husband and twin sister Kathleen who went with me. Mark and I left from Boston, my parents from Warwick, Rhode Island, which was not an option last time we traveled. This was Mark's first trip to Ireland and his first trip overseas.
We stayed at Anie's house. She and Maureen were not there. Anie had only recently died and her children let us use the home. It was strange without her, or any of her siblings still alive, save the one in New Jersey. We visited my father's cousins on his mother's side and father's side, as always. It was different. It was more Americanized than ever. The Roma were no longer allowed to live on the side of the road, the old out door market was too crowded. It had been covered and the stalls were modern. They even have a fake McDonald's chain as well as regular McDonald's restaurants.
It was not a bad trip. It was great being able to see the people and places. We went to the Stone Age (Neolithic) monument Newgrange, a site that is older than Stonehenge and the Great Pyramids of Giza. We had never been. We saw some young cousins who were not even born last time we were there. Throughout Ireland, there are many castles scattered about the country. Where else can you see modern houses sitting beside ancient structures such as King John's Castle in downtown Limerick. They had even modernized that ancient castle. The path I had walked and biked on 22 years earlier was now an official bike/ walking path. The old "humpy bridge" was still there near the Shannon River. The old mixed with the new. Girls were not all in dresses. The smell of turf no longer lives in the air the way it did in 1982.
We traveled down the N17 and we sang the song by the Irish band the Saw Doctors called the N17. This was on our way to Knock. This time it really did look like a tourist destination for pilgrims. We went to Mass and my mother I got Anointing of the Sick. We are not as young as we use to be. The lavish hills and fields of green surround Ireland. The natural beauty of the country is on full display everywhere you go. The one place we went which we experienced this beauty first hand was walking along the Cliffs of Moher. You get to see the ocean as you walk along for miles gazing in wonder at the world around you. It was beautiful and breath taking.
From the outside we saw the house my father had lived in as a child. Tears well up as I could go on and on. I guess they call it progress when things change. I call it memories that will one day be lost.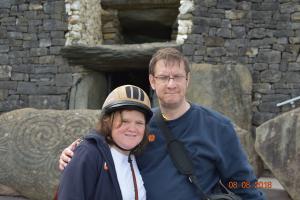 God Bless the Irish
May their culture never be lost to progress
As long as they populate their Island
Until heaven be their home
Éirinn go Brách