Fiat of Saint Joseph
The faithful loving husband,
The earthy father figure
The worker, a carpenter
You were old, but Mary was only a young teenager
You never had to say "tell me the truth" to your wife or child
You protected your family by listening to angles
Was it easy or hard to live with people who never sin?
You are the patron saint of the so many places, and peoples
Thank you, saint Joseph, for your "Fiat" to Mary, the Angles and God.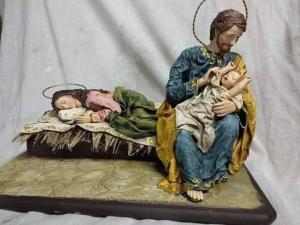 Back in 1992, while I was studying at Fitchburg State College in Massachusetts, Fr. Gonzalo Mazarrasa was a seminarian studying in Rome at the Spanish College of Saint Joseph during the time of its centenary. At the time Fr. Mazarrasa was finishing a 30-day novena to St. Joseph for impossible things and impossible things did happen. His brother who was a pilot, landed a plane that split in half as it landed on the runway. There were about a 100 people on the plane and only 1 of them was seriously injured. And that person recovered.
This miracle plane landing caused an overwhelming sense of awe and wonder that cemented the habit of praying this 30-day novena to St. Joseph every year for almost 30 years. To Fr. Gonzalo, St. Joseph is the perfect patron to invite into our lives so that he can
"teach us to bring Mary with Jesus into our home so that we always live to serve them. Like he did. In a dream, the angel told Joseph, who did not believe himself worthy to take into his home the Mother of the Lord and Ark of the New Covenant, to not hesitate to do so because he would have to name him Jesus, since He would save his people from their sins. With his fears dispelled, Joseph obeyed and took his wife into his home." Catholic World Report
St. Joseph the created man was invited by God almighty to be the spouse of the sinless ever-virgin Mary and the foster father of the only un-created begotten son of God in his incarnated human nature intertwined with his everlasting divine nature in the hypostatic union. He exemplified the image of his son as a husband who loved his wife, even as his son loves his church and gave himself up for it.
I think of him loving Mary so utterly, so fully, that he showed his Son the truly divine way of how to treat and love women. His Son learned that from Joseph–He learned of their dignity and worth firsthand as He was raised from a child into adulthood. And He carried His father's tender love for women for the rest of His life, not even spurning the hysterical and dramatic exclamations of grief and repentance from prostitutes and peasants. He took their hands, dried their tears, embraced them, forgave them.
Jenn Riley St. Joseph: One of the Good Ones (March 19, 2019) The Shoeless Banshee: Meanderings Beyond the Pale @ Patheos Catholic
Servant of God Mother Maria Cecilia Baij wrote a book about the Life of St. Joseph in the 18th century based on her private revelations. This manuscript was not discovered until 1900. It was presented to Pope Benedict XV in 1920 during the month of St. Joseph who encouraged that the book be published.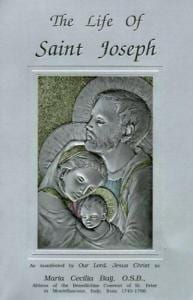 In the book there is an incident that highlights Mary being a lovely fantastic spouse to Joseph that completes the picture of the great sacrament of holy matrimony. As Joseph is a man who serves his wife, Mary is a woman who served her husband.
"Sometimes, when Joseph worked very strenuously, he would approach his spouse and ask her to condescend to sing for him a hymn in praise of God, and thereby relieve his weariness. The holy virgin would readily comply with his requests. Her singing of the hymns of divine exaltation was so delightful that Joseph often was carried into ecstasy.

He once remarked to Mary: 'My spouse, your singing alone is enough to bring comfort to every afflicted heart! What consolation you gave me through it! What relief for my weariness! What a great joy it is for me to hear you speak or sing! …

For the most holy Virgin, these words were the occasion for giving additional praise to God, the Source of all that is good … 'God has poured these graces into my heart,' she told him, 'in order that you might be comforted and obtain relief in your tribulations and affiliations.' The saint's love and gratitude to God expanded steadily and he continued to wonder at the virtue of his most holy spouse."
I can't think of a more beautiful image of sound as Mary fully gracing a room with her immaculate voice in song.
It's interesting that St. Joseph's Feast Day (March 19) is right around the corner from the Fiat of Mary on the feast of Incarnation (March 25).
Someday death will come knocking at our door. It may quietly give us time to pack up our thoughts and collect our selves or it may barge in like a bull in a china shop and knock everything around in a chaotic way. Whether you go out with a bang or a whimper, it is best to have a faithful loving couple to greet you at threshold of eternity.
In a word, to die is a lonely, helpless, and joyless thing. No one of our loved ones can help us. No human hand can penetrate into the inner sanctuary where the last, desperate struggle is being waged. We are alone, all alone. Only Heaven can come to our assistance.
At such an hour it is truly an important matter to have a kind patron who will aid and console us, and who can furnish us the means to die a good, edifying, peaceful, and holy death. Hardly a better patron than Saint Joseph could be found, for what deathbed was ever as beautiful as his must have been? All the conditions necessary to render his departure from earth a most happy and consoling one were united there. Joseph died in the arms of Jesus, his Son and God, and in the arms of Mary; both, especially at that moment, compensated all his endeavors for them with unheard of graces. They were helpers and consolers who not only supported his frail body, but who with powerful, soothing graces refreshed and rejoiced the heart and soul of the dying saint, while the Holy Spirit replenished him with a Heaven of consolation and joy.
Fr. Maurice Meschler, St. Joseph, Our Patron of a Happy Death (November 9, 2018) Catholic Exchange
St. Joseph is the patron of a happy death and the patron of the universal church. And if he can be trusted to take care of the mother of God and God himself while on earth, you can trust him and his wife to take care of you now and at the hour of your death. Book him and Mary for a personal performance at your death bed. Ask them to come and sing you a hymn of praise to God to ease your weary dying soul with the loving balm of their son's healing presence in your soul and preserve you for eternity so you can then join them in song giving praise to God.
O Glorious St. Joseph, I choose you today for my special patron in life and at the hour of my death. Preserve and increase in me the spirit of prayer and fervor in the service of God. Remove far from me every kind of sin; obtain for me that my death may not come upon me unawares, but that I may have time to confess my sins sacramentally and to bewail them with a most perfect understanding and a most sincere and perfect contrition, in order that I may breathe forth my soul into the hands of Jesus and Mary. Amen.