Life moves pretty fast. If you don't stop to look around once in awhile. You could miss it.
At the start of Holy Week 2022, here are some writings and a few Youtube Videos that have come out recently.
Perhaps your looking at this post after Lent.
Ok. Here is what was happening  in the world.
Because most videos I listed here  are  most likely planned out before the cameras roll and the editing begins they are apart of who is
Writing Right Now
Jon Batiste is the grand puba bandleader and musical director on the news comedy sensation The Late Show with Stephen Colbert. Recently Colbert talked to him about his five Grammy Awards wins from 11 nominations, including an Album of the Year win for his album We Are.
In the world of Music Imagine Dragons has graced us with new music and a new music video. This is one of my favorite modern bands.
Also in the world of Music and Late Night Talk Shows, James Corden brings the the over talked about Oscar Slap and too often sung Encanto song together in one musical sketch.
In the world of Books this grand new read has arrived on bookshelves.
Something worth picking up for Easter Reading.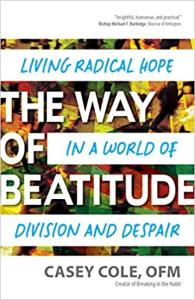 What if we looked at the things we see wrong in the world with empathy, dug below the surface of people's disappointing actions to experience their pain, and understood hurtful words as a cry for consolation? What if we responded with sorrow instead of outrage, and love instead of hate?
If we could do all that, we'd be living as Jesus taught us in the Beatitudes. Fr. Casey Cole, OFM—host of YouTube's Breaking the Habit—wants you to embrace the pain caused by anger and division in the world and then look to Jesus for hope through the Beatitudes.
"The only thing that evangelizes is love," Cole writes. "The only thing that will ever change someone's mind, cause them to turn from their evil ways, accept Jesus into their lives, and become a peacemaker themselves is love. If we want to make peace in our world, we must put down our weapons and take up the cross."
In The Way of Beatitude, Cole explores the meaning of the words Jesus preached at the beginning of the Sermon on the Mount (Matthew 5: 3–12) and shows you how to get beyond apathy and despair and help Christ bring about the Kingdom of Heaven in the here and now. The Beatitudes, he says, offer a path toward radical change.
You will learn how to:
surrender to the mercy of God;

face with courage the heartache caused by division and animosity;

be patient and lean into God's providence;

hunger always for justice;

commit to solidarity with the powerless and the broken;

be liberators of the oppressed; and

lay down your life for the sake of God's Kingdom.
By sharing his own stories of striving toward supreme blessedness, Cole shows you how to surrender power and move beyond the harmful divisiveness of our world.
Chapters include reflection questions and practical ideas for living the Beatitudes.
Speaking of books, these children's books by late night show icons are also currently on bookshelves.
Recently as a April Fools Joke, Jimmy Fallon and Jimmy Kimmel switched places and hosted each other's late night talk show.
Often people confuse one Jimmy with another. Here they talk about that confusion.
Rounding out the late night comedy circuit Saturday Night Live brings us an inspirational about the newly appointed first black woman to serve in the United States Supreme Court.
On Good Friday April 15 two movies will open competing for your time and money.  The Latest Harry Potter prequel  in the Fantastic Beasts saga will open.  Also in theaters will be Sonic 2 with a soon to be retired from show business Jim Carrey. And Marky Mark Wahlberg of Wahlburgers is starring in Father Stu with Mel Gibson also opening on Friday. For some reason unknown to me the movie is rated R for bad language. You think that in wanting to promote a Catholic themed movie they would cut out the language enough to make it PG-13 to get a wider audience. But here is Mark talking to Matt Fradd about the film.
And while were at it here is Mark talking to the crew of the The Catholic Talk Show.
We've looked at the world of Late-night Youtube, Music, Books and Movies.
How about a little mystery from Jimmy Akin.
MYS201: In an English village in the 1100s, two green-skinned children appeared one day and some have claimed they were aliens or fairies. Jimmy Akin and Dom Bettinelli consider who were the green children of Woolpit, where did they come from, and why were they green?
Want to enhance your spiritual I.Q.? Listen to these kids' questions given to Bishop Barron.
The questions are great. The answers are great. Although I don't know if the questioners will understand his answers as Bishop Barron still talks in big words that only adults with some theological understanding will get. He needs to learn to talk to 4 year olds better. Still what was said is worth listening to for your spiritual nourishment.
And to close out this edition of Writing Right Now is another video from Bishop Barron.
Do you have interviewing skills like Matt Fradd?
Do you have musical talent like Imagine Dragons?
Do you have writing skills like Fr. Casey Cole?
Well if you do the Master has need of them.
In the Palm Sunday Gospel reading proclaimed before the procession, the Lord instructs two of his disciples to go into the village and untether a donkey. If there is any protest, they are to say, "The Master has need of it." This is true of every baptized person: the Master has need of your gifts, of you, of the whole of your life. Once we understand this principle, everything is revolutionized—and we are liberated to be of service to Christ and his people.-Bishop Robert Barron