How many places have you lived?
I lived in my mother's womb for 9 months.
I lived in Wisconsin for one summer when I worked at a Christian summer camp for kids.
I  lived in California for 4 months with my friend Marshall.
I lived in Ohio for 3 years when I went to Franciscan University in Steubenville, part of the time with my friend Marshall.
Most of my life however I have lived somewhere in Massachusetts.
I lived for a couple of years in Sandwich with my friend Marshall and his mom.
I worked at Papa Gino's while living there.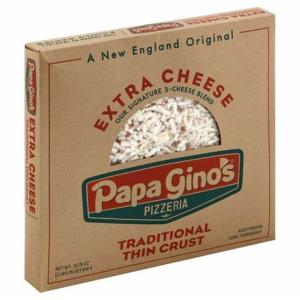 I grew up in Wenham and also lived in Watertown where I worked at CatholicTV.
I worked at Papa Gino's while living in Wenham and also at the Carmelite Gift Store at the North Shore Mall in Peabody.
I lived where I went to school in Franklin at Dean Jr. and Fitchburg at Fitchburg State,
where I meet my wife and Marshall and where I also worked at Papa Gino's.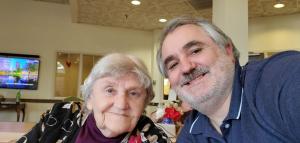 I also lived with my other Fitchburg friend Dave Patten (a contributing writer at The Catholic Bard) one semester in Fitchburg.
When Kristin and I got married after being friends for 17 years we moved to Framingham.
I also worked at Papa Gino's for a few years.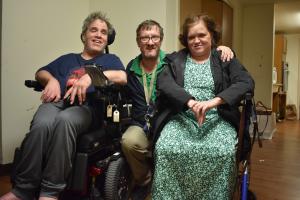 And on October 6 one year ago today after 12 years of living in Framingham,
Kristin and I signed the papers for our current home in Cranston Rhode Island.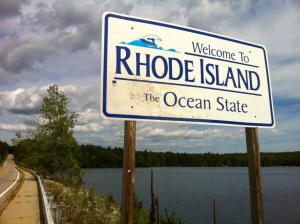 Our road to our Condo complex is finally being paved correctly after a year of pot holes and the like.
Kristin tripped on one of these pot holes walking at night with me to get our mail.
We used to walk right out side our house and get our mail.
We have a little further to get it, but not far.
When I left Massachusetts I had been working at St. Patrick's Manor in the kitchen preparing meals for the elderly for five years.
Now I work in the kitchen at St. Elizabeth Home preparing meals for the elderly.
I have not worked at Papa Gino's.
I used to live 5 minutes from my job.
Now I'm 20 minutes away.
It has a Blessed Sacrament in their secular Episcopalian chapel.
Just like Franciscan, the Carmelite Gift Store, St. Patrick's and CatholicTV.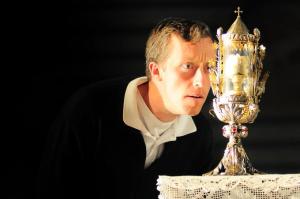 We have a church close by that is just about as close as our church in Framingham.
And another one about 10 minutes away as well, that we go to.
Another church we go to on my day off is 20 minutes away and it is in the same town.
RI has lots of Catholic churches.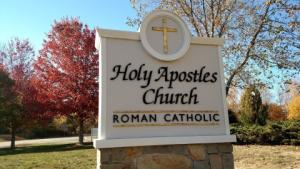 Did you know that Roger Williams (the founder of RI) who was thrown out of Massachusetts, also  founded the real First Baptist Church in America.
That church is in RI folks.
All those other Baptist churches with the name first, Don't believe it.
When Kristin was younger, MUCH YOUNGER,  she thought this statue of a Minute Man (Independent Man) on top of the RI state house
was actually a statue put up in memory of a man who fell off the top of the building while it was being built.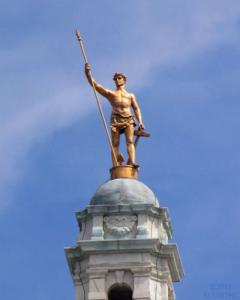 In the last year my friend Jen got married
My parent in-laws celebrated their 50th wedding anniversary
and Queen Elizabeth died.
There is a game in RI you get to play more often then when living in Mass.
The first person to see this landmark as you are driving on Route 95 yells
BIG BLUE BUG. I GET IT.

In Mass we had more frequent restaurants we went to.
We have tried more different places here.
We have gone to Newport Creamery and Kristin has gotten an Aweful Aweful.
There is this great pizza place with good white pizza.
Got to get a Roast Beef and Fries from Walts.
Vinegar is a weird RI thing.
I ordered a Weiner thinking it was a normal Hot Dog.
I don't like raw onions and mustard on my dog.
One place we went to, the counter girl said we could have a free weiner if we wanted to try it.
She was really insistent. We got cheeseburgers regardless.
Went to …
Wait I forgot what I was gonna write.
It will come back.
YES. We went to The Cranston Greek Festival and saw inside our first Orthodox church.
Went to a service and I had some lamb and Kristin had some Baklava.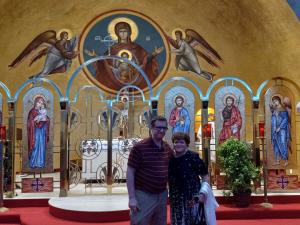 Kristin began her journey as a lay discalced Carmelite by going to a Carmelite group in Danvers Mass.
Today she travels to Barrington RI with the possibility of maybe taking final promises soon.
Lots of places seem on average to take 10 to 20 minutes to get to.
Where we lived in Framingham things were 5 to 10 minutes away.
I had a Sci-Fi book group I went to in Framingham that I could still attend on Zoom if I wanted to.
It consisted of people my age or older.
I tried going to a  YA books for Adults book group here that was mostly all YA women who could care less if I was there, so I stopped going after 1 meeting.
On our first week here we went to the Scituate Art Festival
Where I meet some local RI authors hanging around the library selling books.
Kris and I went to some open mic poetry night at that library.
We see Kristin's family quite frequently.
Including her grandmother more than we would have in Mass.
We've been to more family functions cause Kristin will always have a ride to them.
I show up after work.
I don't see mine all that often. My cousin came over once.
I should call my sisters and see how their doing.
We have had various friends of ours visit us.
Including Marshall. Twice.
He still lives in Ohio.
There are still some friends I haven't heard from in awhile.
We have gotten to know some of our neighbors.
More so then we did in Mass.
Still haven't made any real new RI friends.
I used to make friends more easily.
I see more homeless people or panhandlers here in RI then in Mass.
There is a guy living at a bus stop I see when I go home from work.
I haven't yet stopped to see if I can help him.
I shouldn't ever take for granted that I have a place to live.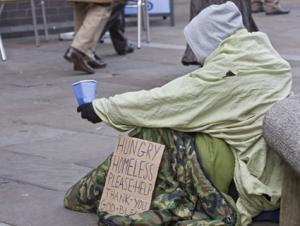 Stores and Libraries close earlier in RI then in Mass.
I'm not sure but I think we have been to Providence more then Boston.
I think RI drivers drive more recklessly then Mass drivers.
It's tough to converse 3 lanes just to get to the exit you need to get onto.
Kristin has suffered some challenges this past year.
Emotionally and Physically.
We have gotten through them.
We haven't heard from our daughter in months.
Did give her a tour of the condo one evening.
Last we heard from her was when she called my wife at midnight to complain we were friends with her ex-boy friends on FB.
These are just some of my reflections on living here in RI for one year.
If I thought long and hard I could think of more to add.
My wife hates when I write long posts.
I asked Kristin to contribute to this reflection but she doesn't have the writing bug at the moment.
She would rather watch Curiosity Stream.
I want to do more in RI now that we have been here a year.
I go to work. Come Home. Watch TV with Kristin. We say Night Prayer.
We go to Mass.
We sometimes go on adventures.
We once went to Mystic Ct. on a whim.
Go to reflect on what that is and a way to implement it.
I'm still writing a blog not many people read or comment on.
I think I'll keep writing regardless.
Sometimes somebody says something.
Like This…
You must seize the day! Go for long walks on the beaches in Narragansett and Newport – even (especially?) when it's cold! Or down south near Westerly. You assume you will always have the ocean with you. I grew up in RI and have lived in Colorado for fifteen years now. How I miss the Fall in RI and the sound of the waves crashing on the beach. Eat clam cakes, smell the salt air. Don't waste a single day!
Thanks for sharing!
–
Valerie Nicolosi Niemerg
blogger @
The Divine Reed Singing for Catholics