When most people hear of Catholic television their minds immediately go to the TV network started by Mother Angelica in 1980. But if you live in New England you might just think of the TV network started in 1955 that became  Boston Catholic TV and is now known as just CatholicTV.
I went to Franciscan University of Steubenville in 2005 with the hopes of getting more educated in a field that would lead me out of the mundane ordinary jobs I was currently working in and land me a bright future in a field that I loved and would be good at. I graduated in 2008 and moved from Ohio back to Massachusetts to work at a job that combined my bachelors degree in communications and my masters in theology. I got hired by the grace of God at CatholicTV to work in programing department scheduling what shows went on at what time.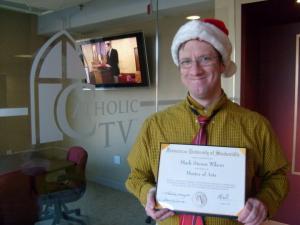 I now work in a nursing home in Rhode Island but will remember the excitement of working in a real TV studio. By some miracle and act of God I worked there for 7 years under the supervision of Bonnie Rogers, the head of my department. I found out that she recently died just before Thanksgiving 2022. It's sad that this woman who gave me a shot at my big time dream job has passed on into the next life. Bonnie and Bishop Reed both attended my wedding in 2010.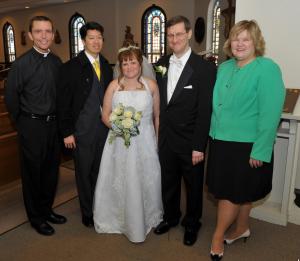 I got a chance to work at a place that distributed the Word of God on a daily 24/7 basis to millions of people. CatholicTV even caught the eye of
Stephen Colbert
. The General Manager of CatholicTV, Jay Fadden, along with its president Bishop Robert Reed talk about Bonnie on CatholicTV's signature Talk Show '
This Is The Day
'.
If you want a Catholic TV station that ignites your anger and fires you up with extreme criticism of other Catholics go watch Michael Voris and the gang over at Church Militant. They will let you know their unfavorable opinion on any Catholic they don't like. CM will lose you in the Vortex of Angry Catholic Television.
If you want a less unhinged Catholic TV station that has a lot of decent great wonderful programing, but whose news department is basically Catholic Republican Fox News, EWTN will be your station.  If you dislike the pope, the papal posse is there to let you know their unfavorable opinion of the pope.
If you want good Catholic programming that teaches you the faith, stays away from the judgmental pharasical aspect of Catholic social media and actually talks respectfully about the pope and still gives you great quality Catholic programming look no further then CatholicTV. It's the great alternative to Vorris and Arroyo.
Here is a sample of what you will find at CatholicTV.
The first and foremost program on the station is the broadcast of the Daily Mass.
Kristin and I often use CatholicTV to pray the
Liturgy of the Hours.
  It also offers you a chance to pray the Stations of the Cross, The Chaplet of Divine Mercy and the Holy Rosary in interesting Catholic Churches around the world including Los Angeles,  Washington D.C. Boston of course, and Ireland, France and Russia.
CatholicTV also gives you a nifty unique creative  opportunity to Pray on Visio Divina: Praying With Art.
Since 1989 a priest named Father Dan O'Connell has been doing his TV show 'We've Got to Talk'. The format usually has a skit putting Fr. Dan in various places such as a jungle, ski resort, airplane, etc. all to introduce what he is going to talk about in his homily set against a greenscreen backdrop. Usually in his stories he talks about getting lost somewhere or some misadventure of his. In the end it always comes back to the gospel. He is an excellent preacher and is often seen in different parishes around the archdiocese of Boston giving retreats. What makes him stick out is the assorted variety of sweaters he always wears with his priestly outfit on. I would say that Fr. Dan's style is somewhat similar to my own. Faithful, devout and rather super goofy at times. But it really drives home the catechetical point.
Here is Fr. Dan's latest on CatholicTV.
CatholicTV's original women's series, The Gist, with hosts Danielle Bean, Rachel Balducci and Carolee McGrath.
Not content with just the normal format for a Talk Show, CatholicTV brings us InterNos.  Latin for "between us". In each episode, CTV President Bishop Robert Reed engages in unique one-on-one conversations about the Catholic faith with various bishops, priests, religious, and laypeople from around the universal church.
Showing off Catechetical knowledge, Catholic kids show off their knowledge of the Catholic faith in WOW: The CatholicTV Challenge a fast-paced game show. Each episode features a different 'Wudabout', revealed by a studio-audience member. Wudabouts include The Pope, Patron Saints, Consecrated Life, Holy Mass, and Sacred Places. Are you smarter than a 3rd grader?
Kevin Nelson reports from the CatholicTV news center, providing updates on Catholic news, including Pope Francis and the Catholic Church around the world.
TV outside the studio walls are on CathoicTV rosseter of programs which including Catholic Destinations and House+Home. This show takes us to Catholic homes to see how Catholic families fill their homes with love and life. In each episode, host Bishop Robert Reed shows how a wonderful family uses faith, hope and love to turn their house into a home. Greg along with his wife Jennifer are the Catholics Next Door. Mac and Katherine Barron are Catholics in a Small Town. They produce podcasts, books, videos and more. These Catholic couples are two sets of down to earth individuals that present what life is like for two ordinary faithful talented creative Catholic families  living today. The one and only episode from CatholicTV brings their unique comedic style together in one moment of quality Catholic entertainment.
To get the full CathoicTV treatment, Bishop Robert Reed takes you inside the chapel, studios, control rooms, and more at The CatholicTV Network: the oldest Catholic television network in the U.S.
Ok. There are many more great examples I could cram into this blog post to give you a sample of CathoicTV's great programing. But I will end with this clip which is my one big shining moment on CatholicTV.