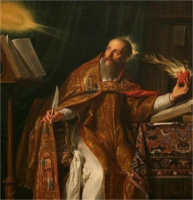 Rely on God to make your soul fit for him
If your home is a mess, how can you invite guests to come in? If your soul is a mess, how can you invite God to come in? But God, says St. Augustine, will clean up your soul and make it a fit dwelling for himself.
The dwelling of my soul is cramped—expand it, God, so that you may enter it. It is in ruins—restore it. Some things about it must offend your eyes—I confess it and I know it. But who will cleanse it? Whom shall I call on but you? Cleanse me from my secret sins, Lord, and keep me from the sins of others.
I believe, and that is why I speak—as you know, Lord. Have I not confessed my sins to you, my God? Have you not put away the iniquity of my heart?
I do not contend in judgment with you, for you are the Truth. I do not want to deceive myself, or my iniquity will lie against itself. So I do not contend in judgment with you: for "if you, O Lord, should mark iniquities, Lord, who could stand?" (Psalm 130:3).
–St. Augustine, Confessions, 1.4
IN GOD'S PRESENCE, CONSIDER . . .
Do I keep God out because my soul is such a mess?
Have I tried asking him to come in and clean it up for me?
CLOSING PRAYER
Sovereign Lord, send me your Spirit, the Comforter, to strengthen and fit me for your service.
___________________________________________________________________________________________________________________
Remember to subscribe to my feed so you will not miss a day! This recurring feature at The Catholic Blogger is possible through the cooperation of author Mike Aquilina and publisher Saint Benedict Press. To get your own copy of this book, click below.