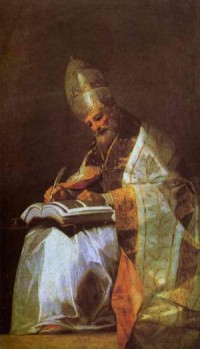 Dare to call God Father
The atonement of Christ changes everything, says St. Leo the Great. We were miserable outcasts, but now we're children of God.
Whoever you are, if you devoutly and faithfully boast of the name of Christian, value this atonement rightly. You were a castaway, banished from the realms of paradise, dying of your weary exile, reduced to dust and ashes, with no more hope of living. But by the incarnation of the Word, you were given power to return from far away to your Maker, to recognize your parentage, to be free when you had been a slave, to be promoted from an outcast to a son. Now you, who were born of the flesh, may be reborn by the Spirit of God. You may gain by grace what you did not have by nature, and—if you acknowledge yourself as the child of God by the spirit of adoption—you may dare to call God Father.
–St. Leo the Great, Sermon 22, 5
IN GOD'S PRESENCE, CONSIDER . . .
Do I have a real sense of the value of the incarnation?
How would I know that I valued Christ's incarnation properly?
CLOSING PRAYER
God of the universe, I rejoice to call you Father. Keep me secure in your love through your Son Jesus Christ.
___________________________________________________________________________________________________________________
Remember to subscribe to my feed so you will not miss a day! This recurring feature at The Catholic Blogger is possible through the cooperation of author Mike Aquilina and publisher Saint Benedict Press. To get your own copy of this book, click below.