Welcome back to this recurring feature at The Catholic Book Blogger. As a book reviewer I get access to early or hot off the presses books from many Catholic publishers. My goal is to share a few titles each post that have either just released or are soon to be released. These are books I am looking forward to reading and think you might be too.
When Saint Francis Saved the Church by Jon M. Sweeney
Release Date: September 8, 2014
From the Publisher Ave Maria Press:
Jon M. Sweeney, author of numerous popular books on St. Francis as well as the recent bestseller The Pope Who Quit, offers a surprising new look at the world's most popular saint, showing how this beloved, but often-mythologized character created a spiritual vision for the ages and may very well have rescued the Christian faith.  
In When Saint Francis Saved the Church, popular historian Jon Sweeney presents an intriguing portrait of Francis beyond the readily familiar stories and images. In the tradition of Thomas Cahill's How the Irish Saved Civilization, Sweeney reveals how the saint became a hinge in the history of the Christian faith and shows how in just fourteen years—from 1205 to 1219—the unconventional and stumbling wisdom of a converted troubadour changed the Church. Sweeney outlines Francis's revolutionary approach to friendship, "the other" (people at the margins), poverty, spirituality, care (for people, creatures, and the natural world), and death.  
This vibrant book presents the unsullied life and message of Francis in its essential details, offering a sweeping, informative, remarkable look at how Francis and his movement quite literally saved the Christian faith—and continues to offer a spiritual vision with contemporary relevance.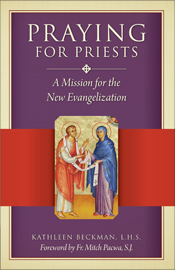 Praying for Priests by Kathleen Beckman
Release Date: Available Now
From the Publisher Sophia Institute Press:
History has taught us the power of intercessory prayer, and nobody is in more need of our prayers than Catholic priests battling on the front lines for the salvation of souls.
Priests are called to fight evil, but they cannot fight it alone. As attacks on the priesthood intensify, you have a vital role to play in supporting priestly renewal and vocations. Those men who have answered God's call depend upon you to wield the most powerful weapon against the evil one — prayer.
Celebrated retreat master and author Kathleen Beckman offers Church-approved ways in which you can contribute to the welfare of the Church. Priests, seminarians, consecrated religious, and laypeople will all benefit from insights into the indispensability of the Catholic priesthood, the mission of praying for priests in the context of the New Evangelization, testimonies of spiritual mothers and priests, and scriptural rosaries dedicated to priests, vocations, and reparation.
Although both men and women are responsible for priestly renewal, Kathleen explains the special vocation of spiritual motherhood of priests. This vocation is embedded with graces that enable women to work together with Our Lady and the Holy Spirit for the sanctification of priests.
Holier priests lead to a holier Church. Because prayer is a source of grace and the mother of all virtues, you can call down showers of graces upon the priesthood. The Church and her priests need your prayers now more than ever, and here you'll find your special calling from God that must be fulfilled for the salvation of souls.
The American Catholic Almanac by Brian Burch and Emily Stimpson
Release Date: September 30, 2014
From the Publisher Image Books:
They're all Catholics who have shaped America. In this page-a-day history, 365 inspiring stories celebrate the historic contributions of American men and women shaped by their Catholic faith. From famous figures to lesser-known saints and sinners, The American Catholic Almanac tells the fascinating, funny, uplifting, and unlikely tales of Catholics' influence on American history, culture, and politics. Spanning the scope of the Revolutionary War to Notre Dame football, this unique collection of stories highlights the transformative role of the Catholic Church in American public life over the last 400 years.
Did you know…
• The first immigrant to arrive in America via Ellis Island was a 15-year-old Irish Catholic girl?
• Al Capone's tombstone reads "MY JESUS MERCY"?
• Andrew Jackson credited America's victory in the Battle of New Orleans to the prayers of the Virgin Mary and the Ursuline Sisters?
• Five Franciscans died in sixteenth-century Georgia defending the Church's teachings on marriage?
• Jack Kerouac died wanting to be known as a Catholic and not only as a beat poet?
• Catholic missionaries lived in Virginia 36 years before the English settled Jamestown?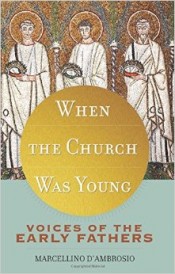 When the Church was Young: Voices of the Early Church Fathers by Marcellino D'Ambrosio
Release Date: Available Now
From the Publisher Servant Books:
If the word trinity isn't in Scripture, why is it such an important part of our faith? And if the Bible can be interpreted in many ways, how do we know what to make of it? And who decides what should be in the Bible anyway?
The Church Fathers provide the answers. These brilliant, embattled, and sometimes eccentric men defined the biblical canon, hammered out the Creed, and gave us our understanding of sacraments and salvation. It is they who preserved for us the rich legacy of the early Church.
D'Ambrosio dusts off the dry theology and brings you the exciting stories and great heroes such as Ambrose, Augustine, Basil, Athanasius, Chrysostom, and Jerome. This page-turner will inspire and challenge you with the lives and insights of these seminal teachers from when the Church was young.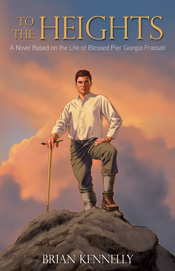 To the Heights: A Novel Based on the Life of Blessed Pier Giorgio Frassatti by Brian Kennelly
Release Date: Available Now
From the Publisher Tan Books:
Enter the heart of a passionate young man, who in his brief life reached the heights of adventure, friendship—and sanctity.
Born to a wealthy family in Turin at the dawn of the 20th century, Pier Giorgio Frassati was good-looking, popular and athletic. He spent much of his youth climbing the rugged Italian Alps, disappearing into the clouds for days at a time. He was quick with a joke or a prank and enjoyed a good time. It seemed he was blessed with everything a young man could ask for.
But he hungered for more.
Despite coming from a family of such prestige, Pier Giorgio spent most days in the slums of Turin, visiting the poor and serving the sick. His love for Christ burned within him and brushed off on everyone he came into contact with – from lepers and orphans to college friends and political diplomats. He shared his Faith with kindness and charity, and defended it passionately against the evils of Fascism, even coming to blows with Mussolini's thugs on numerous occasions.
Pier Giorgio touched the lives of thousands, yet his high-society parents remained unmoved by the life he led as they frowned upon his religious practices and charitable work. Reaching them would be his last challenge, his final mountain to climb.
To the Heights is an unforgettable novel about Blessed Pier Giorgio Frassati. Dig deeper than the biographical facts and discover the heart of a charismatic young man whose soul blazes brightly and uniquely among the host of heaven.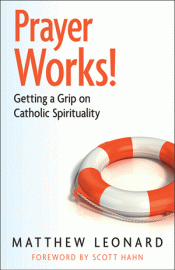 Prayer Works!: Getting A Grip on Catholic Spirituality by Matthew Leonard
Release Date: Available Now
From the Publisher Our Sunday Visitor:
Maybe you've read stories about millionaires who travel to Tibet to learn how to meditate.
Maybe you know someone who visited a monastery for a month to learn how to pray.
Maybe you don't have that kind of money or spare time. But you still want to learn to pray.
Don't worry. You don't need money or a monastery. You have this book. You have a sense of humor. And you have God's grace. You're ready to pray.
Prayer is how we talk with God. The Bible says we should do it constantly. Jesus said it's the one thing we need to do. Your soul was made to be in conversation with God. Nobody knows you better. Nobody cares more about you.
The good news is that prayer isn't something exotic or esoteric – not when Matthew Leonard talks about it. He makes the methods manageable. (Promise: you won't have to twist your body into a pretzel, hire a coach, or learn a foreign language.)
So if you've never read a book on prayer, you've got the right one. And if you've read lots of books on prayer, you've still got the right one. It's got laugh-out-loud humor, great storytelling, and rock-solid instruction. Prayer Works is fun and fast-paced. It will put you on your knees – after you're finished slapping them.