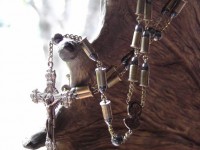 Admittedly this is a bit of departure from my norm, but I received an item I just HAD to share with you, my readers.
Two years ago I had the pleasure of attending a retreat at a local parish here in Hanover, PA. The retreat leader that day was Father Mich Pacwa. His talks were great and focused on our modern secular world and how to combat the notions it tries to force on God following individuals. At one point Father Pacwa was discussing the rosary and spiritual warfate. He reached into his pocket and said something to the effect of "Here is what I use for some real spiritual combat". He proceeded to hold up the most unique rosary I have ever seen. The rosary was handmade with .22 cal. shells. I have been casually searching for the maker of this rosary ever since.
Recently fellow Patheos blogger Father Dwight Longenecker made a trip to EWTN. He spent some with Father Pacwa and took a picture of this rosary posting it on his Facebook page. Here is that picture.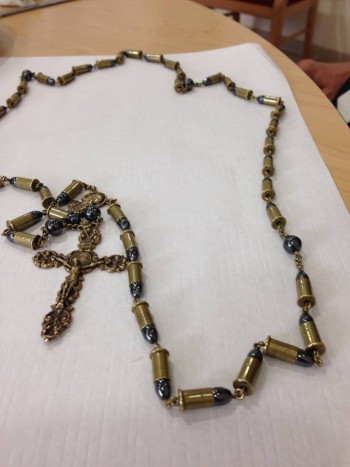 My search was renewed and this time I was met with success. I would like to introduce you to Molly Wahr the designer and maker of this attention grabbing bullet rosary. I took an opportunity to ask Molly a few questions about her design.
PETE: Can you tell us about how you came up with the design for this rosary?
MOLLY WAHR: The inspiration for this design started over a campfire during deer hunting season a few years ago. My husband, Tom, and his cousin, Ken, had been hunting hard for about four days. I joined them at camp that fourth evening. My mother had a long standing joke with Tom that she would pray for him to have successful hunts. He would usually not see anything and ask her to quit praying, it was bringing him bad luck! I teasingly told them that evening I would say a rosary for their success. After they left I thought what can it hurt and proceeded to pray the rosary. Within half an hour of completing the rosary I heard several shots. They came back that night and both had deer. I was a bit surprised and decided to let them know about the prayers.
Ken wondered why I couldn't use spent shells to make a rosary for hunters, as he pulled out a very large 30-06 round. I laughed at the idea since this would've been huge! The more we talked, Tom came up with the idea of using .22 shells. The first one was made using .22 long rifle shells and it was very big. One of our local priests has that prototype. Tom then took some .22 long rifle shells and cut them off with a saw but they were razor sharp and anyone using one of these would've come away with bloody fingers! Then he told me about the .22 shorts and they were perfect! We then found the perfect size hematite bead to fit and quite often people mistakenly think we drill holes through live ammunition!
PETE: Approximately how long does it take to construct one of these?
MOLLY WAHR: Every bit of wire work is done in jewellers brass by hand, from the small jump rings, the beads, to the chain. The whole process begins with shooting the shells. Tom drills the holes for me then the rest is up to me and usually takes me 3-4 hours per rosary.
PETE: Can you tell us the story of how Father Mitch Pacwa received one of these Spiritual combat rosaries?
MOLLY WAHR: This is the story about how Fr. Pacwa came to own one of these rosaries. My mother is 85 and can no longer walk. Because she is homebound she has become a big fan of the EWTN network and Fr. Pacwa. She saw a show once with a chef and F.r Pacwa cooking wild game and he talked about his love of hunting. So in the beginning of 2013 she got one of my "hunters" rosaries and had my sister send it to Deacon Bill for Fr. Pacwa. Unfortunately this happened to coincide with Deacon Bill's passing. She never knew if Fr. Pacwa received her gift until you sent me your first message on Etsy. She has been so excited in hearing he loves the rosary! To say it made her day is an understatement. It made her week and month so far!
And there you have it! The story behind perhaps the most unique rosary I have ever laid my eyes on and that I have ever had the opportunity to pray with. I can tell it is well constructed and one that will certainly hold up for many, many uses. If you are interested in purchasing your own please, visit Molly's Etsy store at the link here.