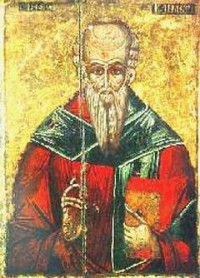 Always avoid insults
Watch what you say to the people around you, says St. Clement of Alexandria. A Christian's job is to spread goodwill, not to stir up ill feelings.
We should keep away from mocking, the beginning of insults, from which fights and disagreements and grudges burst forth. A man is judged from his words, not just from his deeds.
"Do not reprove your neighbor at a banquet of wine," as the saying is. "Speak no word of reproach to him" (Sirach 31:31). We are told especially to as­sociate with saints, and it is a sin to mock a saint.
We assemble at festivals because of our affection, and the purpose of a ban­quet is to be friendly toward those who meet for it, and food and drink go with affection. Then shouldn't we conduct our conversation rationally? Shouldn't af­fection teach us to avoid puzzling people with questions? For if we met to increase our goodwill toward one another, why should we stir up grudges by mocking? It is better to be silent than to say something against someone, and thus add sin to your ignorance.
–St. Clement of Alexandria, Instructor, 2.7
IN GOD'S PRESENCE, CONSIDER . . .
Friendly banter is fine when both parties enjoy it. But am I careful enough to make sure the things I say are never hurtful?
CLOSING PRAYER
Lord, fill me with the love your Spirit gives, and teach me to live in love and peace with all your people.
_____________________________________________________________________________________________________
Remember to subscribe to my feed so you will not miss a day! This recurring feature at The Catholic Blogger is possible through the cooperation of author Mike Aquilina and publisher Saint Benedict Press. To get your own copy of this book, click below.