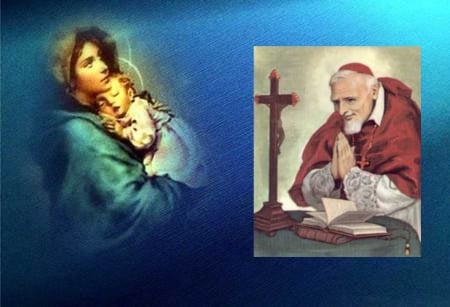 Mary cooperated in our redemption
St. Alphonsus observes that even though Jesus could have redeemed us without any assistance, it was fitting that God chose to have Mary cooperate in our redemption.
St. Bernard says that "as a man and a woman cooperated in our ruin,
so it was proper that another man and another woman should cooperate in our redemption; and these two were Jesus and his mother, Mary."
"There is no doubt," observes the saint, "that Jesus Christ alone was more than sufficient to redeem us. But it was more becoming that both sexes should cooperate in repairing an evil that both sexes had shared in causing."
For this reason St. Albert the Great calls Mary "the helper of redemption." And this Blessed Virgin herself revealed to St. Bridget that "as Adam and Eve sold the world for an apple, so did she with her Son redeem it, as it were, with one heart."
This thought is confirmed by St. Anselm, who says that "although God could create the world out of nothing, yet when it was lost by sin, he would not repair the evil without the cooperation of Mary."
For this reason our Lord has justly decreed, that as Mary cooperated in the salvation of man with so much love, and at the same time gave such glory to God, so all men through her intercession are to obtain their salvation. Mary is called the cooperator in our justification; for to her God has entrusted all graces intended for us. —St. Alphonsus Liguori, The Glories of Mary
IN GOD'S PRESENCE, CONSIDER . . .
In what ways is it fitting that God should choose someone to cooperate with his Son in the salvation of the world? How is it especially fitting that the cooperator should be Mary?
CLOSING PRAYER
From a prayer of St. Andrew of Candia: I salute you, Mary, full of grace; our Lord is with you. I salute you, cause of our joy, through whom the sentence of our condemnation was revoked and changed into one of blessing.
_____________________________________________________________________________________________________
Remember to subscribe to my feed so you will not miss a day! This recurring feature at The Catholic Blogger is possible through the cooperation of author Paul Thigpen and publisher Saint Benedict Press. To get your own copy of this book, click below.