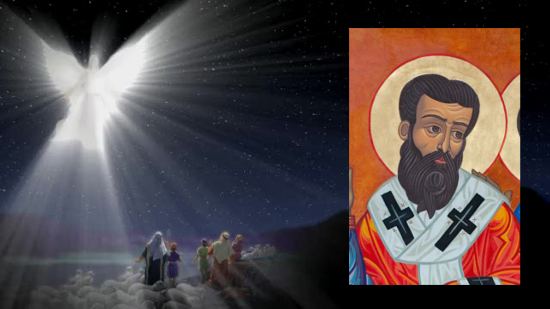 The three kinds of intelligence
St. Gregory of Nyssa remembers the opinions of his sister, St. Macrina, whom
he always calls "the Teacher," on a famous passage in Philippians. She inter– prets St. Paul as referring to the three kinds of  intelligent beings, all of  which will eventually praise Christ.
Therefore God has highly exalted him and bestowed on him the name which is above every name, that at the name of Jesus every knee should bow, in Heaven and on Earth and under the Earth (Phil. 2:9-10).
I do not think (she replied) that the divine Apostle divided the intellectual world into places when he named part as in Heaven, part as on Earth, and part as under the Earth.
There are three states in which reasoning creatures can be: one from the very first received an immaterial life, and we call it the angelic; another is in union with the flesh, and we call it the human; a third is released by death from fleshly entanglements, and is to be found in souls pure and simple.
Now I think that this was what the divine Apostle, in his deep wisdom, was thinking of when he revealed the future concord of all these reasoning beings in the work of goodness; and that he puts the bodiless angel-world in Heaven, and the world still involved with a body on earth, and the world released from a body under the earth.
–St. Gregory of Nyssa, On the Soul and the Resurrection
IN GOD'S PRESENCE, CONSIDER . . .
Since we are human, we are composed of body and soul. When our flesh is sub- ordinated to our spirit, as God intended, we can live with the happiness enjoyed by the heavenly spirits, the angels, even now.
CLOSING PRAYER
Guardian Angel, help me to be purified from all pollution of flesh and spirit, and from every shameful and foolish thought.
_______________________________________________________________________________
Remember to subscribe to my feed so you will not miss a day! This recurring feature at The Catholic Blogger is possible through the cooperation of author Mike Aquilina and publisher Saint Benedict Press. To get your own copy of this book, click below.