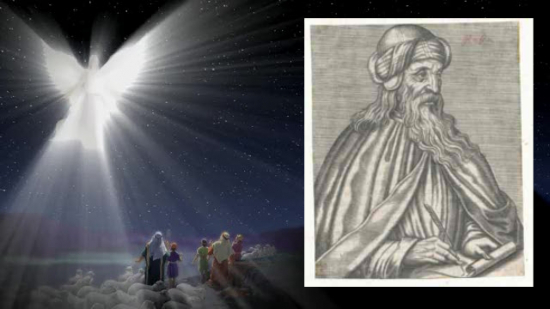 Rufinus of  Aquileia reminds us that, in the resurrection, our bodies  will  be changed and glorified, just as Christ's was. What was planted as a physical body will be raised as a spiritual body, fit for the companionship of angels.
But since God's saints have these promises, and an infinite number like them, about the resurrection of the righteous, it should not be hard now for us to believe the promises that the prophets have foretold as well—namely, that the righteous will shine as the sun and as the brightness of the firmament in the king- dom of God (Matt. 13:43, Daniel 12:3). Why should it be hard to believe that they will have the brightness of the sun, and be adorned with the splendor of the stars and of this firmament, if the life and conversation of God's angels are being pre- pared for them in Heaven? We have been told that we will be molded to the glory of Christ's body! When he speaks of that glory, promised by the Savior's mouth, the holy apostle says that "It is sown a physical body, it is raised a spiritual body" (1 Cor. 15:44).
If it is true, as it certainly is true, that God really will bring every one of the righteous and the saints into companionship with the angels, then it is certain that he will also change their bodies into the glory of a spiritual body. –Rufinus, Commentary on the Apostles' Creed, 46
IN GOD'S PRESENCE, CONSIDER . . .
Which things are hardest for me to believe in Christian teaching? Have I asked my guardian angel to help my understanding? Do I submit myself to the Church's teaching until the understanding is granted to me?
CLOSING PRAYER
Guardian and Guide, touch my understanding, and help me to believe what I cannot understand.
---
Remember to subscribe to my feed so you will not miss a day! This recurring feature at The Catholic Blogger is possible through the cooperation of author Mike Aquilina and publisher Saint Benedict Press. To get your own copy of this book, click below.