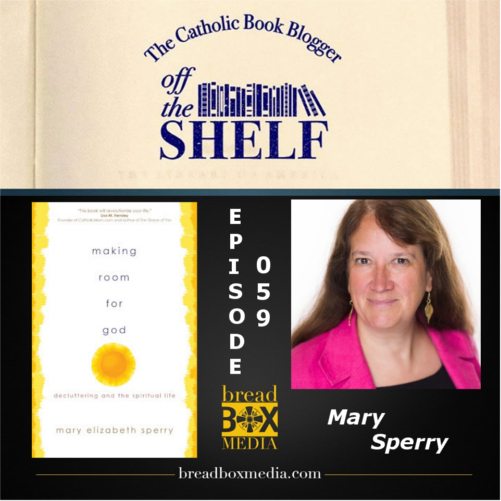 Mary Elizabeth Sperry has worked for the United States Conference of Catholic Bishops since 1994, and serves as associate director for USCCB permissions and NAB utilization.
The author of five books, Sperry's articles have appeared in publications including Give Us This Day, Liguorian, Emmanuel, and Today's Parish Minister. She speaks about the Bible and a variety of spiritual topics in dioceses and parishes throughout the United States and has been interviewed on National Public Radio, EWTN Radio, CBS Radio, Relevant Radio, and SiriusXM. Sperry earned a master's degree in liturgical studies from Catholic University of America and a master's degree in political science from the University of California, Los Angeles. She has bachelor's degrees in international politics, Russian, and economics.
On this episode of Off the Shelf, Mary and I discuss clutter. It is  a challenge in our consumer driven world to keep our arms around the habit of consuming things. It has become almost a given that everyone has to own a storage shed to store their stuff. The question is where do we draw the line? How can we say enough is enough and abandon our stuff? In her book Making Room for God: Decluttering and the Spiritual Life
 Mary tells us how. On this episode Mary gives us valuable insight on how to achieve this while comparing our love of material goods with Catholic beliefs about grace, sin, repentance, prayer, and the common good.
Listen to Off the Shelf Episode 059 exclusively on Breadbox Media below.
If you are fan of the show why not become  a premium member? You can be a part of our mission to bring quality content to Catholic's looking for something more than conventional Catholic media. Premium members receive exclusive discounts, deals and offers, up to 75% off select advertisers  including Rugged Rosaries, Sophia Institute Press, the Harrisburg Senators, Catholic Books Direct and others.
Become a premium member today by visiting the link on my page and I'll send you a Catholic Book Blogger Off the Shelf coffee mug as a thank you for your support of my work and Breadbox Media!

Click below to see my Off the Shelf show archives.