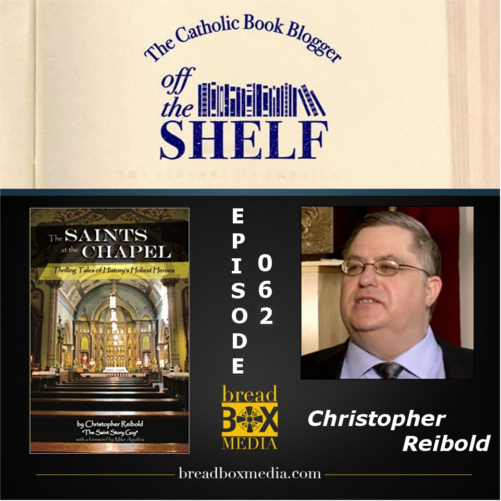 Christopher Reibold is a Catholic writer and storyteller, living near Pittsburgh, PA. At thirteen, he declined to make his confirmation. By seventeen, he was no longer attending mass. He worked for many years in the business world. Through his love of reading, he discovered the saints and became fascinated with their stories. His interest in the saints eventually led him to return to the Church in 2013. He was confirmed at Easter 2014.
Since then, he has dedicated himself to retelling the lives and legends of the saints as short stories. In addition to contributing to WAOB® Audio Theater, he has written and recorded stories for the St. Paul Center for Biblical Theology. He speaks and gives presentations of his stories at parishes, schools and retreats.
On this episode of Off the Shelf, Christopher and I discuss a treasure located in the city of Pittsburgh. Known as "The Bone House", Saint Anthony's Chapel houses the second largest collection of relics in the world next to only the Vatican itself.  In his book The Saints at the Chapel: Thrilling Tales of History's Holiest Heroes
 Christopher discusses the chapel and tells the stories of a few of the saint relics housed there. Listen in as Christopher and I discuss how the chapel came to be,  how all of these relics were obtained, as well as the importance of relics. Also you won't want to miss as Christopher, also known as the Saint Story Guy, tells us a few tales of the saints.
Listen to Off the Shelf Episode 062 exclusively on Breadbox Media below.
You can be a part of our mission to bring quality content to Catholic's looking for something more than conventional Catholic media. Premium members receive exclusive discounts, deals and offers, up to 75% off select advertisers  including Rugged Rosaries, Sophia Institute Press, the Harrisburg Senators, Catholic Books Direct and others.
Become a premium member today by visiting the link on my page and I'll send you a Catholic Book Blogger Off the Shelf coffee mug as a thank you for your support of my work and Breadbox Media!

Click below to see my Off the Shelf show archives.