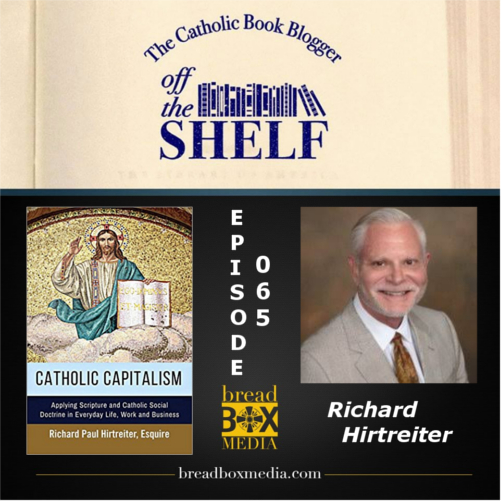 Richard Hirtreiter is an attorney, author, entrepreneur and businessman. He is a lifelong Catholic and a dedicated advocate for principled business practices based on the application of Catholic Social Doctrine in entrepreneurial enterprise. He writes about a universal Christian approach to problem solving while focusing on the primacy of the human person and family as the underlying purpose of economic development. Richard believes that our work must be inspired by faith with the goal of achieving our greatest profit, an eternal life in the kingdom of heaven.
On this episode of Off the Shelf Richard Hirtreiter and I discuss his book Catholic Capitalism: Applying Scripture and Catholic Social Doctrine, in Everyday Life, Work and Business. We take a look at Catholic social doctrine and it's principals. As Richard states in his book, "It is critical for us to accept and understand that each of us has been chosen by God to live our lives as Christians and to serve both Jesus Christ and our fellow man in ways that God has selected us."  Richard practices what he preaches in his own business life as an attorney and with a program he founded that answers the call of Catholic Social Doctrine and that is CaholicDentalPlans.com. Tune in and learn all about it!
Listen to Off the Shelf Episode 065 exclusively on Breadbox Media below.
You can be a part of our mission to bring quality content to Catholic's looking for something more than conventional Catholic media. Premium members receive exclusive discounts, deals and offers, up to 75% off select advertisers  including Rugged Rosaries, Sophia Institute Press, the Harrisburg Senators, Catholic Books Direct and others.
Become a premium member
 today by visiting the link on my page and I'll send you a Catholic Book Blogger Off the Shelf coffee mug as a thank you for your support of my work and Breadbox Media!

Click below to see my Off the Shelf show archives.