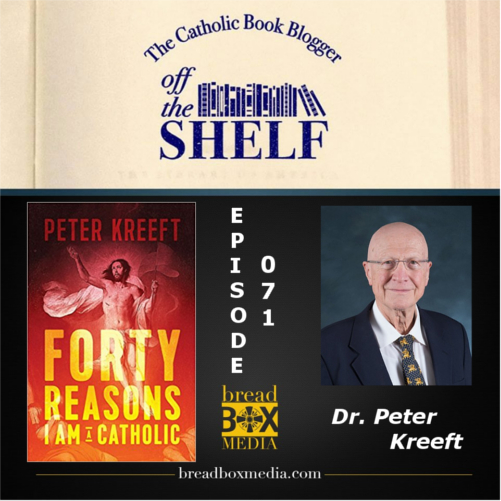 Show Notes
The well-known author Dr. Peter Kreeft joins me on Off the Shelf. We take a look at his book Forty Reasons I Am a Catholic
. Dr. Kreeft tells us  why If you leave the Church, you are making a mistake. His reasons for staying include the power of the real presence, the hierarchy of the Church, and the ability to have his sins forgiven. Dr. Kreeft also believes that the Church has the ability to save us from our worst enemy…ourselves! It's possible we may even talk about the Baltimore Orioles and the Boston Red Sox…..you don't want to miss it!
Listen to Off the Shelf Episode 071 exclusively on Breadbox Media below.
Bio
Peter Kreeft, Ph.D., is a professor of philosophy at Boston College and also at the King's College (Empire State Building) in New York City. He is a regular contributor to several Christian publications, is in wide demand as a speaker at conferences, and is the author of over 55 books. Dr. Kreeft is a convert to the Catholic Church from reformed Protestantism. He earned an A.B. degree from Calvin College, an M.A. and Ph.D. from Fordham University, followed by post-doctoral work at Yale University. He has received several honors for achievements in the field of philosophy, including the Woodrow Wilson Award, Yale-Sterling Fellowship, Newman Alumni Scholarship, Danforth Asian Religions Fellowship, and a Weathersfield Homeland Foundation Fellowship.
Be a part of the Mission
You can be a part of our mission to bring quality content to Catholic's looking for something more than conventional Catholic media. Premium members receive exclusive discounts, deals and offers, up to 75% off select advertisers  including Rugged Rosaries, Sophia Institute Press, the Harrisburg Senators, Catholic Books Direct and others.
Become a premium member today by visiting the link on my page and I'll send you a Catholic Book Blogger Off the Shelf coffee mug as a thank you for your support of my work and Breadbox Media!

Click below to see my Off the Shelf show archives.

---