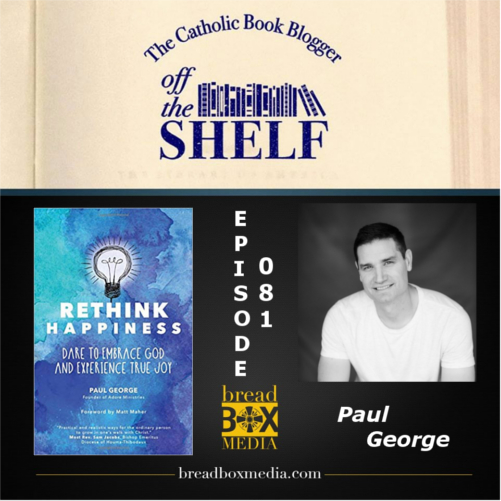 On this episode of Off the Shelf Paul George and I dig into what is true happiness. In our consumeristic society many people seek happiness through material goods but come up empty every time. As Paul says in his book Rethink Happiness: Dare to Embrace God and Experience True Joy
, "I spent the first twenty years of my life seeking things that didn't satisfy me – things that were counterfeit." Listen in and learn how to fill that God shaped hole we all have.
Listen to Off the Shelf Episode 081 exclusively on Breadbox Media below.
Bio
Paul George is a Catholic speaker, teacher, and author who cofounded Adore Ministries and served as its president for eight years. He has more than twenty years of ministry experience as a parish youth minister, diocesan director, campus minister, and full-time evangelist. George is a life coach and, through his organization Art of Living, serves as a consultant to churches, schools, organizations, and corporations throughout the world. George is the host of a national radio show and podcast, The Paul George Show. He is a speaker at Steubenville conferences and spoke at World Youth Day in both Rome and Australia.
---
To get your own copy of this book, click below. As an Amazon Associate, I earn from qualifying purchases.