By Rev. Dr. Joe LaGuardia
One Sunday morning during the collection of tithes at First Baptist Church of Vero Beach, Florida, Randy (not his real name) reached in, dug deep, and padded all of his pockets in order to find money to put into the offering plate. His pants, too big for his lean body and too old to wear anywhere else, hung loosely and flapped about him as he struggled to find his treasure.  The plate passed by, and Randy was disheartened, unable to contribute.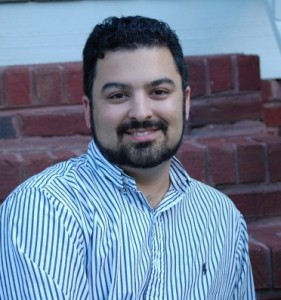 Just four months ago Randy was someone who often asked for an offering. As one of many marginalized and displaced persons in quaint Vero Beach, Randy is well known in these parts for hanging around churches, borrowing a few bucks to get McDonald's cheeseburgers, and getting in deep with the wrong people related to his on-again, off-again drug addiction.
Randy was one of the first people I met last May when I began as senior pastor to First Baptist. We sat and talked a while in my office, about the area, his trouble with holding a job and getting along with family.
I got to know him well, as well as some two-dozen other displaced individuals we serve every Wednesday with hot supper at the church. This ministry is called "Wednesday Without Walls" (WWW). In addition to a meal, there is a clothes closet, seasonal items like bug repellent and blankets available, and a time for a sermon or devotion by guest speakers from around town.
I observed those Wednesday nights as any new minister would and quickly noted that this group appreciated the meal and the time, but had been—through happenstance of the schedule—segregated from our regular church population who met in another room for a meal and Bible study.
I commented to some of the WWW volunteers that this seemed more like "Wednesday with Walls", and we shared a brief, awkward laugh.
Over the next few months, those very volunteers and I prayed and worked on resolving the subtle fault line that existed between Randy's community and our church population, a mere microcosm of the larger subculture of Vero Beach, a bedroom town known for its vastly divided socio-economics—the "haves and have nots," as at least two families new to the area put it.
Our ministry team focused our worship and teaching opportunities around themes of hospitality, inclusion and compassion within and without the church walls.  We introduced the language of local missional engagement—about how God puts churches in communities to be a neighbor and walk alongside neighbors.
It was not a message entirely foreign to the church, it was a mere reminder of why God had established First Baptist Church in the downtown district in the first place.
Over five short months, something happened. The congregation opened up to the Spirit, and the culture of church shifted ever so slightly.  The congregation is beginning to see Randy and his friends as partners and sojourners on a common journey, friends who are part of the family rather than people passing through.
Randy and his friends have been responding also. About a half-dozen people from the marginalized community, Randy included, have been welcomed and in some cases baptized into our church as regular attendees.
Some are becoming active in leadership–greeting at the doors, helping with communion, becoming a part of the support upon which they once leaned. Another of Randy's friends co-facilitates the third-party "Breath of Heaven" ministry housed on our second floor–a non-profit organization that provides job training, ID and legal paperwork, financial assistance, and resources to those in need.
The congregation and displaced community have grown more comfortable with each other.  Stories are being shared; people are are making connections; friendship and partnerships are deepening.
Make no mistake: First Baptist Church of Vero Beach, like many downtown churches in our nation, has a long way to go. It is in the midst of a missional transition that will require it to adapt to a "web" style of entrepreneurial social and ministerial engagement that reaches out to other churches, businesses, non-profits, and government agencies alike, rather than relying on the old "build it and they will come" linear missions models of yesteryear.
It will require an increasing amount of training, elasticity, and spiritual maturity over many years. It will require an intentional, ever-growing recognition that our church—and the local ministries and missions in which it invests—will look nothing like it did some 30 years ago.
It will require more effective ways of measuring and assessing—and communicating—kingdom growth. It will require a new openness to assets-based models of education and resourcing that builds on core values and strengths rather than the tired "let's be all things to all people" ministry so fatal to many an urban church.
Perhaps the conclusion related to Randy's story about tithing will encapsulate this way of missional re-orientation as it is unfolding in this church.
After the worship service in which Randy failed to find his money, the church member who drove Randy to church went back to his car and noticed a silver gleam on the passenger seat where Randy sat not an hour earlier. It was Randy's lost offering, a quarter reserved just for the occasion.
It was only a quarter, but it meant the world to Randy. The next weekend, he was able to contribute to the church that embraced him in new ways, a church that decided to be the presence of Christ in its local neighborhood as a neighbor rather than a benefactor. That began the long, tedious work of dismantling walls and barriers separating friends and family for far too long.
We are not perfect, but its a start.
Joe LaGuardia is senior pastor of First Baptist Church of Vero Beach, Florida, and author of two books.  His columns have appeared in newspapers throughout Georgia and at Ethics Daily, as well as BaptistSpirituality.org.  Visit www.joelaguardia.com for more information.
Note: The views expressed here in columns and commentaries are solely those of the authors.
Interested in writing for CBF at Patheos? Submit your column idea to CBF Communications Director Aaron Weaver at aweaver@cbf.net.