By Danny Chisholm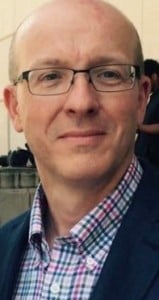 I received an email invitation to our city's version of the National Day of Prayer breakfast. The subtext is to "pray for the needs of our government."
This government sponsored call to prayer was signed into law by President Ronald Reagan in 1988. Since then, the first Thursday of May is known as the "National Day of Prayer."
The national day of prayer website says, "Our theme this year is For Your Great Name's Sake! Hear Us …Forgive Us …Heal Us! which is inspired by Daniel 9:19. As the 2017 National Day of Prayer on May 4th quickly approaches, thousands of individuals, churches, and communities will be working to rally millions of Christians to once again heed this national call to prayer."
I know there are other pastors who find it strange that a church leader would feel this way. What could be wrong with prayer?
Nothing is wrong with prayer, but I am skeptical about this government-endorsed prayer event. I do not believe this should be the government's role; plus the fact I remain dubious to the effects of such a prayer event upon the policies and actions of our elected officials.
There will be a breakfast, prayers offered, and perhaps a sermon or two calling "America back to God." And afterwards, if history is any guide, politicians will go back to their offices to continue business as usual.
I'm not opposed to praying on May 5th. I'm pretty sure I will be saying a prayer on that day, along with many others who practice such a spiritual discipline. I'll be praying before and after that day as well, but it won't be because of a bill passed by Congress and signed by the President. It shouldn't be the government that calls people to pray. It is the church's job to call people to pray. The church doesn't need the government's sanction or admonition to pray.
I've appreciated the show "The West Wing" for a long time. Every now and then, I'll start binge watching it with my wife Lori. I know it's just a TV show, but it raises some important issues and retains its shelf life decades later. In one episode, Arnie Vinnick (played by Alan Alda) is a senator who is also a candidate for president. He has concerns about the government getting involved with religion, connected somewhat to his own life experiences. Some of his friends are asking him to "go to church" to pacify his political base. He responds:
"I don't see how we can have a separation of church and state in this government if you have to pass a religious test to get in this government. And I want to warn everyone in the press and all the voters out there if you demand expressions of religious faith from politicians, you are just begging to be lied to. They won't all lie to you but a lot of them will. And it will be the easiest lie they ever had to tell to get your votes. So, every day until the end of this campaign, I'll answer any question anyone has on government, But if you have a question on religion, please go to church."
I'm reminded of Psalm 66.18: "If I had cherished sin in my heart, the Lord would not have listened." God wants to hear from us, but there must be a willingness to confess and turn from our sinful ways. The church, with its prophetic voice and witness, is in the best position to call people to repentance. Prayer must result in a change of behavior, not a continuation of the same kinds of behavior that have resulted in policies that oppress the poor and alienate people.
There are times when I've called our family of faith to prayer. We've had "40 days of prayer" and also used prayer guides from our larger Baptist community of faith. In addition to these corporate appeals for prayer, it's important to have a daily, personal practice of prayer. We must always be mindful of Jesus' teachings concerning our attitude when we pray (Matthew 6:5-8).
Tony Campolo put it this way, ""Mixing religion and politics is like mixing ice cream and manure. It doesn't do much to the manure but it sure does ruin the ice cream."
If there was a doubt, let me clarify that the church is supposed to be the ice cream.
May God help us as Christians to make every day a national (and international) day of prayer for our nation (and all nations).
Danny Chisholm serves as senior pastor of University Heights Baptist Church in Springfield, Mo. Read his blog online at https:/dannychisholm.wordpress.com and connect on Twitter at @ChisholmDanny
Note: The views expressed here in columns and commentaries are solely those of the authors.
Interested in writing for CBF at Patheos? Submit your column idea to CBF Communications Director Aaron Weaver at aweaver@cbf.net.