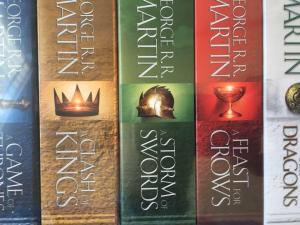 Lent is a dreary time. From Ash Wednesday to the Triduum, we count the days and endure our mortifications, fasts, and other obligations—or stress over failing to live up to them.
But amidst the gloom are a few bright spots. Two solemnities fall during Lent, St. Joseph's Day on March 19 and the Feast of the Annunciation on March 25. On those days the Gloria is said at Mass, even though it is not said at any other time during Lent. And should one of those solemnities fall on a Friday, the obligation to abstain from meat on Fridays is lifted, even during Lent.
Then there's St. Patrick's Day, March 17, which, while outside of Ireland and Australia is not a solemnity, still, well, you know…
This year, there's an added treat: the eighth and final season of
Game of Thrones
, which premiers Sunday, April 14. Palm Sunday, as luck would have it. The start of Holy Week. Normally a solemn time, so it's probably a good thing that raised meat pies are beyond my skills as a chef. But I cannot promise there won't be wine or trenchers of stew.
The first trailer was released on Fat Tuesday:
Read the blow-by-blow analysis. Pure nerd-vana. Add comments if you like. If you aren't familiar with the story, start streaming the first seven seasons now, and read my introduction to both the TV series and the book series that inspired it, A Song of Ice and Fire. And yes, you really should read the books.
And though spring will be well underway when Game of Thrones returns, remember, Winter is Coming.