Artemis was the first goddess to call to me. She was between the branches and in the shuffle of leaves. And she called to me to a lake in British Columbia.
She called me in story and song and clear night sky.
Artemis inspired me during a Reclaiming Witchcamp in 2015. And I saw Orion in the space above my house before I left to join the group of teachers.
To join the witches.
To join the space between and beyond time.
To join the hunt for our hearts.
Artemis & Apollo & Us
I love thy laugh…*
We hunted and sported, and told stories…we found ourselves coming together, sharing our experiences of love and of loves lost. We became the type of friends that would fight for each other, that would fight together
I love thy laugh…
Here, we gather together, under ancient stars and breathing earth, to nourish our hearts.
we have been called together, perhaps by a scent, a possibility, a maybe, a what-if, a want-it-to-happen, a-need-something-to-happen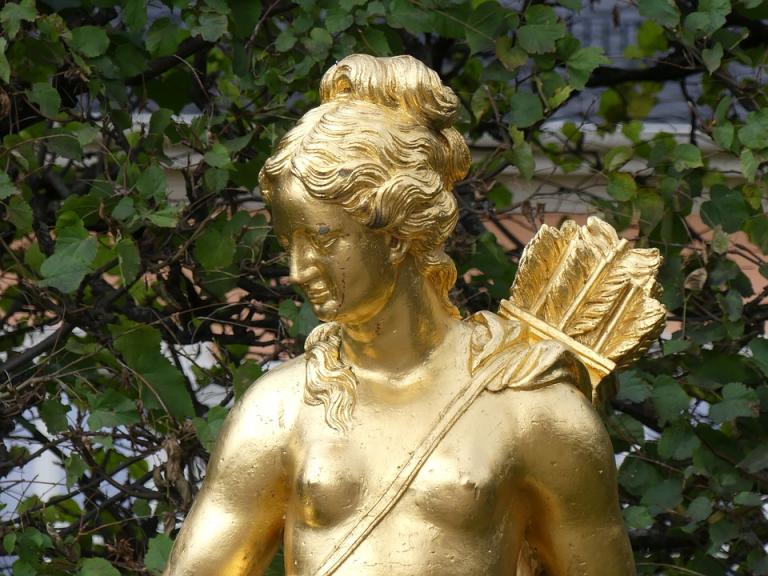 I love thy laugh…
I dance with you because we are here, and the world is here, and I can tell we have something to fight for.
I am glad you are a fighter too. I am glad your bow is strong and sure. I am glad your aim is ready. I am also ready. I am so ready.
I love thy laugh…
Can we find ourselves in our laughter? Can we find ourselves in the spaces between the laughter? How do we come together to meet our mystery, to meet the darkness, to meet ourselves in the place of unknowing?
Can we look into each other's eyes and truly see that we are not alone?
We will make mistakes. Oh, we will make mistakes. But we will come together, again and again to the place where the earth makes the perfect place for us to rest and gaze up at the stars.
Under these stars, under the moon, we are the fighters, the betrayers, the victims, the victors, the twinkling reminders, and the lessons we need to learn.
We are Artemis.
And we steady our bow and trust our aim.
*Inspired by this telling of Artemis and Orion