"Let it begin with each step we take,

And let it begin with each move we make,

And let it begin with each chain we break,

And let it begin every time we awake."

–Let It Begin, Starhawk
It's only August, but I can already feel Samhain coming. Maybe it's because I'm making plans or maybe it's because I'm feeling the ancestors because of other work I'm doing right now.
Or maybe I'm just excited about Samhain because it's great.
And this year is the 40th Reclaiming Spiral Dance Ritual.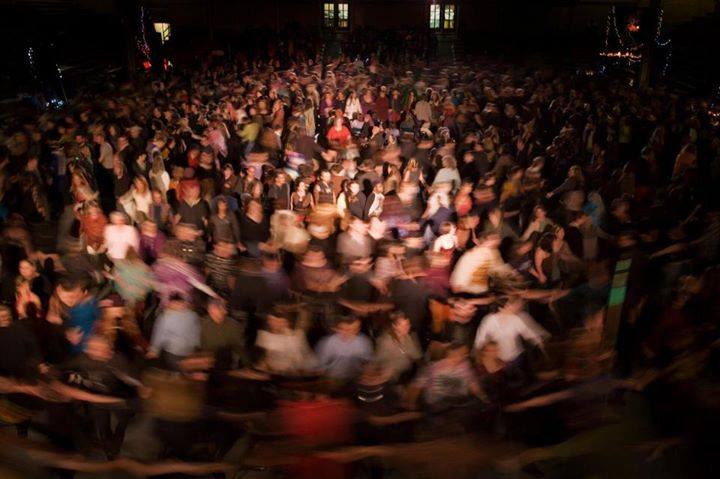 What is Spiral Dance?
From the current website:
For 40 years, the Witches of Bay Area Reclaiming have danced the spiral of rebirth at Samhain, Halloween. Join us as we celebrate four decades of magic, activism and healing.  The veil is thin — we mourn our beloved dead and energize the forces of renewal.

Our magical intention for this year's ritual is: "To reclaim the golden thread of magic that spans time, and draw from the lessons of the past to weave a just and vibrant future."

We welcome all ages, all genders, people of diverse physical abilities, people of color, LGBTQ+ folk, Witches, Pagans, non-Pagans, activists, seekers, and the respectfully curious.

Our rituals are clean and sober — and nonetheless ecstatic!  Help us keep the space accessible by avoiding scented products.

Let it begin now!
Details about the Spiral Dance Ritual
If you want to join the magick of Spiral Dance, we'd be happy to see you there. It's a night of performance, trance, and looking into the eyes of hundreds, if not thousands, of people.
We're moving to a new location this year to accommodate as many folx as possible, The Craneway Pavilion in Richmond.
Doors Open: 6:00pm
Altar Viewing & Reading of the Names of the Beloved Dead: 6:00pm – 7:00pm
Ritual Starts: 7:00pm
HISTORY: https://www.reclaimingspiraldance.org/history
This is a drug and alcohol-free, glitter free, fragrance free, family-oriented ritual.
Please honor us and the sacred by keeping it so.
MORE INFO: spiraldanceinfo@gmail.com
(Note: Yes, I'm helping with marketing for this year's Reclaiming Spiral Dance, so there will be more to come about this ritual, its goals, and the ways folks can get involved!)