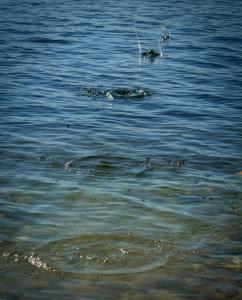 So, what are you doing to make it one worth remembering?
Every year, my kids and I go out for lunch on the last day of school and make a list of things to do.  However, the school system keeps adding days, making summer start later.  As such, I'm making my list before school is out.  We'll still go out to lunch and add to it, but I'm no rookie. I know what we need to put on that sucker.
First, a bit of business to lay out.   We aren't out to do everything.  We just like having a list to go to in the event, the dreaded words are uttered, "Mom, I'm bored."   Summer is defined as starting this Friday and going through Labor Day, even if there's school which these days, there always is.    We celebrate all 102 days.   Consequently, we need 102 ways to celebrate.
Here's my summer list.
102.  Go to a drive thru movie.
101.  Go to a play.
100.  Skip rocks.
99.  Read a book a week.
98.  Improve my Gumbo cooking skills.
97. Catch a fish.
96.  Fireworks.
95.  Go to a museum.
94.  Hike.
93. Go from couch to 5k.
92.  Make it to a pool once a week at least.
91.  Drive to Texas.
90. See baseball games.
89. work on my drumming.
88. Go to Pink/Pat Benetar Concert.
87.  Go to AwesomeCon.
86.  Game day once a week.
85.  Finish editing book.
84.  Comic book day.
83.  Bubbles.
82. Volleyball in the back yard.
81. Badmitton in the back yard.
80. Gocarts.
79.  Paint a room.
78.  Go out to lunch with a friend a week.
77.  Adoration every week.
76.  Go to the library once a week.
75.  Visit the local wineries.
74.  Berry picking.
73.   Go to a BBQ contest.
72.  Walk Civil War Battle fields.
71.  Ocean City visit.
70.  Stargazing in Shenedoah.
69.  Play Hearts and Spades.
68.  Waterslide.
67.   Biking.
66.  Chalk the driveway.
65.  Kite flying.
64.  touring DC –a museum we haven't done yet.
63.  Painting fingernails
62.  Ice Cream machine.
61.   Open Mic.
60. Bowling
59.  Aquarium.
58.  Zoo.
57.  Go to the fair, ride a roller coaster.
56.  Symphony.
55.  Write letters.
54. Teach each child a different cooking dish.
53.  Go to Gordon Ramsay's restaurant in DC.
52.  Visit inlaws.
51. Cook out with brother and his family.
50.  Minigolf family challenge.
49.  Screen free day –once  a week.
48.  Clear out basement.
47.  Date Night once a week.
46.  Learn a piece on the piano.
45.  Write 500 words a day. (Blog says yay, finally some tlc)!
44.  Shoot hoops with Paul.
43.  Garden.
42.  Waterballoon fight.
41.   Ice cream from a truck (it just tastes better).
40.  Garage sale.
39.  Spa Day
38.  Teach two kids to drive.  Help third get DL.
37.  Apply for a passport.
36.  Bonfire.
35. S'mores.
34.  Discover a podcast I like.
33.  Work out at the gym with my daughter.
32. Get a photo of the whole family.
31.  Take a different kid out each week one on one.
30.  Help my teens find summer jobs.
29.  Tour Capital.
28.  Visit three colleges with daughter.
27.  Volunteer with the local pantry program.
26.  Help youngest plan a weekly get together with her friends.
25.  reduce my heavy addiction to diet coke/coke zero.
24.  Get to 10K steps each day.
23.  Family Movie Night once a week.
22.   Waterpark.
21.   Queen Bee every day in New York Times game.
20.  Visit all of my family.
19.  Learn to grill/bbq everything.
18.  Help all my kids to learn sign language.
17.  Playdough day.
16.  Talent Show Night.
15.  Baltimore Field trip.
14.  Jimmy Cone's –it's a local cash only frozen custard place we love.
13.  Pedicure.
12. Karyoke Night.
11.  Sunrise walks.
10. whiffleball tournament.
9.    Throw a party.
8.    Instead of fast food, Road Trip to a Diners, Drive-in and Dives
7.    Torpedo Art Museum Day.
6.    Go Canoeing.
5.    Build a House of Cards.
4.    Build a giant chain of dominos.
3.    Take a class in art, art history or drama.
2.    Take the Praxis in Drama.
1.     Go to adoration or spend time in prayer every day.