My husband and I are counting down the days 'til the eighth Star Wars movie, The Last Jedi, releases. He's the kind of fan who already knows the first two words of the upcoming film ("We're not . . .") and who designed our baby announcement around Star Wars ("There's been a disturbance in the force . . . have you felt it?")
Naturally, after we married, my husband and I had a Star Wars marathon to introduce me to all I'd missed out on in my deprived life up until that point. Needless to say, I'm now a fan.
If you saw the last Star Wars movie, The Force Awakens, you'll remember Han Solo talking about how a young boy who was once a Jedi apprentice turned to the dark side and destroyed Luke Skywalker's fledgling Jedi academy.
When I saw how evil that boy became, I was reminded of a few ways the new Star Wars villain, Kylo Ren, parallels our actual enemy, Satan. (Spoiler alert for those who haven't yet seen The Force Awakens!)

3 Ways A Star Wars Villain Points to a Greater Story
1. Just as Kylo Ren was once a Jedi apprentice, Satan was once a good angel of light.
We know this because all God created was good, not evil. Genesis 1:31 shows God standing back, assessing His creation:
"God saw everything that he had made, and behold, it was very good" (emphasis added).
2. Both Kylo Ren and Satan rebelled against their former masters.
Just as Kylo destroyed Luke's academy, at some point before Genesis 3:1, Satan rebels against God. Jude 1:6 fills us in on his journey to the "dark side":
"The angels who did not stay within their own position of authority, but left their proper dwelling, he has kept in eternal chains under gloomy darkness until the judgment of the great day."
3. Both Kylo and Satan were wounded but given more time to work their evil.
After Kylo was defeated and scarred by Rey, Kylo retreated to his dark master, Snoke. We'll see his fight continue against "the light" in some shape in The Last Jedi. Similarly, God cast Satan out of heaven, but he was allowed to continue his work on earth for a time:
"The great dragon was thrown down, that ancient serpent, who is called the devil and Satan, the deceiver of the whole world—he was thrown down to the earth, and his angels were thrown down with him. And I heard a loud voice in heaven saying "Therefore, rejoice, O heavens and you who dwell in them! But woe to you, O earth and sea, for the devil has come down to you in great wrath, because he knows that his time is short!" (Revelation 12:9-12).
Satan was then crushed at the cross, as it had been foretold in Genesis 3:15:
"He [the offspring of the woman, Jesus] shall bruise your head, and you shall bruise his heel."
Hebrews 2:14 tells us:
"Since therefore the children share in flesh and blood, he himself [Jesus] likewise partook of the same things, that through death he might destroy the one who has the power of death, that is, the devil" (emphasis added).
Yet the devil still limps around, like the scarred Kylo.
"Be sober-minded; be watchful. Your adversary the devil prowls around like a roaring lion, seeking someone to devour" (1 Peter 5:8).
Why didn't God put a complete end to Satan long ago? Pastor John Piper explains it well in this excellent sermon:
"Jesus Christ will be more highly honored in the end because he defeats Satan through longsuffering, patience, humility, servanthood, suffering, and death, rather than through raw power. And the more highly honored the Son is, the greater the joy of those who love him."
Ways This Star Wars Villain Does Not Point to the Greater Story
This is where the similarities between Kylo and Satan end. Because while Kylo and the other evil members of the First Order continue their terror in that galaxy far, far away, no one will ultimately continue Satan's work.
Jesus Christ has risen to ensure that the darkness will not overcome the light. He is the stronger one! Soon Satan, sin, and death will be utterly and completely done away with. Revelation 20:10 gives us a glimpse into the future:
"And the devil who had deceived them was thrown into the lake of fire and sulfur where the beast and the false prophet were, and they will be tormented day and night forever and ever."
This is incredible reason to rejoice! As epic as the Star Wars movies are, they are just that . . . movies. But Satan's final demise (and sin and death's) is as sure as a Star Wars nerd cooking up a terrible Rey parentage or Snoke origin theory.
What does this mean for you? The end to all:
·      Fear
·      Tears (Revelation 21:3–4)
·      Pain
·      Sin
·      Guilt
·      Shame
·      Death (1 Corinthians 15:26).
Praise God. No matter how dark your world may look, the dark side will not win.
"The God of peace will soon crush Satan under your feet. The grace of our Lord Jesus be with you" (Romans 16:20).
---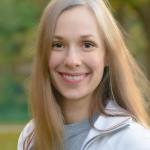 This was a guest post from Paula Marsteller. Paula is the author of Confessions of a Boy-Crazy Girl and works as a writer for Revive Our Hearts. Paula, Trevor, and their son, Iren, make their home in New York. They attend a great church and love hosting people in their home. You can read more of her writing at www.PaulaWrites.com.
---
Original Image by "taymtaym" : CC 2.0