While I watched a lot of horror/thriller genre movies as a teenager, I rarely partake in them anymore. The trend of incorporating demonic and satanic themes has put a bad taste in mouth; I want no part of it. I understand that some Christians are able to watch such content without offending their conscience, but that's not me (we'll save that for another post). Suspense-filled monster movies? Now that's a different story! I really enjoy thrilling films that don't immediately dip into the bucket of the supernatural to get a cheap scare. As you can imagine, when I saw the trailer for John Krasinski's new film A Quiet Place (he co-wrote, directed, and starred in) I was immediately intrigued and looked forward to a night at the movies.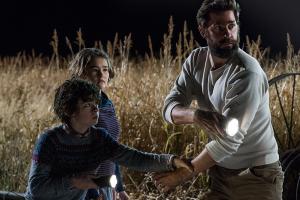 The film takes place in a modern-day, dystopian setting, shortly after aliens have invaded earth. You learn quickly, these aliens prey on humans and hunt them by sound. The story follows the Abbotts (played by John Krasinski and real-life wife, Emily Blunt) and their children as they fight to survive in a quiet, new world. This angle alone is worth the price of the ticket. It's truly fascinating to consider what life might be like if we had to be silent.
A Quiet Place is gripping, clever, and well-acted. It fulfills every expectation on the fun-factor. It's an artistically mesmerizing picture that is equally as eerie as it is silent. So much so, that any disruption of the silence, such as a lantern falling over, feels utterly jarring and clamorous. As a horror/thriller film it stands on its own and I'm sure will win many awards. But interestingly, the film doesn't seem to want just that. It's seeking more than just a place among elite horror films. It makes attempts to be a family film, and at times, wonderfully succeeds in that aim. Think of it like The Pursuit of Happiness (2006) – but wearing a grisly Halloween costume. Woven within the fabric of suspense-crafted thrills, Krasinski delivers something longer-lasting than a series of jump-scenes with gnarly monsters.
A Quiet Place reminds an American culture, starved of masculinity, why we need fathers and what one looks like. Written as a "love letter" for his children, Krasinski's character, Lee Abbot, demonstrates how a father loves, protects, and sacrifices everything for his family.  He will stop at nothing to preserve what matters to him most. From pouring miles of sound-damping sand on walkways to hand-building hearing aids for his deaf daughter, Lee Abbott tirelessly gives his entire person over to their needs.
As a husband and father, A Quiet Place resonates deep within me; it challenges me. To what lengths will a man go to love and serve his family? This is the underlying question that gives the film a purpose. It's also a question that I must answer daily in my words and actions. Sacrifical love is as central to the Christian message as the cross of Christ. Consider Jesus words in John 15:15, "Greater love has no one than this, that someone lay down his life for his friends" or Paul in Ephesians 5:25 "Husbands, love your wives, as Christ loved the church and gave himself up for her."
In an age that wants to label traditional family structures as "patriarchal" and "archaic," A Quiet Place also reminds us that a family unit best operates on the complementary strengths of men and women. Evelyn Abbot, wife of Lee Abbott, demonstrates the self-sacrificial love that only a mother can offer. At the risk of losing everything, she silently endures the agonizing burden of childbirth to preserve the life of her unborn child.  After giving birth, she summarizes the ethos of the film when speaking to her husband, "Who are we if we can't protect them? We have to protect them."
I don't know if Krasinski set out to make a Pro-Life film, but he's made an excellent one. Not since Arrival (2016) has a film been so forwardly optimistic about the value of human life. In the spirit of avoiding spoilers, I won't say much about Arrival, starring Amy Adams and Jeremy Renner. But, I do want to point out that at the heart of this film, like A Quiet Place, is self-sacrifice. Both films utilize an unplanned alien invasion to ask the hard question: to what lengths will a parent hurt to love their child? Even when faced with imminent dangers, peril, pain, and sickness a human life (no matter how brief) is worth living and must be fought for. Both films are highly recommended.
In closing, let me warn parents that A Quiet Place is rather scary and embraces its horror/thriller genre. I recommend checking out IMDB Parents' Guide and Common Sense Media before taking any children to see the film.