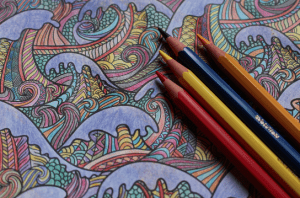 Grand Rapids, MI – A beautifully rich tapestry of 66 new designs has been brought to canonical form for adults who have seemingly little time for in depth bible-study. Images within this book range from detailed impressions of the flood waters during the time of Noah to minimalist depictions of Anglo-Jesus, making this a perfect choice for markers, gelly pens, coloring pencils, or even crayons.
This is a bible for the rest of us – those who want to go back to the days when God was shrouded in obscurity and mystery – where the only things we knew of God were from the beautiful stained-glass depictions of scripture we could look at while we heard the mass in Latin. Sure, there was no comprehension because we couldn't read or write, nor was Latin our native tongue, but those pictures sure were darn pretty.
In an industry where niche bibles are a dime a dozen, we strongly feel this will be the go-to resource in your family devotions, quiet times, contemplative meditation, listening for that still, small voice, and more! If you want to draw near to God, then pick up a copy of Draw Near to God at the LifeWay bookstore!
Endorsements:
"It's hard to color in all the lines, but your mistakes don't disqualify you. You don't miss out on a blessing just because you had a happy little detour. Keep a smile on your face, stay on the high road, stop hanging out with negative people, keep your joy – and you will take away their power." – Joel Osteen
"This material has shaped me as a leader and this is just what we need for the church today. For purpose-driven coloring, look no further." – Rick Warren
"This is the Zimzum of color. Beautiful. Fascinating. The moment God is figured out with nice neat lines and definitions, we are no longer dealing with God. Not so with a coloring book." – Rob Bell
"All my life I've been waiting to understand [the scriptures]. Look what God has done for me!" – Creflo Dollar
---
Editorial Note: This post, like all of the other posts in the Satire section of our webpage, are fake and exist for no other purpose than to you make you laugh.