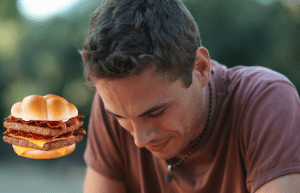 WACO, TX – The internet was buzzing over the weekend when it was reported that a man was overheard praying out loud over his meal at the local Wendy's. Multiple patrons of the restaurant have confirmed that the man was asking God to "Bless this food to the nourishment of his body".
"I have never seen such faith" stated awe struck Wendy's patron, Crystal Tighe, "He thanked God for this day and then asked for a miracle. They say faith can move a mountain, well, in this case it was a Triple Baconator with an extra large Dr. Pepper!"
The man sat mostly in silence while enjoying his aliment. However, others interpret the silence to be faith-driven meditation.
"There was a focus and determination in his eyes I have never seen before. He wasn't talking, because he was believing. He was clearly engineering the faith needed to change the molecular structure of the junk food to sustenance, probably Kale or something gross like that. I feel like I witnessed the Red Sea part today." commented another restaurant goer.
By the time news crews arrived the man had already left the establishment. He left no mess on the table.
UPDATE: The same man, whose name is being reported to be, Jimmy Sanders, has been spotted offering a similar invocation this morning at a local McDonalds. He is allegedly eating a McGriddle breakfast sandwich. Reporters have been dispatched; stay tuned for further updates.
It is unknown if he also purchased hash-browns.
---
Editorial Note: This post, like all of the other posts in the Satire section of our webpage, are fake and exist for no other purpose than to you make you laugh.