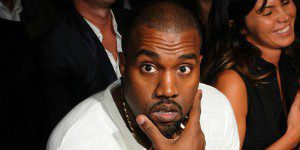 HIDDEN HILLS, CA – Reports surfaced earlier today that American Hip-Hop artist Kanye West is pushing to have
his name permanently edited into Hebrews 11, a section of the Bible commonly referred to as "The Hall of Faith". If successful, Kanye's name would join the ranks other Judea-Christian heroes such as Noah, Abraham, King David and Moses.
Kanye later confirmed the reports, "There are exactly two things that keep Kanye up in the middle of the night. One, I will never get to see myself perform live. Two, my $53 million in personal debt, and three, the idea of actually reading some type of novel. Oh yeah, and four, that I might die without seeing my name in the Bible. It's criminal!"
When asked why Kanye thought his name deserved to be in Hebrews 11 he quickly replied, "I'm my favorite rapper."
The comment was followed by a very long awkward silence that was broke when he added, "Imma let myself finish now. I mean, I got answers. I'm a rapping nucleus of cool things and cool is forever. Listen, Noah had his water, Moses had Egypt , and Kanye's got rap. I belong there."
Sources say he has taken to approaching editing teams for several of the popular modern translations such as the The New Living Translation, The New International Version, The English Standard Version and The Message: Remix.
So far, only The Message:Remix has returned his call. However, they later declined the proposal when they became aware of "The Book of Yeezus", a fan-produced book where the name of God was replaced with Kanye throughout the bible.
The Message: Remix cited this as a "conflict of interest" and has "no intention in competing for bible sales."
---
Editorial Note: This post, like all of the other posts in the Satire section of our webpage, are fake and exist for no other purpose than to you make you laugh.