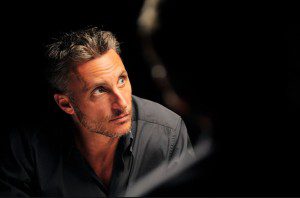 I watch men like Tullian Tchividjian carefully, not because I am eagerly awaiting their fall and defrocking from public ministry, but because I am in the midst of seminary education with my eyes set on pastoral ministry. I know that if I am not careful I could easily follow in those same steps; I do not feel I am above the potential for committing a heinous sin that would disqualify me from ministry. For all who profess Christ, guarding the heart from sinful desires is some of the most difficult work we must continually do. It can easily lend itself to legalism or unbridled "freedom," and we are often far too easily pleased in the things which crucified our Lord. While I cannot speak to what led Tullian down this path and find it fruitless to assume – we can examine general principles that seem to be indicative of this particular sin.
We easily justify ingesting pornographic expressions in popular culture because it isn't as racy as the hardcore porn we have to go and find at the click of a mouse. We ogle those whom we'd be ashamed of if they were our daughters and praise that in ourselves which we would be ashamed of in our sons. We seek to find the proverbial line, which we utterly bind in subjectivity, and toe it – occasionally slipping over to the wrong side from time to time. We feel the shame connected to that, yet are perplexed at why we can't quite be free from the bondage of sexual sin.
I am growing more convinced that many don't commit adulterous affairs – not out of a love for God – but because they wouldn't know how to carry that out without getting caught or they simply just don't have the opportunity provided to them. If this weren't true, it seems that pornography wouldn't be such a huge issue within the church for men and women. Porn offers a similar experience without the inherent risks of that physical expression – yet interestingly, the stats demonstrate those with a porn addiction are more than twice as likely to seek out that physical expression. The point being, porn is as much of a pit of death that Solomon warns of as the one enticing you into their bedroom; they lead to the same place.
Rarely does one suddenly wake and think, "I'm going to cheat on my spouse today" after having entertained no other activities to dull the conscious. Given the proclivity of immodesty in almost every form of visual entertainment, most Christians seem to want to get as close to that line as possible because they can "handle it."
You don't lust?
You haven't stumbled?
I genuinely wonder of the correlation between those who willfully subject themselves to immodest entertainment and their current struggle with pornographic sin.
Does viewing pornography mean you're going to walk headlong into an actual, physical affair? Does watching media that is indecent mean you'll watch sexual intercourse on screen? These are questions you must ask yourself. Yet I fear in this that too many will simply be dismissive because they are strong and view me as weak. However, even this deduction falls short of the real questions that need to be asked. I'm teaching my son to ask these questions of himself before he acts so he thinks in broad, biblical principles rather than introspectively seeing where he might toe the line:
Is it wise?
Will it get me in trouble?
Most importantly: does it honor God?
These are simple, broad questions that can apply to every facet of life. I believe everyone that has seen the tumultuous downfall of Tullian Tchividjian should heed his statement:
"I hope and pray that the events in my own life over the past couple years serve as a warning to all who, like I did, believe they are standing firm. Sin is deep. It is real. It destroys. It deceives."
These are true words. I know not of his sincerity with which he speaks – yet they remain true words nonetheless. Paul offers similar words in 1 Cor. 10:11-14, speaking to Israel's shame, just prior to the section those who wish to justify indulgence will use.
"Now these things happened to them as an example, and they were written for our instruction, upon whom the ends of the ages have come. Therefore let him who thinks he stands take heed that he does not fall. No temptation has overtaken you but such as is common to man; and God is faithful, who will not allow you to be tempted beyond what you are able, but with the temptation will provide the way of escape also, so that you will be able to endure it. Therefore, my beloved, flee from idolatry" (1 Cor. 10:11-14; NASB).
Image Credit: Concordia University