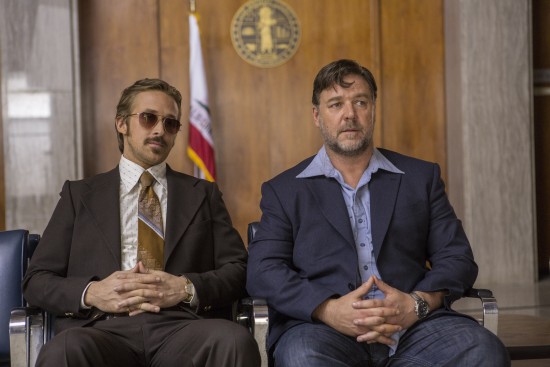 Something in my DNA responds to Shane Black's work. Ever since I watched "Lethal Weapon" with my dad as a teenager, I've been drawn to the writer-director's mixture of pulp fiction, bleak humor and brotherly bonds. Few screenwriters — especially genre screenwriters — have such an unmistakable voice.
Steeped in a knowledge of detective novels and film noir, his world is dark and violent, often masking the ugliness behind a Christmas setting. Governments and institutions engage in elaborate conspiracies, which are unraveled by screwed-up, wounded heroes who spout macho catchphrases as they try to bring a bit of decency to the unpleasantness. What makes them easy to get through? The movies are often hilarious.
"The Nice Guys" might be the purest distillation of Black's sensibilities. Bleak, violent and very funny, it opens with might be the most "Shane Black scene" yet. In 1970s Los Angeles, a young boy steals his dad's porno magazine and ogles a centerfold moments before a car slams through the house. When the kid goes to investigate, he finds the porn star he'd been lusting after splayed across the hood of the vehicle, naked and bloody. "How do you like my car, big boy," she asks before dying.
The death is connected to a missing woman, who is being searched for by Holland Marsh (Ryan Gosling), an alcoholic private investigator we meet waking up in a full bathtub. Holland started drinking after his wife's death, much to the frustration of his 13-year-old daughter, Holly (Angourie Rice). Holland's part private investigator and part con artist, happy to take old ladies' money to solve half-baked mysteries. He's tracking down a girl named Amelia, who has paid off professional thug Jackson Healy (Russell Crowe) to make sure no one finds her. Healy pays a visit to Holland to make sure he stays off Amelia's trail; his message consists of (politely) breaking Holland's arm. But it's not long before Jackson intuits that Amelia might be in danger, and partners with Holland to track find the now-missing young woman. Along the way, they're drawn into a plot that involves the porn industry, Detroit automakers and the suspicious head of the Department of Justice (Kim Basinger).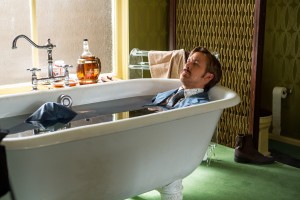 It's hard to believe that "The Nice Guys" is Black's first period piece; it seems to be a no-brainer that he'd be attracted to a mystery that ties into Hollywood's seamy history. The 1970's L.A. of this film is a decaying cesspool. The Hollywood sign is graffiti'd and torn, and the putrid haze of smog hangs over every exterior shot. It's a seedy, dangerous setting.
It's the perfect place to insert two of Black's most overtly comic heroes. Gosling, in particular, is a revelation as Marsh. After so many years of playing the tortured, silent antihero, the actor's career has been reinvigorated recently as he's shown a surprising comedic streak in films like "Crazy, Stupid Love" and "The Big Short." In those films, he poked fun at male machismo and tweaked his movie star image. In "The Nice Guys," he throws himself into playing a very dumb, very drunk detective. He can't pronounce the word "projectionist." He tosses a gun out a window at a crucial moment. He's prone to falling off balconies. Gosling brings a great deal of physical comedy to the role, particularly in a scene in which he channels his inner Bud Abbott when he discovers a dead body. There's also a goofy gracefulness to the film's final action piece, in which Marsh runs around like a crazy man, chasing an important object in the middle of a gunfight. There's a balletic precision to the chaos, and it's one of the year's great action pieces.
Crowe plays the straight man, a giant fist with legs. Healy was famous a few years earlier for some amateur heroics, but has since taken on the role of hired goon. He keeps his balance by repeating to himself the words he pulls off a calendar, and he admits that he'd be a private investigator if he thought he would be any good. He's a teetotaler, fond of Yoo-Hoo, but if he needs to hurt you, he won't hesitate. Crowe brings a weary soulfulness to the role that balances Gosling's manic comedy.
By going with stars best known for their dramatic work instead of comedians, the humor is more surprising and the characters have more depth than you might expect. Marsh is a drunk idiot, but there's a self-awareness and sorrow underlying it all, especially as he comes to understand Holly's perception of him. And we're given just enough of a glimpse at Jackson's past to understand his own wounds. Together, Gosling and Crowe make for a great buddy team, with Marsh as the live wire and Healy as the weary straight man (although Crowe's no slouch at the comedy; he gets a wonderful spit take).
Black heightens the comedy by tossing the characters into a bleak, cynical situation that gets darker by the moment. The action is brutal, with innocent bystanders caught in the crossfire, vicious pummelings, and violent shootouts and chases (a fall from a hotel roof is punctuated by a sickly funny/just sickly impact gag). Black continues his love/hate relationship with L.A., reveling in the city's seediness, a place where parents sell out their kids to make a buck and the system always wins. The story is told with energy, humor and style, and it culminates in an ending that has more in common with "Chinatown" than "Lethal Weapon."
What elevates the film above standard action comedies is Black's sense of dogged, bruised decency. Although his films often flirt with cynicism, the heroes at their centers are always been determined to do the right thing, whether it's Riggs showing up to do the job despite his suicidal tendencies in "Lethal Weapon" or Joe Hallenbeck from "The Last Boyscout" trying to save the life of the man who ruined his career and avenge the death of the guy that slept with his wife. It's a theme present in "The Nice Guys," right from that first scene. After discovering the porn star dead on the car, the little boy removes his shirt and covers her nakedness (there's a similar scene in "Kiss Kiss Bang Bang"). The film is wearily hopeful, even if you have to wade through the darkness to find it.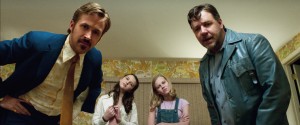 Black has often made children the voices of decency in his films, be it the daughter who keeps Geena Davis' motherly instincts in line in "The Long Kiss Goodnight" or the young boy Tony Stark serves as a father figure to in "Iron Man 3." Here, Holly is a vital part of the team. Like Nancy Drew walking into a film noir, she gathers important information at a porn party and is crucial to wrapping up the case. But more than that, she's the film's conscience. Holly is a girl who knows her father's a screw up, and she wants him to be better than that. Watch the way the camera lingers on her when Holland makes an important breakthrough in the case; the smile that creeps in speaks to the admiration she wants to feel for her dad (the lead ultimately doesn't pan out, but still). And for Jackson, who opens the film lamenting about the sad state of '70s youth, she's a reminder that there is still good in the world. At a crucial moment near the climax, Holly reminds Jackson of what he's capable of, forcing him to make a choice between doing the right thing or losing her friendship. Rice is fantastic, and her presence gives the film a soulfulness that keeps it from being just another cynical, violent cop movie.
Given my love for Black's work, I went into this summer with "The Nice Guys" as my most anticipated film. I wasn't disappointed. Black's very funny voice comes through in every scene, balancing darkness and violence like only he can. I might not like it as much as "Kiss Kiss Bang Bang" — there's one plot hole that's too glaring for me to get over, and Kim Basinger's performance can charitably described as "numb" — but it's a worthy addition to his canon. And Crowe and Gosling's combustible chemistry make Holland and March every bit as memorable a duo Riggs and Murtaugh. I want more films of them solving crimes in L.A. through the years. Barring that, I want a series of young adult mysteries starring Rice as Holly. The action's wonderfully shot and choreographed, the humor hits hard, and Black nimbly mixes decency with despair.
Not that cynicism is totally kept at bay. As with most crime stories like this, the case might be solved but the system still wins. And while Black sets up a sequel  in a final scene (set, appropriately, at Christmastime), he inverts the whole "alcoholic stops drinking" premise in a way that elicits a dark chuckle. In Black's universe, good men will still be beset by failure, addiction and a corrupt system.
But at least they have each other.
If you want to hear me talk more about "The Nice Guys," listen to the latest episode of "Far From Hollywood," the official podcast of the Detroit Film Critics Society that I co-host with Perry Seibert.